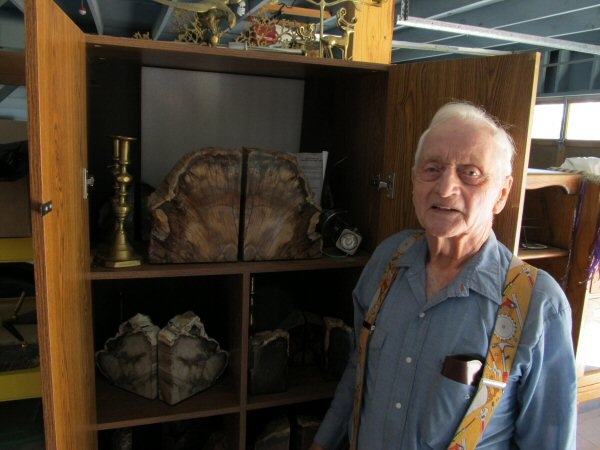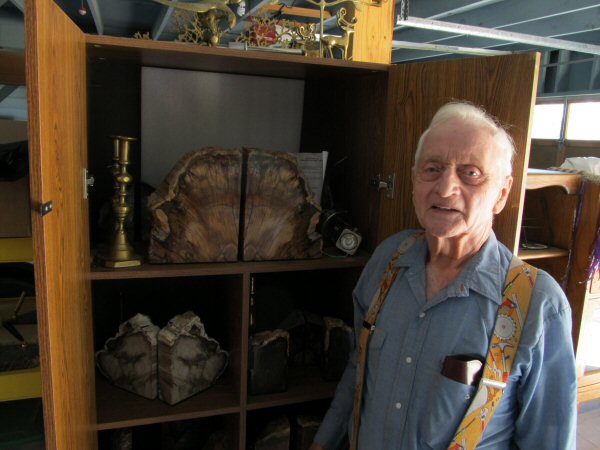 I recently had the pleasure of visiting a friend of mine, Mr. Lloyd Bryant, who I consider to be an exceptional rockhound. Here he shows off some bookends that he made from very nice quality local Oregon petrified woods. The top pair is especially impressive, and looks like it could easily hold the entire set of Encyclopedia Britannica.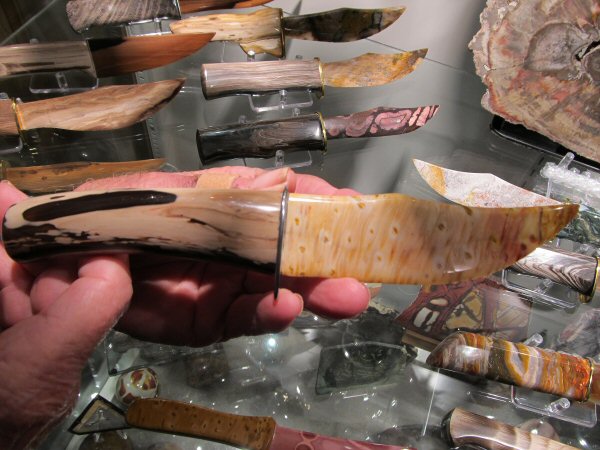 Lloyd immediately invites me into his living room, and shows me his gemstone knife collection, which he has painstakingly assembled over the years. Here he holds up the very first knife that he made, with its gorgeous and flawless petrified palm wood blade, and local Oregon petrified wood handle.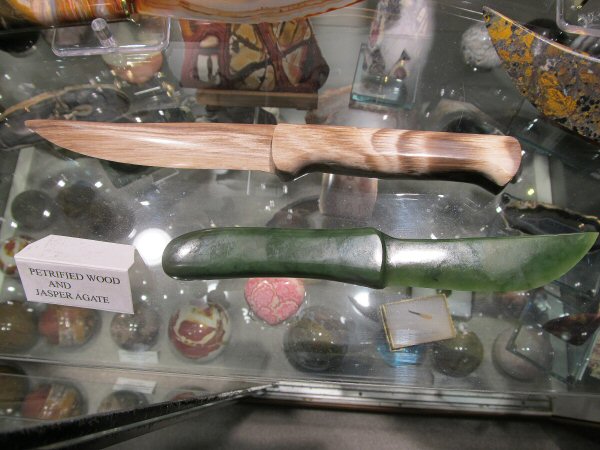 Here are a couple of one piece knives in the Bryant collection, the bottom one made from the finest quality British Columbia jade, and the top one made from a local Jackson County, Oregon petrified redwood tree, discovered by fellow rockhounding buddy Wes Riley, on Mt. Ashland. Wes admitted to me that he initially didn't think that the redwood log was worth shaking a stick at, but now, seeing the beautiful flowing grain pattern of Lloyds knives, he knows different.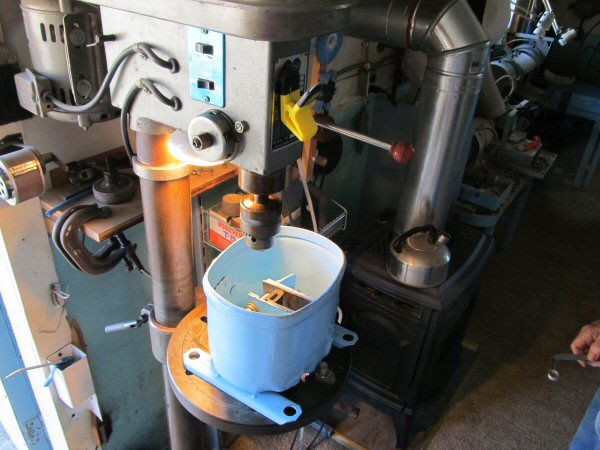 Out in his shop, Lloyd explains the various steps involved in the knife making process. Here a drill press cores out a knife handle with a precision rout that will be matched by the pin on the blade exactly. Lloyd will drill underwater, and the bucket he is using is salvaged from an old refrigerator. The ability to see other than intended purposes for all manner of gear is just one sign of the true old school lapidary.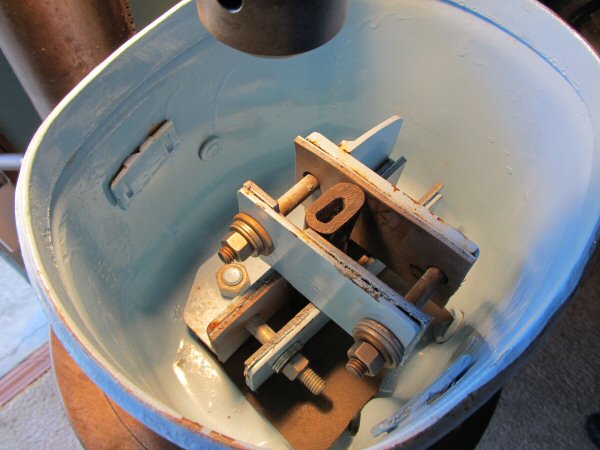 Here's a closer look at the knife coring setup, with a view of the dual vise assembly that Lloyd created to hold the knife handle with unerring accuracy. Lloyd's style of lapidary is very adaptive, and visionary. A highly skilled machinist, he can problem solve and fabricate just about anything to get the job done.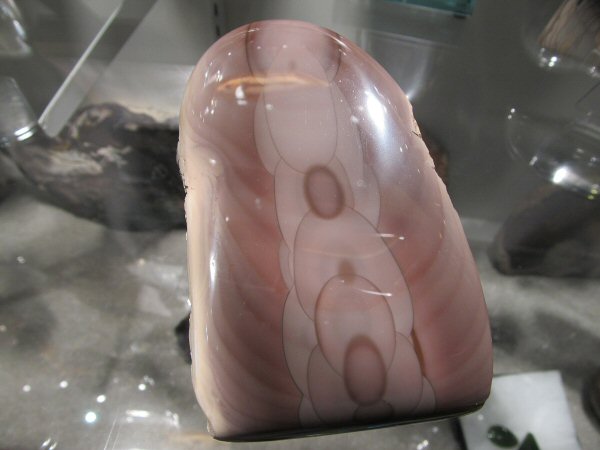 Back in Lloyd's living room, here's a super sweet piece of Imperial Jasper out of Mexico, that he windowed superbly, showing off the almost unbelievable array of orbs. During Lloyds heyday, this jasper was more readily available than it is today, and it would now be quite difficult to come up with this quality of rough.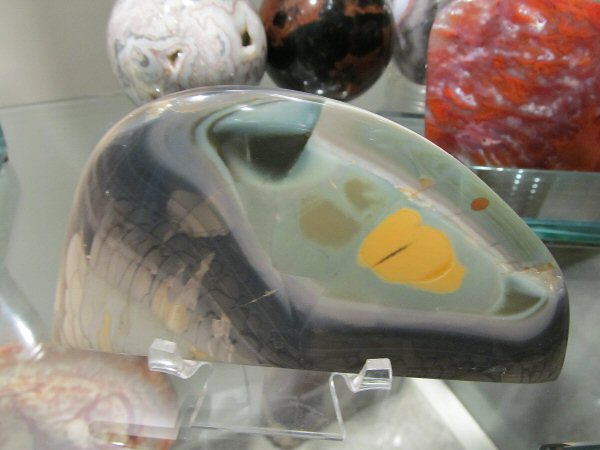 A fantastic Blue Mountain Picture Jasper complete with glowing butterscotch heart! The claim for this material was held and worked by Leonard Kopcinski, of Lucky Strike thunderegg mining fame. Leonard passed away on September 1, 2014, at the age of 96. He was another wonderful, kind, and loveable rockhounding soul from the previous generation of miners and lapidaries. Rest in peace Leonard.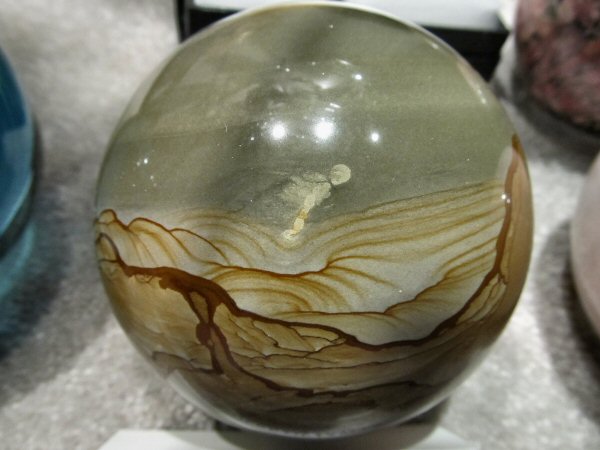 Lloyd is also a sphere maker and this one he calls "The Angel of McDermitt" named for the heavenly figure soaring over the picture jasper hills.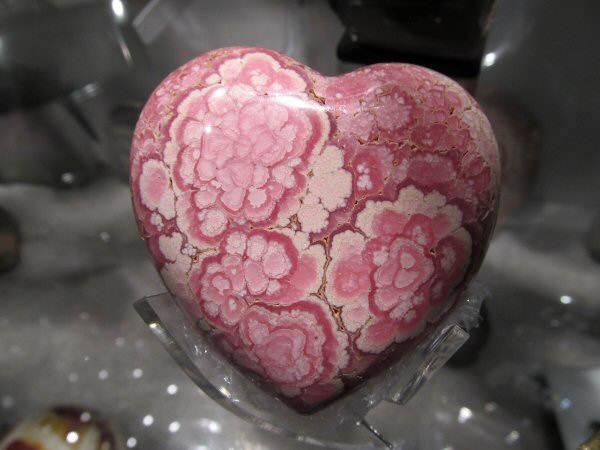 I couldn't resist this gorgeous rhodochrosite heart which Lloyd crafted out of some very fine and flowery Argentinian material.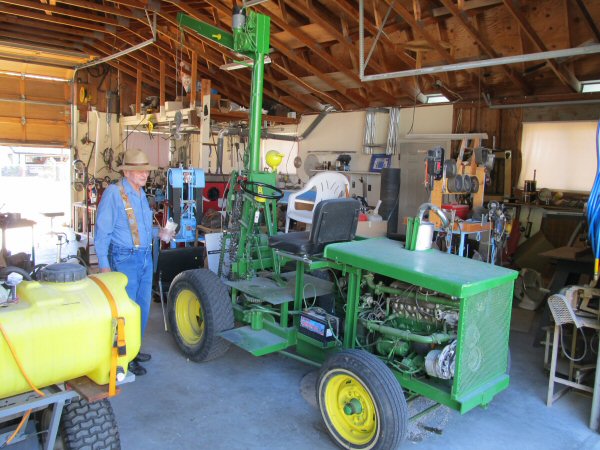 Out in his shop building, Lloyd shows off a 1000 lb. hoist that he has fabbed together out of forklift parts and other equipment. If your initial impression is like mine, you might be wondering what in the world anyone would do with one of these. Well, like I said before, Lloyd is an exceptional rockhound. I might want to make that "Rockhound" with a capital R!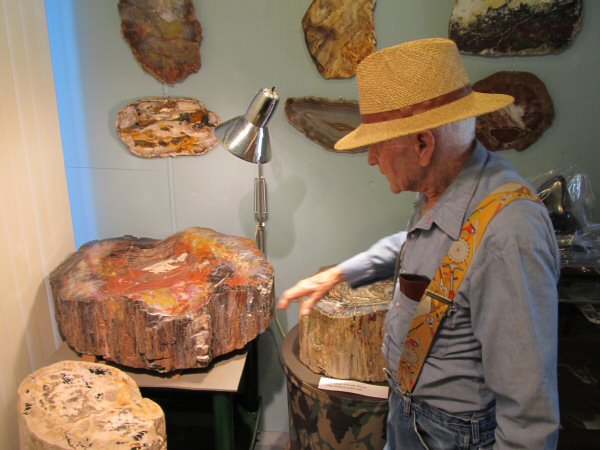 He takes me into his petrified log room, and you can see what the hoist has been used for!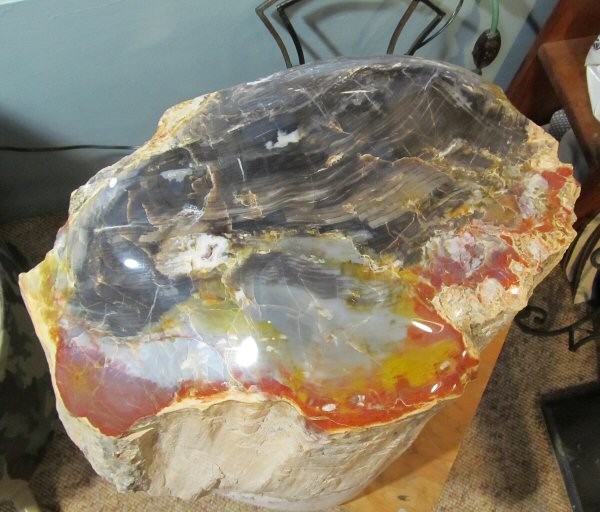 A glowing log of excellent quality Arizona rainbow petrified wood, weighing several hundred pounds, expertly contour polished on top stands tribute to Lloyd's incredible lapidary skill.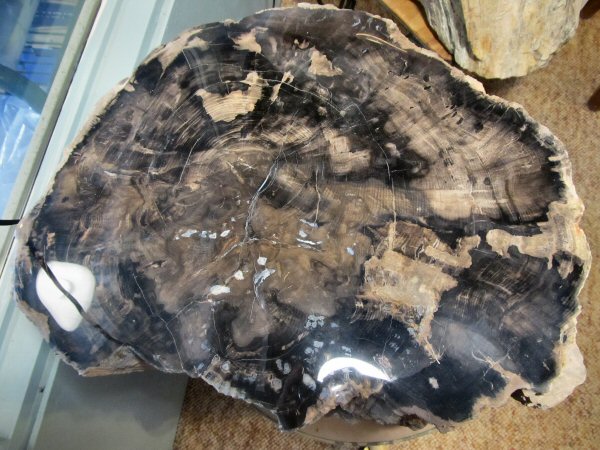 Equally large and impressive is this fantastic log out of Butte Falls, Oregon.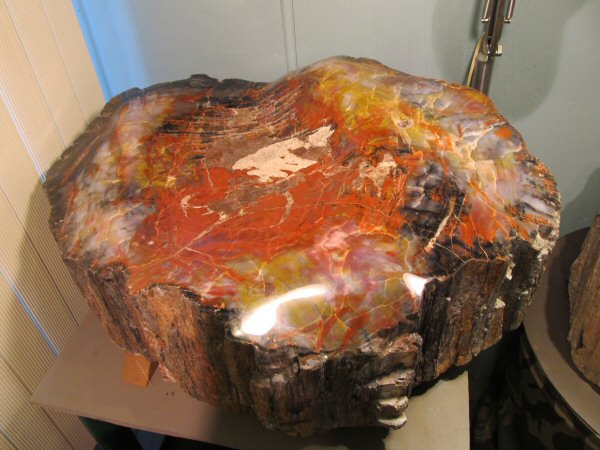 Another Arizona stunner, even more massive, and fiery than the first one.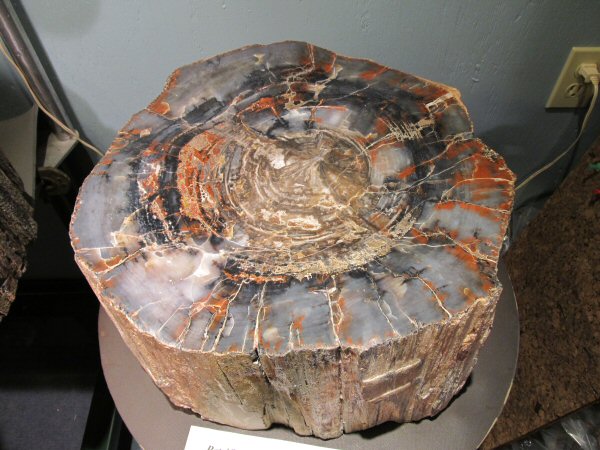 I think almost everyone would agree that the Arizona rainbow is the cadillac of woods. Here's another incredible log, with brilliant contour polished top, representing hundreds of hours of work.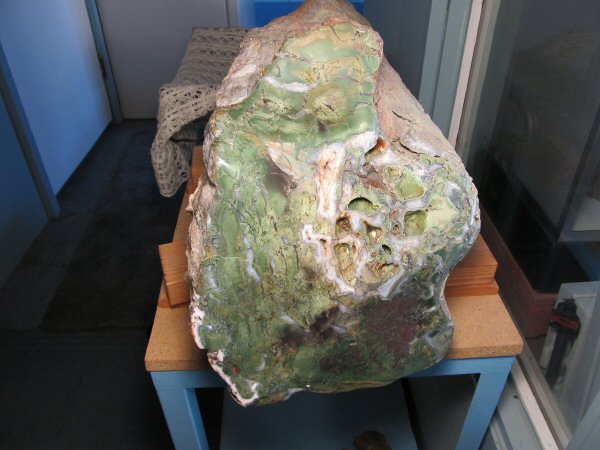 While the Arizona wood is striking, it is also somewhat abundant. There are other localities that produce interesting woods in less quantities, and the well known Hampton Butte collecting area in Eastern Oregon is one. Here, a gigantic agatized green wood log has been secured from that coveted locality. Collected perhaps 50 years ago, you can be very sure that it would be impossible to find something of this magnitude there today.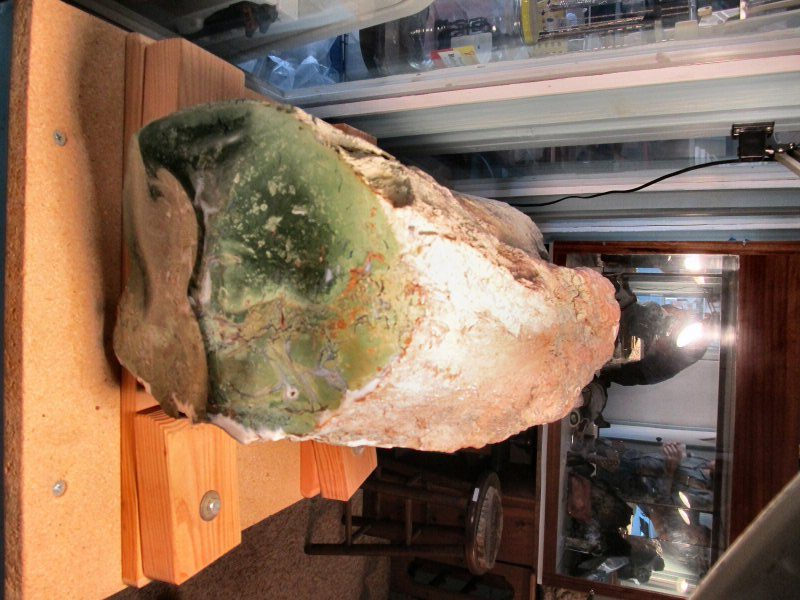 Here's another view of the Hampton Butte green wood log, with both of its ends contour polished out. The days and weeks of work done to accomplish this seem almost irrespective of the nature of time itself, and the log becomes something archtypal and timeless, rendered hither by some vast labor of love.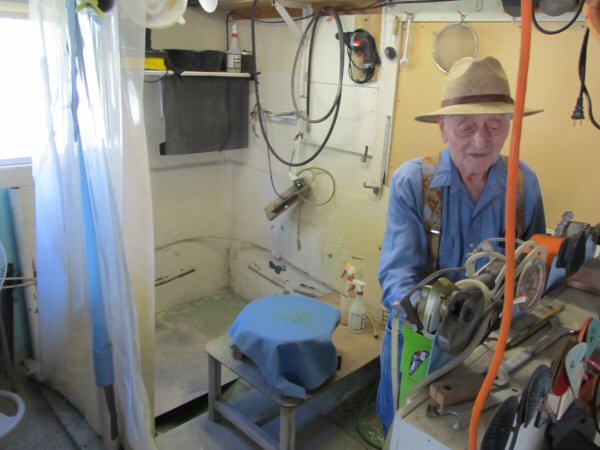 Lloyd's property was initially a cattle ranch and the outbuilding that houses his shop was equipped with a milking station. Lloyd converted the area into his wet sanding and polishing station, and this is where he does the time consuming work of wet sanding his logs, and other smaller projects.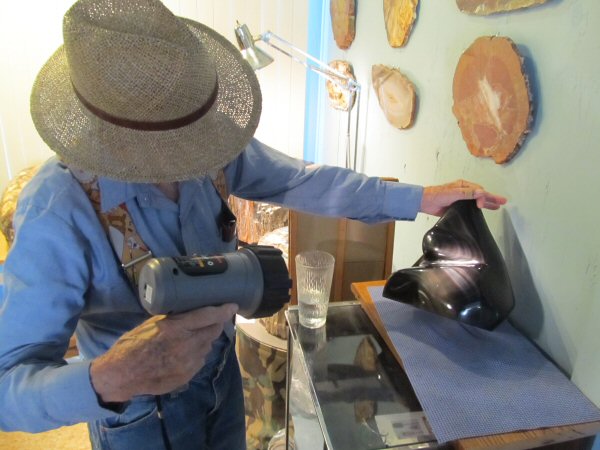 For example, here's a more managable piece – a lovely carved Davis Creek, California electric rainbow obsidian that he is working on for his wife.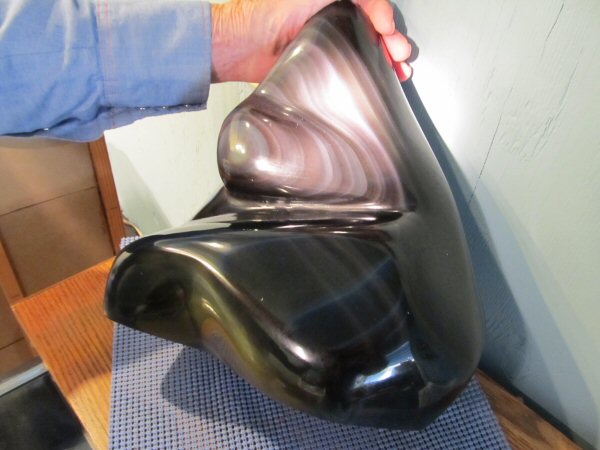 He calls this glowing beauty "The Monster" alluding to the hundreds of hours he has in on it.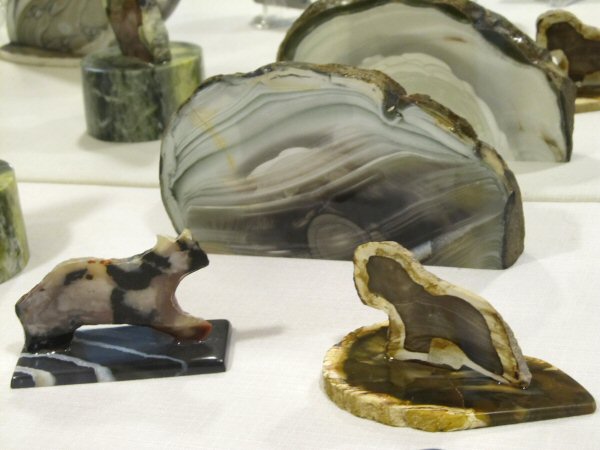 The small details do not elude Lloyd's attention. Here, "dog and cat" survey another awesome standup specimen of Blue Mountain Picture Jasper. These two critters cut exactly as you see them, Lloyd explains. "I didn't do anything to them except put them on a base."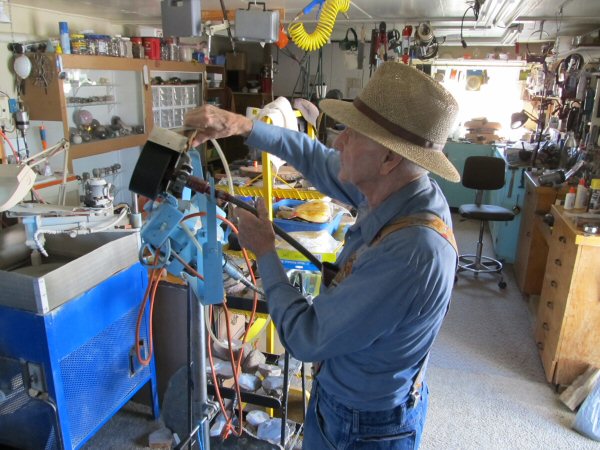 In the fine tradition of the exceptional lapidary, Lloyd can make any machine that his mind dreams up. Here's a custom built 8 inch sanding drum attached to a flexible cable, for use on free style sanding projects using rock too large to hold up to the traditional arbor setup.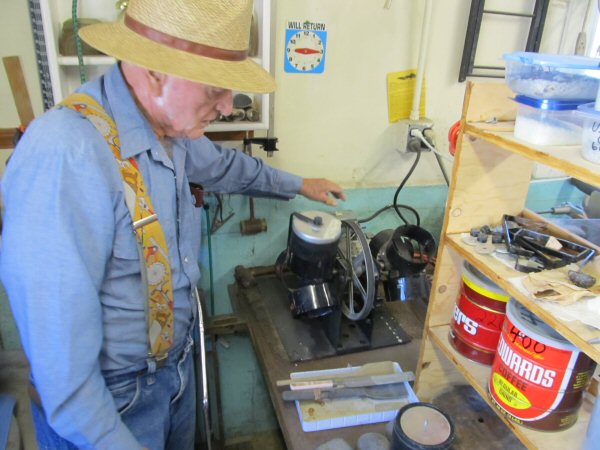 Here's a tumbler design that is straight out of Lloyds mind. I've never seen another one like it, and Lloyd claims that it's "ten times better than the traditional rotary drum style tumbler." I'm inclined to believe him!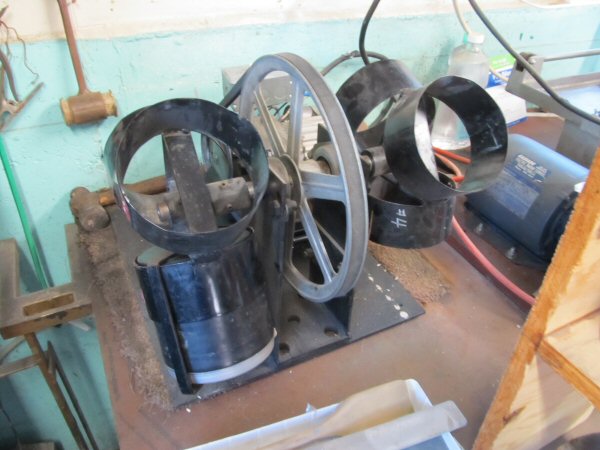 A closer look at the setup, showing the brackets that hold up to six standard sized rotary drums, and swing them end over end. Lloyd's tumbling recipe is to load each drum with 50 unfinished cabs, and fill the drum the rest of the way with tiny stone "workers". (the term he uses for the small bits and pieces of agate, jasper and petrified wood leftover from various trimming and cutting projects) The resulting run can produce 300 finished cabochons.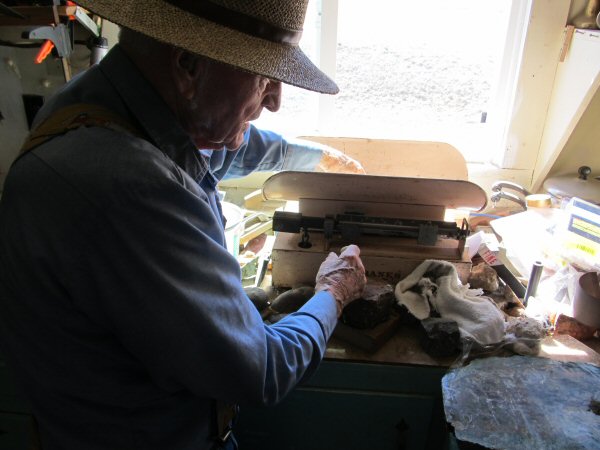 Lloyd weighs out lapidary materials on a scale that was used for weighing newborns, and was discarded from a local hospital. There is an innocence to this, and a sweetness that I feel is somehow getting lost from today's lapidary world, and I long to preserve it, or at least document it, so that we have some record of it's seemingly forgotten elegance and goodness.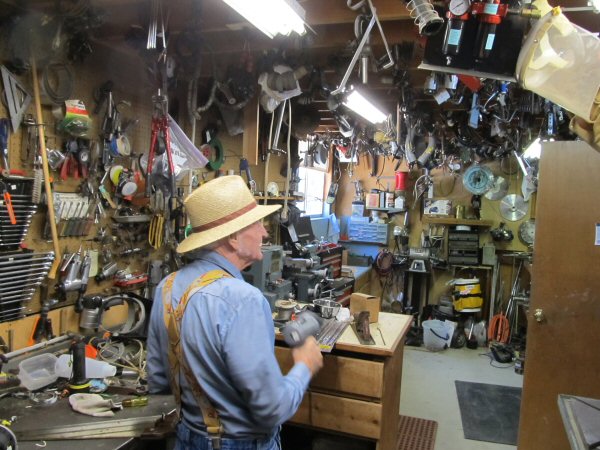 I'm only a fraction of the lapidary that Lloyd is. Some of his concepts and skills are barely comprehensible to me. His shop is like a magician's lair where pure magic becomes routine. He reaches down under a bench and pulls out a dusty old piece, handing it over to me as we say our goodbyes.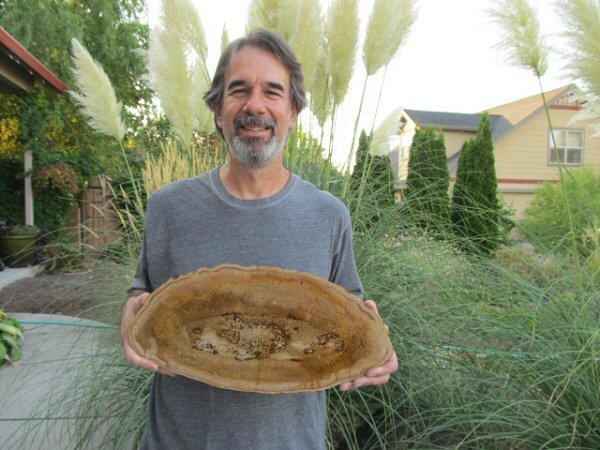 It's a fantastic specimen of rare Louisiana petrified palm, in the round. Over the days to come, I take on the sanding of it in my own shop, and work it down, getting closer to a mirror finish. It's a challenging project that he has handed over to me. I lack Lloyd's exemplary skill, and his range of ability. My equipment is not designed for large sized pieces. My arms and back are aching by the time I come around to putting a final polish on this piece. In the end, I finish it less with skill, and the proper equipment, and more out of a singleminded and stubborn desire.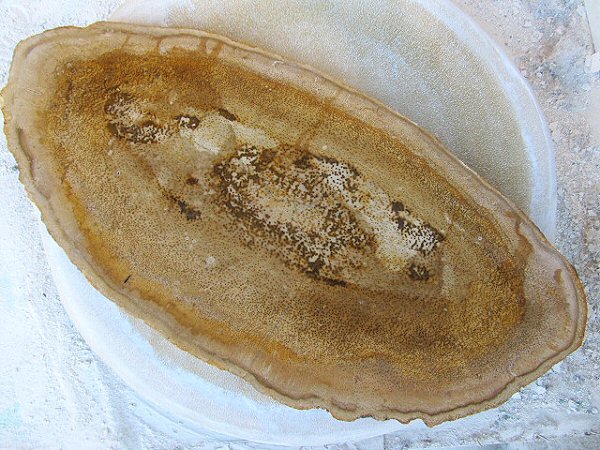 I want to at least be able to hold up a candle to Lloyd's greatness. I'm proud to know this exceptional rockhound, and be inspired by him. He's a vanishing breed and if I stand in his shadow enough, than I will for sure get a better compass on what kind of person I would like to become. That's what rockhounds can do for each other! Pass it on!