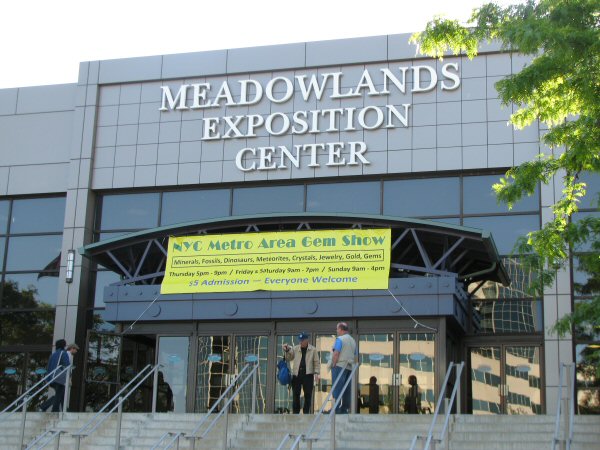 Scott's Rock & Gem arrives at the Meadowlands Exposition Center, in the Meadowlands Plaza of Secaucus, New Jersey, to help pioneer a fabulous new Mother's Day weekend Gem and Mineral Show.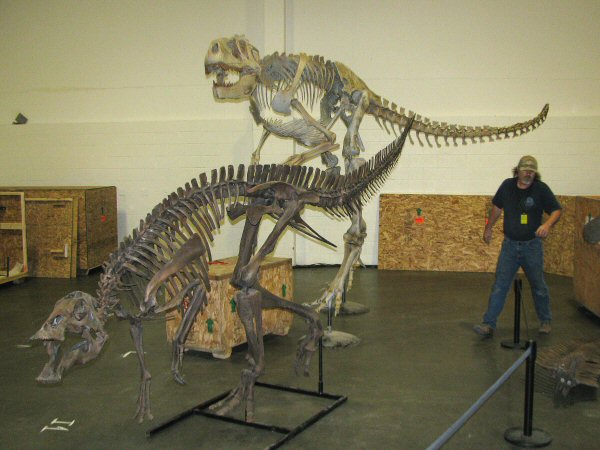 Inside the Expo Center, Mike Triebold, of Triebold Paleontology, out of Woodland Park, Colorado, is busy assembling the skeletons of multiple, extinct creatures, including this Applachiosaurus montgomeriensis, a primitive tyranosaurid, closing in for the kill, on a hapless Edmontosaurus annectens, more commonly called a "duck bill" or hadrosaur.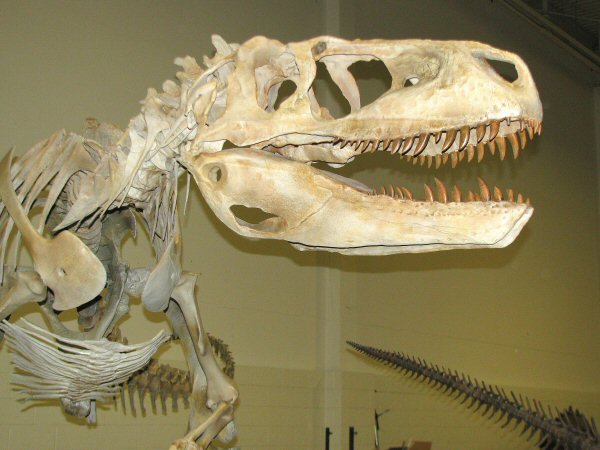 Appalachiosaurus is a unique dinosaur that retained large front limbs, and had a longer, lower skull with even more teeth than the famous Tyrannosaurus of the Western USA. This specimen represents the most complete theopod ever found in the Eastern half of the United States.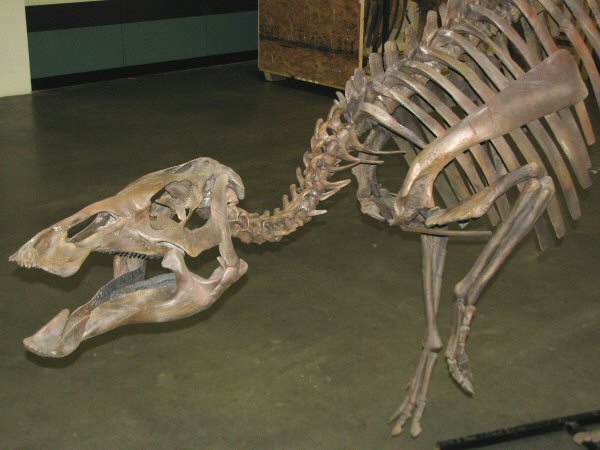 Fantastically enough, the Edmontosaurus in the kill scene actually shows signs of having fought a battle in real life, with a meat eating dinosaur. It's lower jaw bears tooth marks, indicating that it had been attacked. A closer examination reveals that the bone tissue is frothy, and has partially healed. This means that this creature survived the initial attack, and lived for an undetermined length of time afterwards.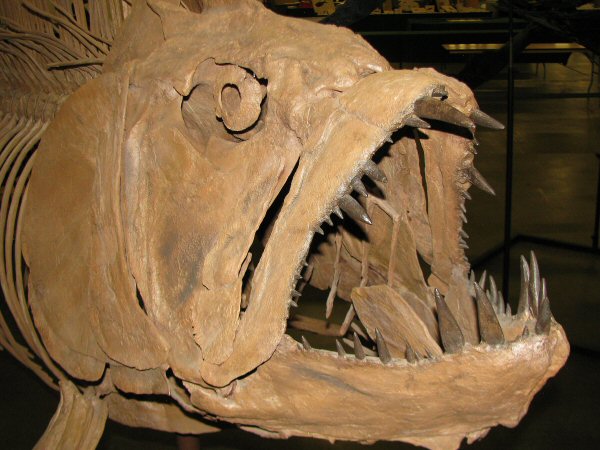 Fish On! This 17 foot long Xiphactinus audax, from the Niobrara Chalk formation, Lane County, Kansas, lived in the late Cretaceous time period, some 86 million years ago.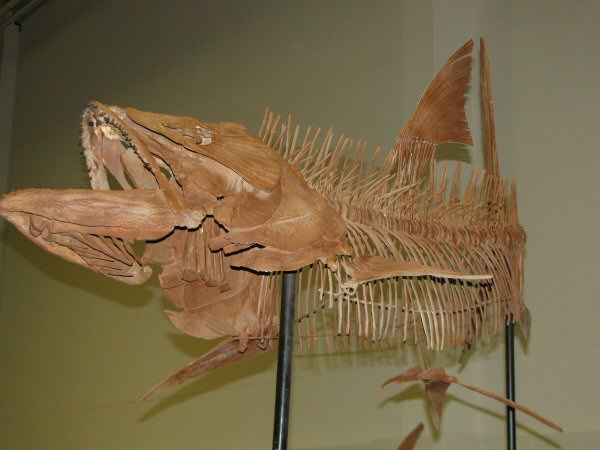 A panned back view of this exquisite giant fish. Triebold Paleontology was the first and only lab to ever attempt to make a three dimensional skeletal mount of the fragile and very delicate bones of this carniverous fish. The New York City Metro Show was honored to be able to display this ground breaking work.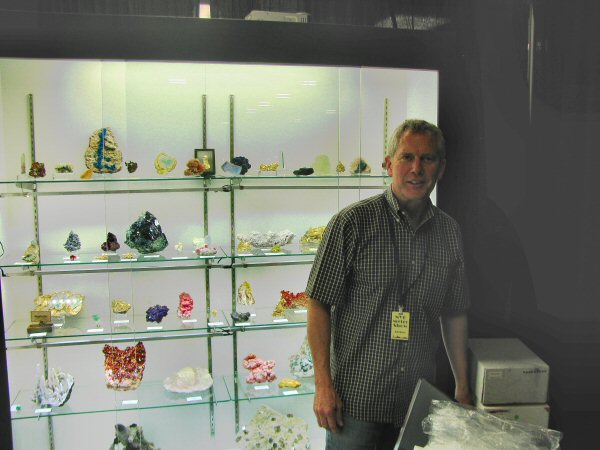 Fine mineral dealer Scott Werschky kindly pauses for a photograph, during the busy push of set-up day. His cabinet of superior quality mineral specimens is looking good! Notice a number of spectacular crystalline gold specimens from various USA locations. Wow!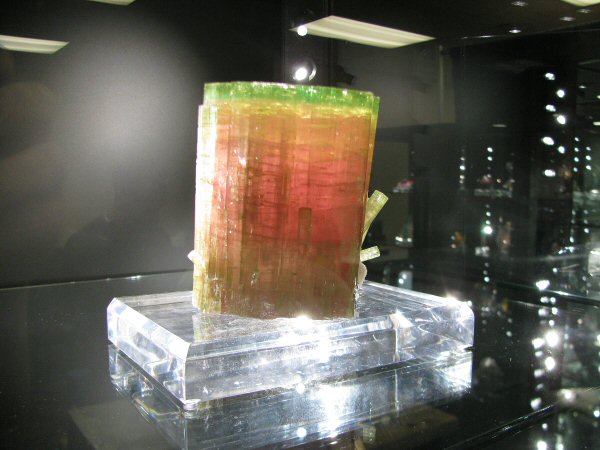 Show Stopper! Astro Gallery of New York displayed this fabulous and burly bi-ciolored tourmaline, which, to my eye, appeared to stand at least 6 inches tall, and possibly more. It was close to being as wide as it was tall. That luscious color, and gemmy, translucent interior just let the light play through in a most fantastical way. Pricewise, this piece was untouchable for about 95% of humanity, but was on view for all to enjoy at the New York City Metro Show!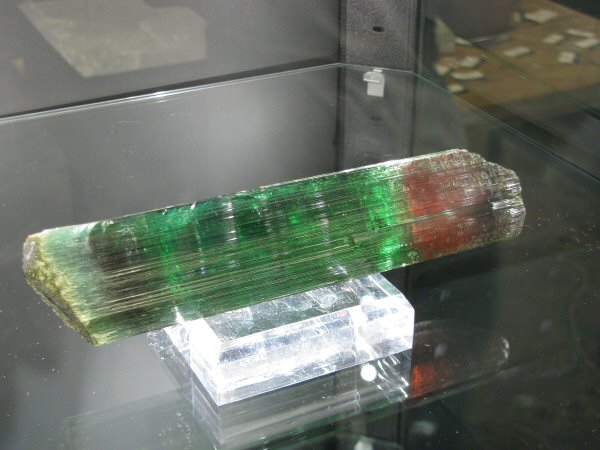 Another spectacular, long, wand-like gem of a bi-colored tourmaline on display in the Fine Minerals area.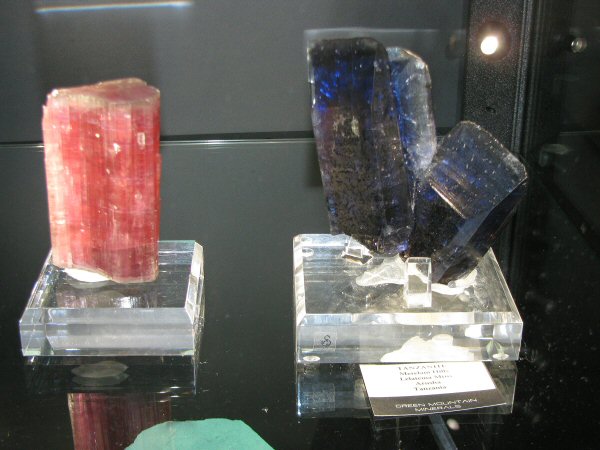 Green Mountain Minerals displayed a supurb deep indigo tanzanite twin, on the right, from the Merelani Hills, Lelatema Mountains, Arusha, Tanzania. On the left is an attention grabbing rubellite tourmaline, still awaiting its identification tag. Super yummy!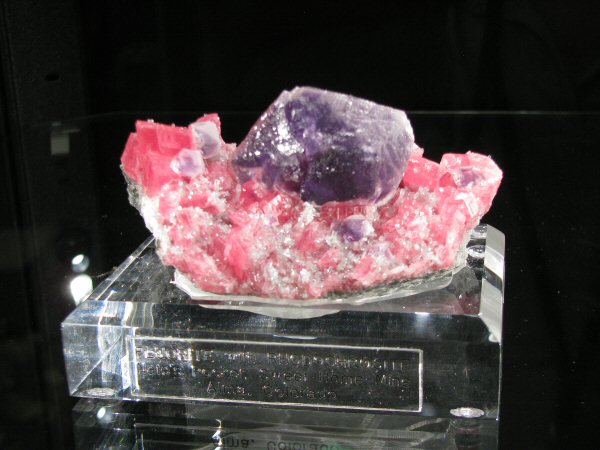 An incredible, deep purple fluorite rests on a bed of cherry red rhodochrosite rhombs, on this classic from the famous and peerless Sweet Home Mine, in Alma, Colorado.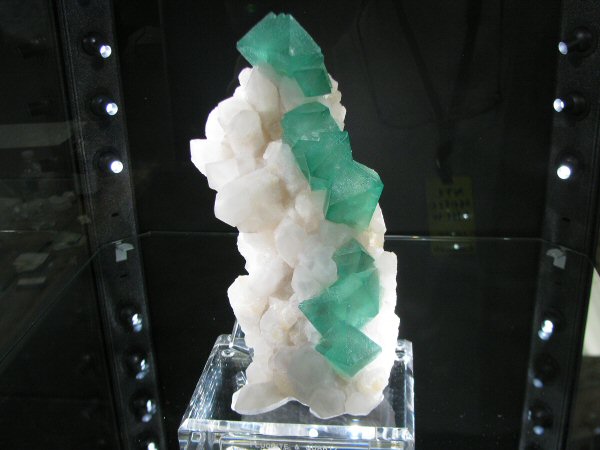 Flawless green gems of octahedral fluorite decorate a stalactitic quartz cluster which stands about 12 inches tall. This piece is from the Namaqualand area of the North Cape Province of South Africa, and it's stunning design pretty much speaks for itself.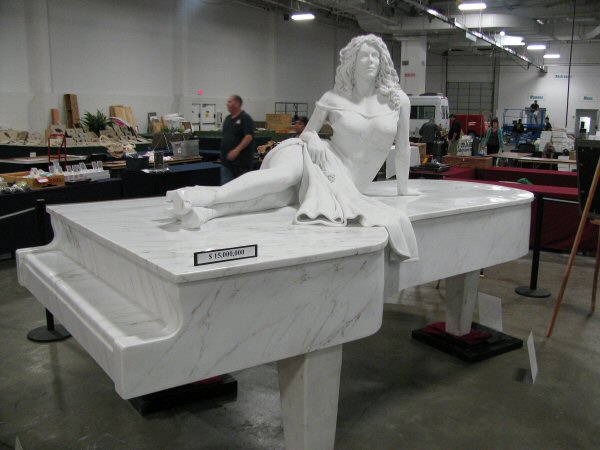 "The American Woman", a lifesize carving in marble by "American renaissance" sculptor Francisco Sotomayor. The lady and piano are revealed in lifelike detail, from one solid block of Yule Marble, from Marble, Colorado. Francisco has an innate sense of spatial recognition that allowed him to create this piece freehand, without any mathematical aids! He is a self-taught artist, and hopes that his work communicates the feeling of an American renaissance period. To me, that's a pretty profound direction to hold, during a time when most of America is focused on the recession. The gal and the piano weigh in at about 5 tons, and have travelled over 25,000 miles, touring across the USA.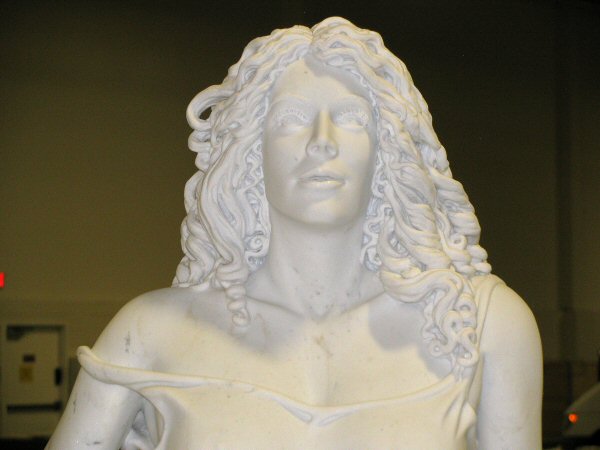 Not only a top notch sculptor, Francisco is also a machinist, and he created a one of a kind, remote controlled cart that wheels this lady into showrooms for display. While travelling, Francisco once reportedly got pulled over by a policeman, who basically just wanted to get a closer look at the lady, and perhaps, an autograph. Can you blame him? (wink)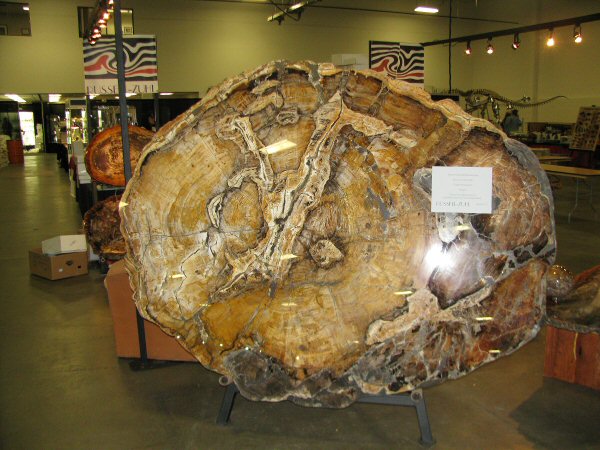 In the petrified wood lounge, this monster Metasequoia, or Dawn Redwood is part of the Russell-Zuhl collection. It's from the Clarno formation, in my home state of Oregon! It claims to be the largest section of petrified wood ever polished, and I don't have a lot of trouble believing that. It stands almost 6 feet tall, and is even wider on its other axis.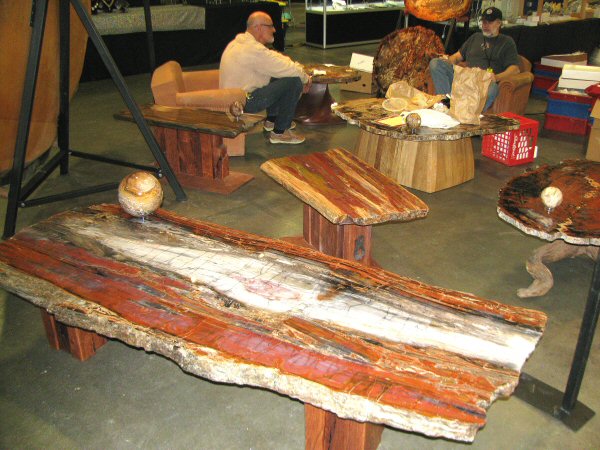 Dealers take a break on set-up day, in the Petrified Wood Lounge.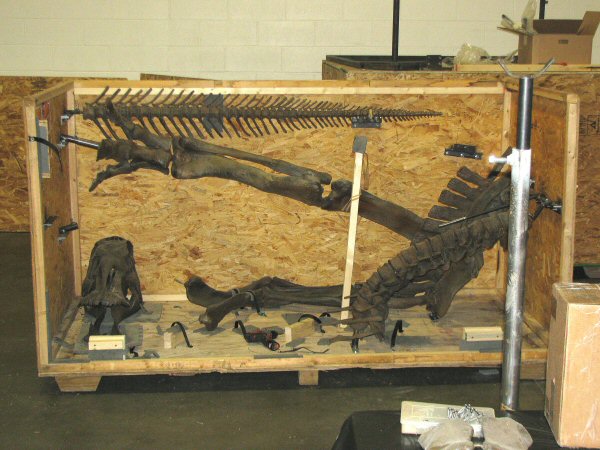 How do you ship a dinosaur? Here, a semi-disarticulated hadrosaur awaits being reconstructed to its full glory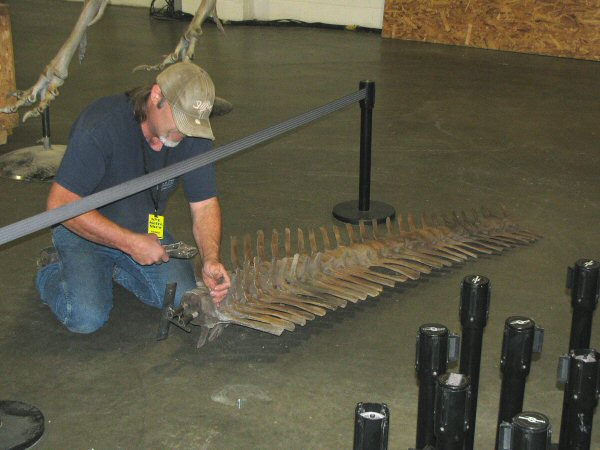 Mike Triebold puts the hadrosaur back together, section by section. Notice that there doesn't appear to be an instruction manual present. I wonder how many times he's done this?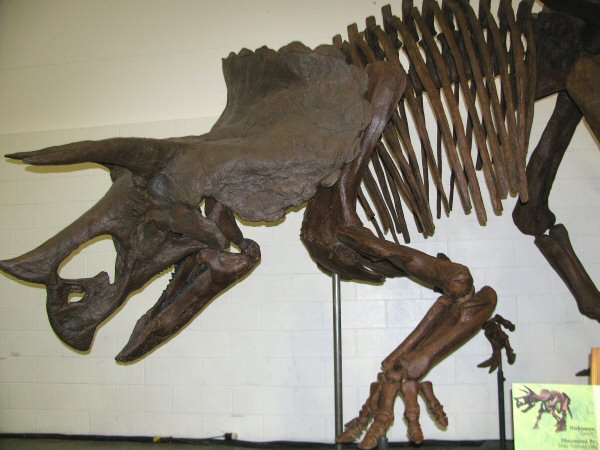 Everybody's favorite ceratopsian, Triceratops prorsus prowls the hall at the NYC Metro Show, crossing about 66 million years of time to be there with us. From the famous Hell Creek formation of Harding County, South Dakota, fully articulated triceratops skeletons are among the rarest of dinosaur finds. This beast wanted a cool 1.5 million to take him home. Seriously – worth every penny in my opinion! (That's only 2 cents per year old, by the way)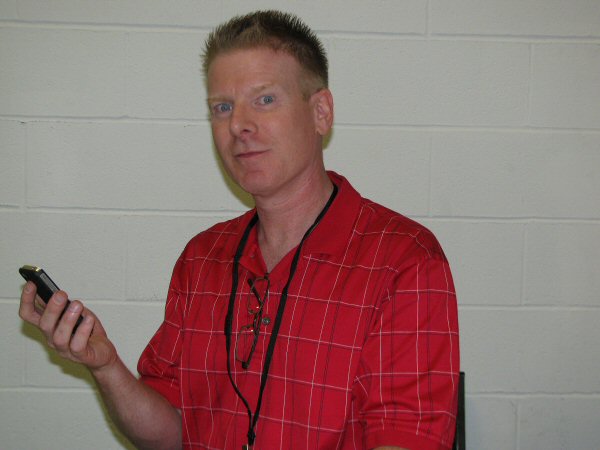 Lowell Carhart, the NYC Metro Show promoter casts a bemused glance my way. Lowell, along with a couple of family partners, and one or two dedicated staffers, began to realize his vision of gem and mineral show promotion, just about the same time the recession began. Considering the timing, this was nothing short of an act of sheer courage. Today, just four years down the road, with three huge shows established, he has ushered in a new period of almost unprecedented opportunity for mineral dealers, collectors, and hobbyists alike, to meet, make connections, and further our passions. His shows have fantastic variety, cater to every budget, and attract hundreds of domestic as well as international dealers. His company, Eons Expos, has literally blown the roof off of the gemshow scene, allowing for the expansion of the mineral dealing business to a new level that most of us didn't imagine would be possible during this time of economic woes. Hats off!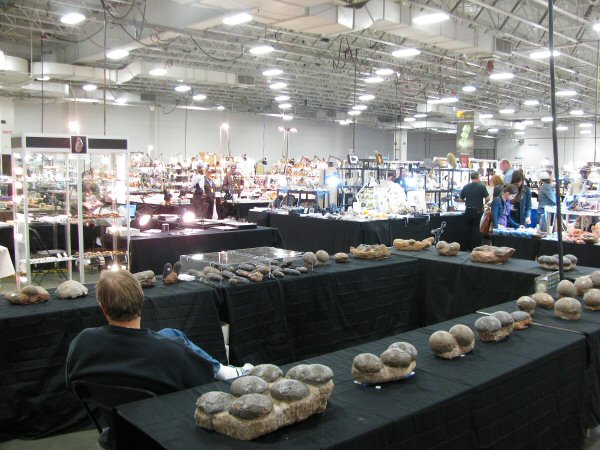 Dealers: Man or Woman your positions! The show is about to begin!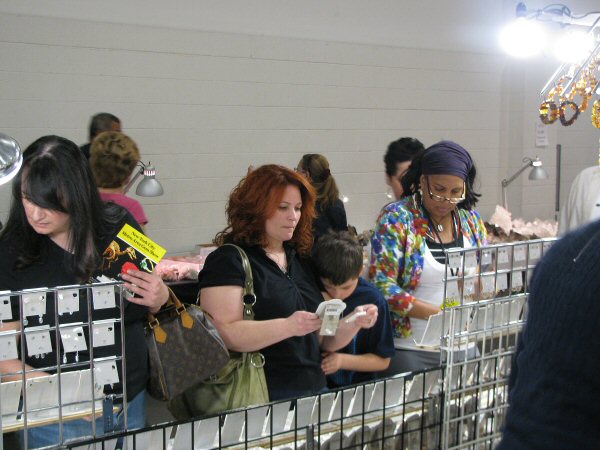 NYC Metro Show attendees get a first look at scads of gemstone and silver jewelry – marked at 50% off!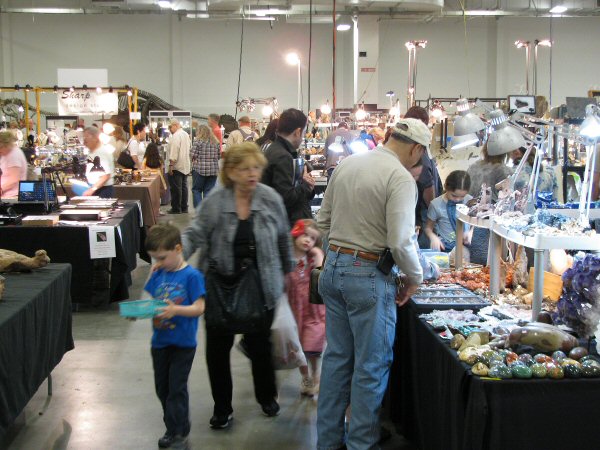 More than 6000 attendees from the greater New Jersey, and New York City Metro area, as well as neighboring states will fill the show aisles over the Mother's Day weekend, perusing the wares of more than one hundred quality gem and mineral dealers. Both the young and old will find treasures that thrill and fascinate.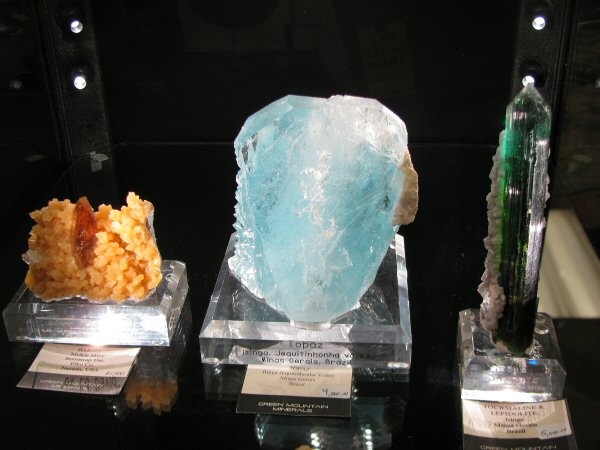 It doesn't get much better than this! A lovely sky blue topaz crystal from Itinga, Jequitinhonha Valley, Minas Gerais, Brazil, occupies center position and entices the eye. Or how about that exquisite Meikle Mine barite, from the Bootstrap District, Elko County, Nevada. I'm running out of adjectives here! Not too shabby – the tall statuesque green tourmaline with lepidolite from Itinga is probably the exact, extreme opposite of shabby!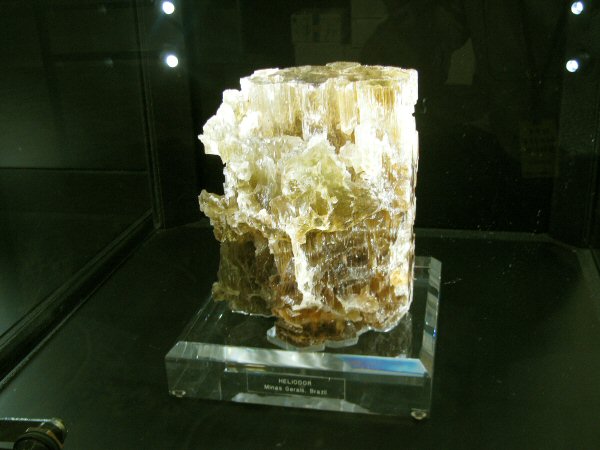 Almost Unbelievable. This giant sized, partially etched heliodore from Minas Gerais, Brazil seemed like it was about 10 inches tall at least, and probably weighed about 10 lbs. or more.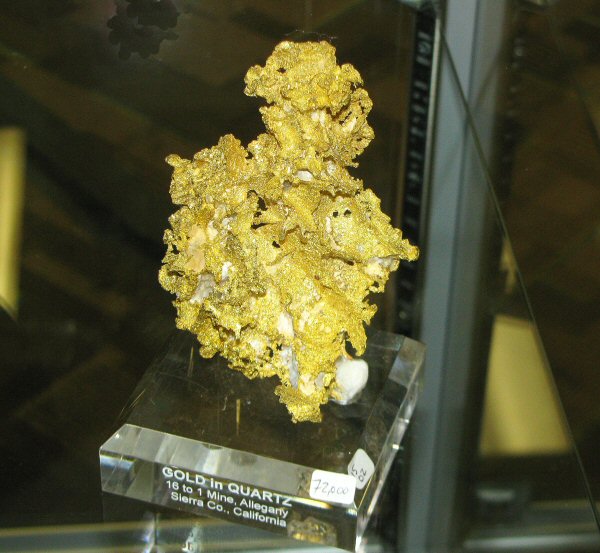 A "rockin" gold in quartz from the colorful and historical 16 to 1 Mine, in Sierra County, California. The gold production from this long running mine was once estimated at one million ounces. That's a staggering value considering today's spot price. I'm not sure I can hold all those zeros in my brain!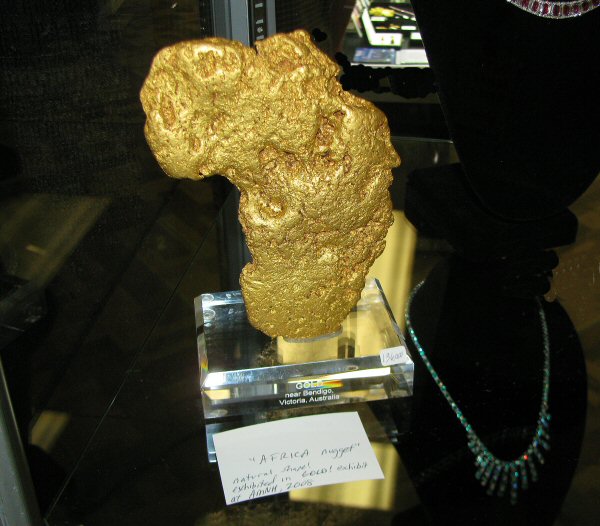 The "Africa Nugget" is a continent shaped gold that was found near Bendigo, Victoria, Australia. As the tag indicates this awesome nugget was displayed at the American Museum of Natural History's GOLD! exhibit, in 2008.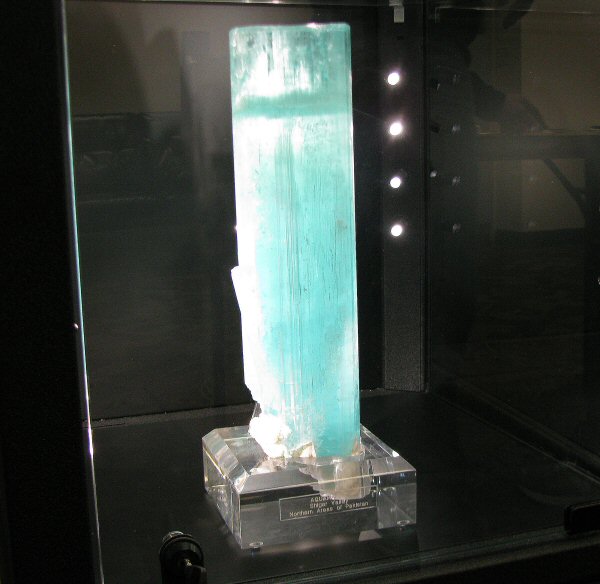 Practically Peerless. This textbook, gem aquamarine crystal from the Shigar Valley, Northern Areas of Pakistan, rises up to a foot in height.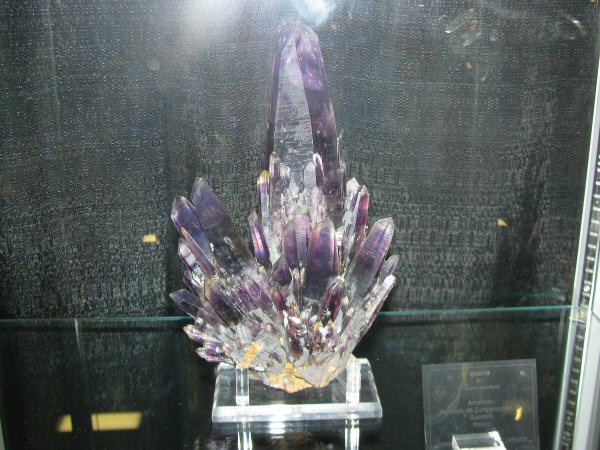 Exploding Wave! This quartz, var. amethyst, from Guerrero, Mexico, has a great look, with nice dark, gemmy, undamaged crystals. It stands probably at least 10 inches tall.
This superb botryoidal chalcedony mass from the Withlacoochie River of Lowndes County Georgia is the finest example of a chalcedony from that area ever found. What can I say? I'm an Oregon guy. I brake for agates!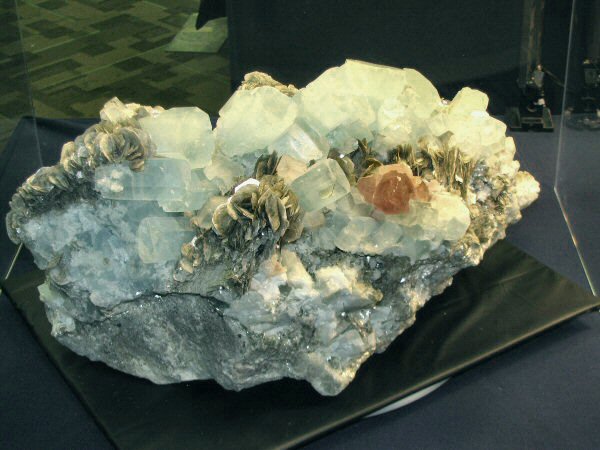 Bigger than a basketball. Maybe even two basketballs! This huge aquamarine and muscovite cluster was displayed by Arif and Aisha Jan, of Rocksaholics. It was found in Nagar, Hunza Valley, Northern Areas of Pakistan. The sweet natured and unpretentious couple had a very fine display of Pakistani minerals. The aquamarines from this area have to be some of the finest in the world.
Another superb large aquamarine and muscovite cluster from Rocksaholics. I guess you can tell these were my favorites.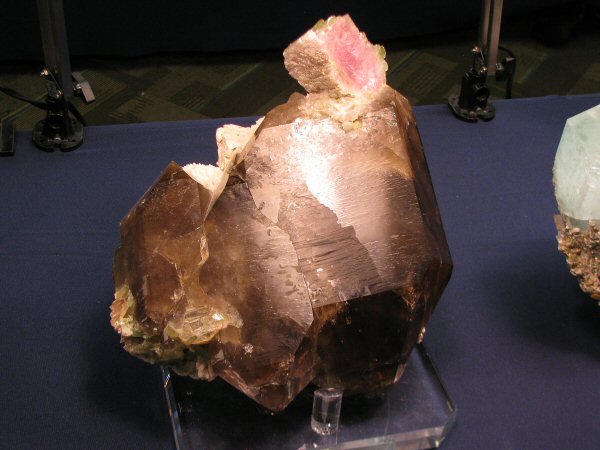 A juicy watermelon tourmaline perches on a huge smoky quartz elestial, in this fine specimen from Paprock, Nuristan Province, Afghanistan.