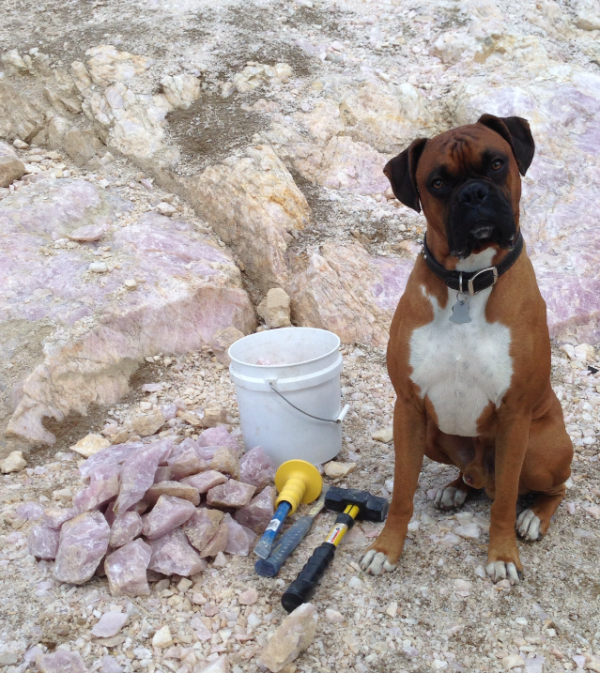 My old rockhounding buddy Rollie down in Susanville, California called me up for a field trip, saying he had finally found a storied black tourmaline and quartz area while exploring nearby Thompson Peak. This after 6 years of searching, with the requisite getting lost, blood loss, and losing your temper, etc. (Rockhounds, you know what I mean!) While at it, I figured I could get some rose quartz from a nearby locality at the same time. Here at the rose quartz area, Rollie's dog Manny takes a proud pose next to some nice pink rocks.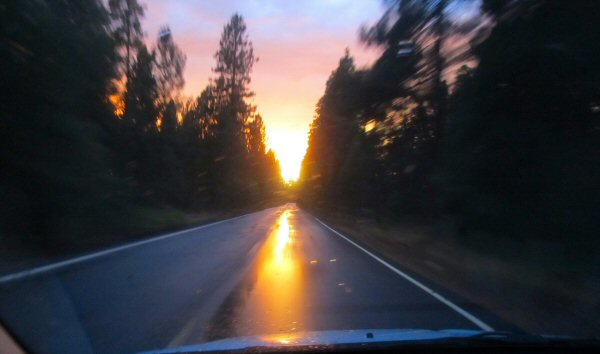 Since drive time was long for me, and we were only talking two fleeting days of blissful rockhounding, I wasted no time in getting on the road.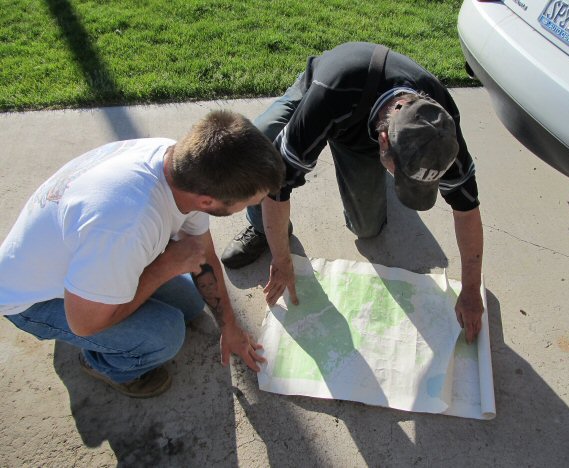 As it turned out, we did neither of the above mentioned field trips, but instead got pulled along on an entirely different adventure. Here local Susanville grandfather and rockhound Floyd Tibbetts checks area quadrangles with Rollie, and a new set of field trips materializes before my eyes. Why do we use the old maps instead of modern technology? Well, in this instance, the maps actually showed more of the various roads that were out there than Google did. Plus we're stubborn old school. We might even like getting lost, what can we say?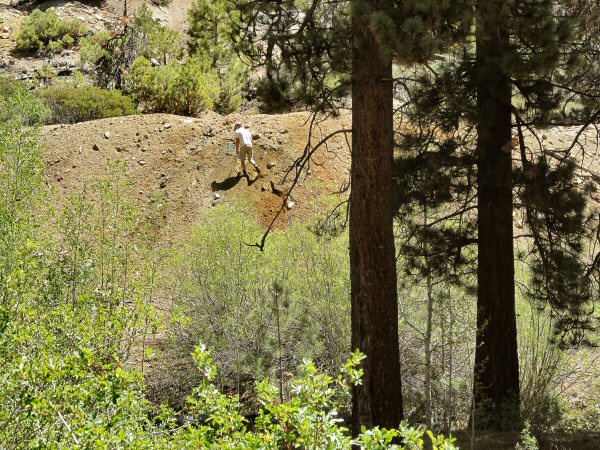 We're joined by another local Susanville rockhounder, Scott Cavin, who can be seen here examining the tailings piles of our first objective: the old Last Chance Copper Mining District on the bank of Spring Creek, up above Frenchman Lake.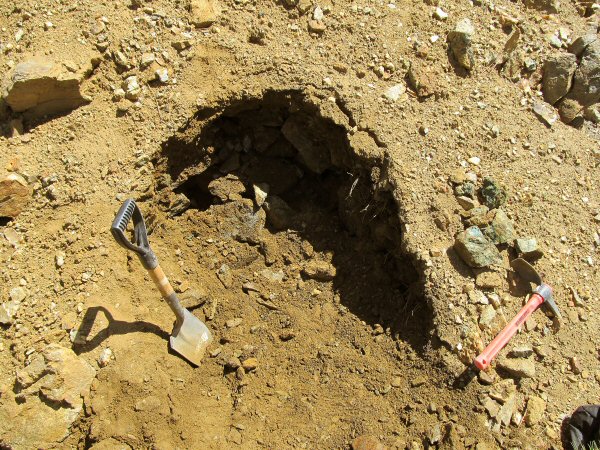 We check the mine tailings down to a depth of a couple feet, to get a look at what has been lying buried since the last reported production of the Plumas Copper Belt, back in the 1920's.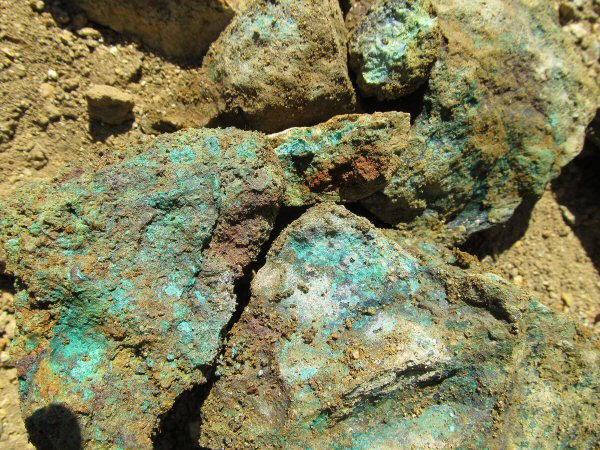 There is certainly some nice color down in the tailings piles. It's interesting to note that over 65 separate mineral species are present here in what was a complex, polymetallic quartz vein system. Included are some unusual, and rare bismuth species.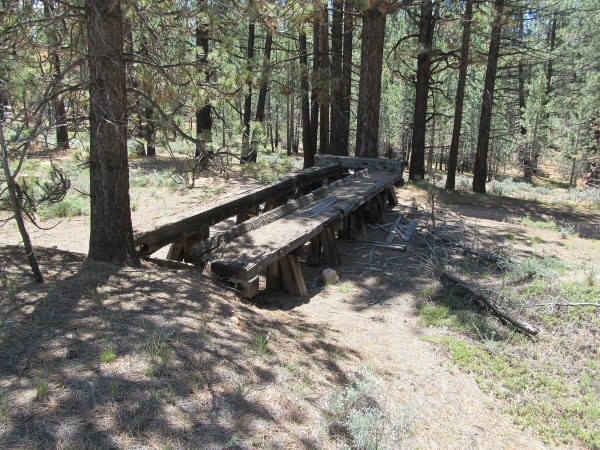 Today, not much is left of the Last Chance mining community. Here, an old ore chute falls apart in the woods below the copper producing area.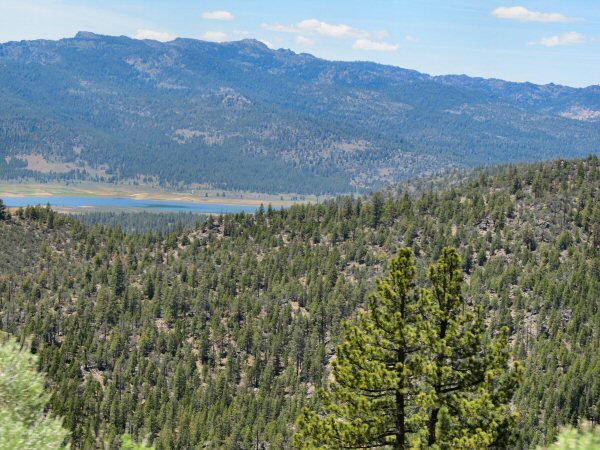 With the day still young and lovely, we get above Frenchman Lake, on the road to Crystal Peak, to check out the old lavender rose quartz quarry that seems to move around up in the peaks above the lake, depending on who you talk to. Armed with our old maps, we think we might be able to nail it down.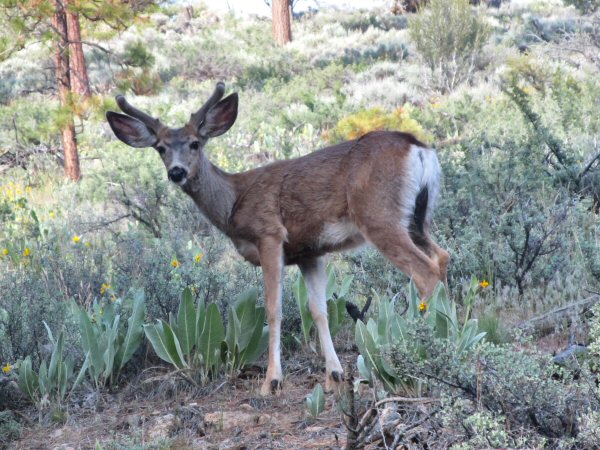 A young buck notes our passing.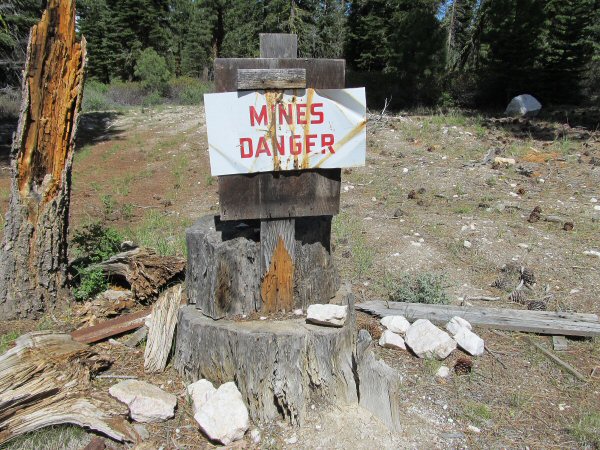 After numerous wrong turns, and miles of bouncing over unmarked roads, we ultimately have to just get out on foot and start walking the jeep trails that have been blocked with downed trees, erosional gullies, etc. Finally we see a sign! The soil in the background here is strewn with chunks of quartz, some with the highly desirable lavender color. But the day is more than half gone now.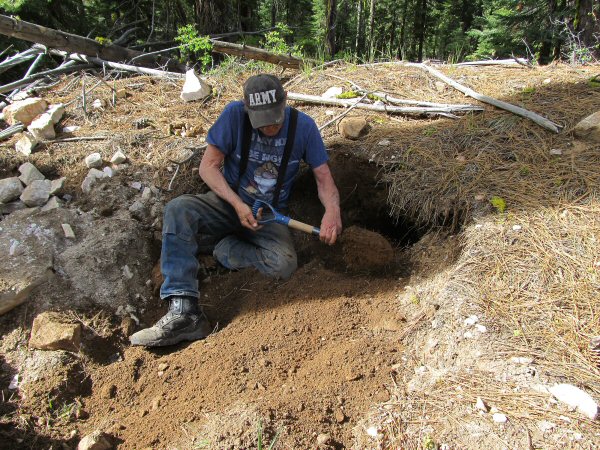 We get right to work. Here Floyd digs at the edge of the rose quartz tailings to see what is lying hidden just out of sight below the soil. The quarry is largely historical at this point, with the coveted lavender quartz lens having been long ago dug out. The land has been more or less reclaimed here, with the pit filled in. But the soil is strewn with just enough color to keep us going.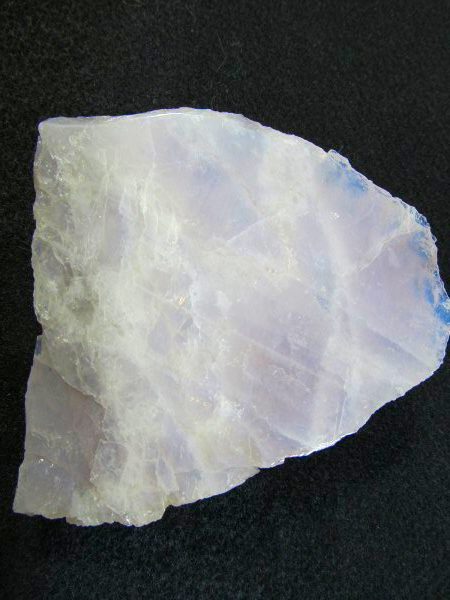 The most prized rose quartz here has an unusual milky, opalized, lavender-blue tint that makes it stand out as unique among rose quartz deposits. Also, it is reported that the lavender quartz here displays asterism along more than three different axes, (shows a star) when cut and polished.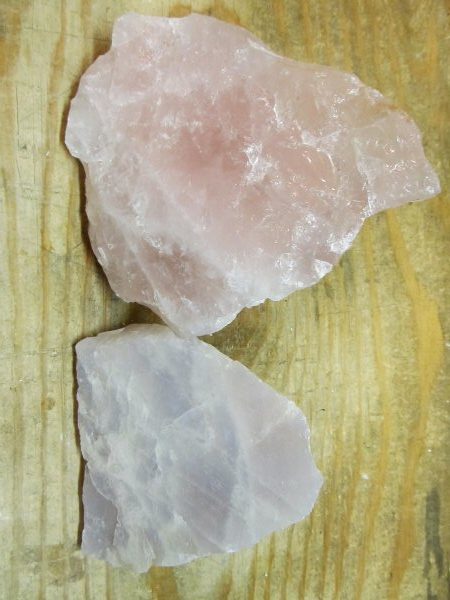 Here's a piece of the lavender rose along side of a very nice gemmy piece of Brazilian rose quartz, to give you an idea of the color difference. And this is one of the lighter shades of lavender that I collected! An interesting side note, and one that speaks to the variability of mineral pricing: it is reported that this lavender rose quartz sold for as low as 3 cents a pound in the mid 1980's when the Layfayette Rock Shop in Contra Costa County had to close due to a freeway expansion project. Ironically, the rough was also being sold by the carat in the Lapidary Journal at nearly the same time.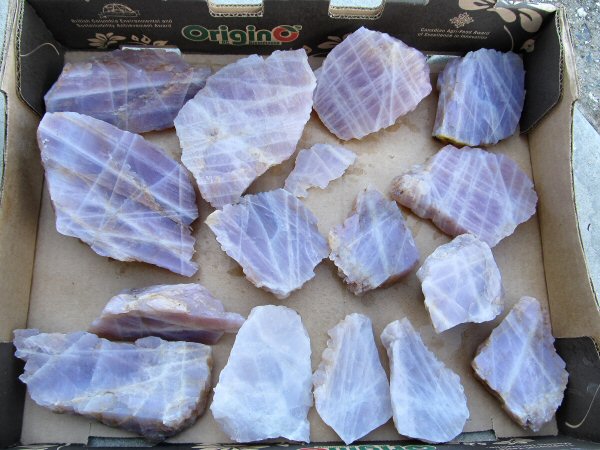 Here's a flat of some cut material that I collected showing the range of colors. I found that even though the quartz looked very fractured on the outside, it still somehow holds together for cutting and polishing.
I quickly fell in love with this material.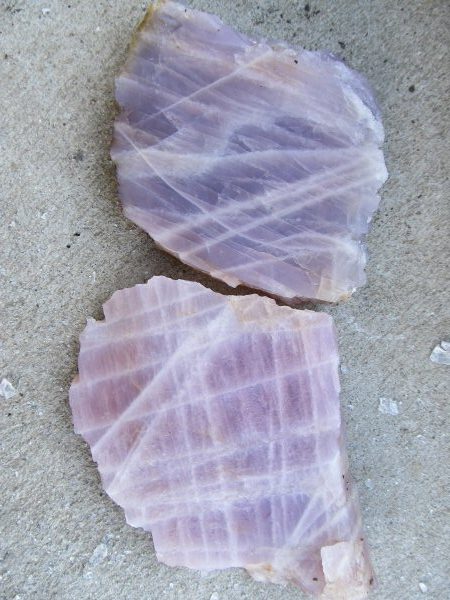 Besides the unique lavender, there was some good opalescent pink in the area too.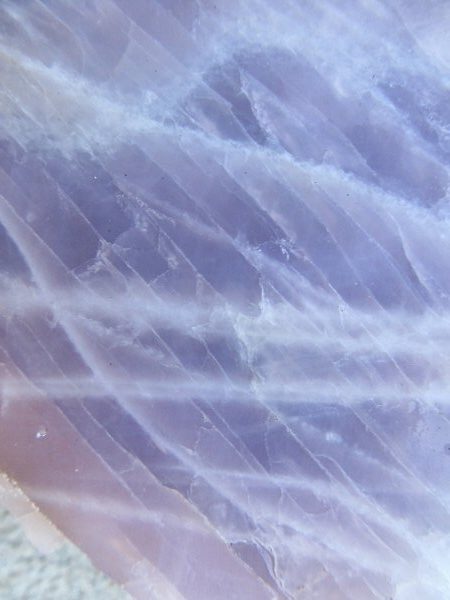 One thing's for certain – this color is yummy!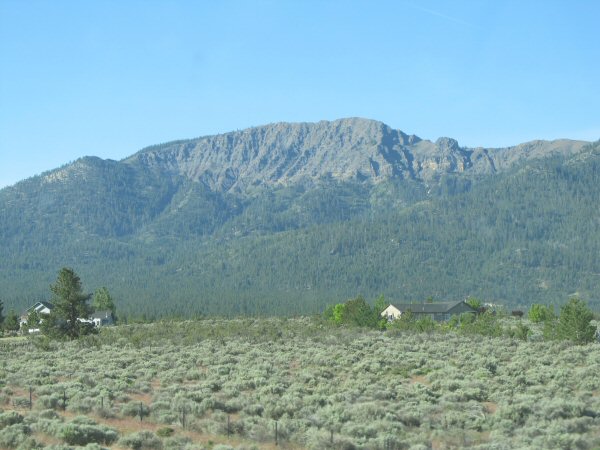 Day Two: On the shoulder of Thompson Peak, area rockhounds have discovered a smoky quartz, epidote, and feldspar vein.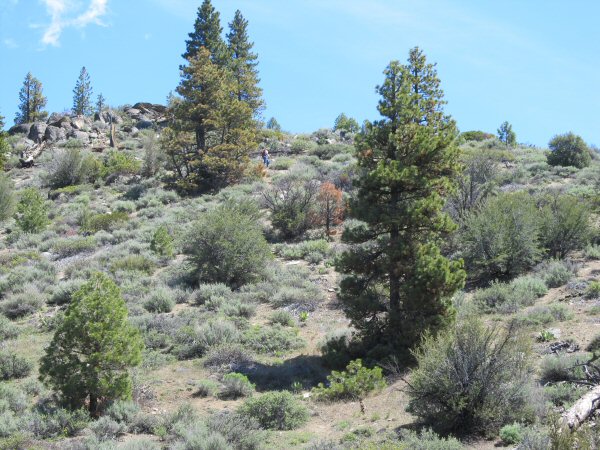 Like so many of the quartz occurrances in the mountains south of Susanville, the small outcrop shows up at some elevation,  among the smoothed granite boulders of the high country.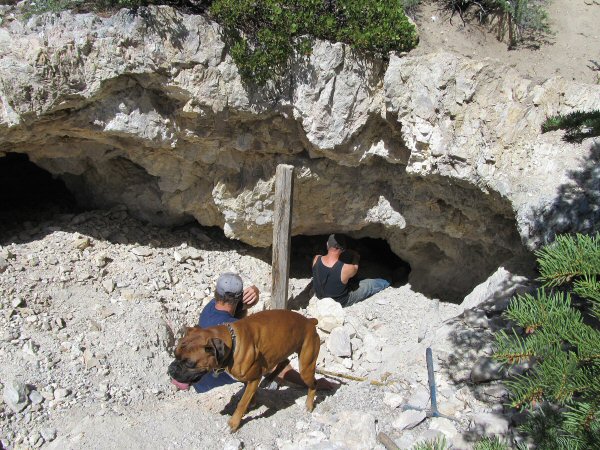 The site appears to be an aplite type dike that is host to the smoky quartz and associated minerals. Before I go on, I should give my requisite disclaimer: It is the sole intent of Scott's Rock & Gem to provide a record of exploration. I do not advise going into any dangerous, undercut area where overhanging rock could collapse, causing almost certain death. The safest way to handle a scenario like this is to stay out of underground chambers and dig on the tailings piles to see what has come out of the hole.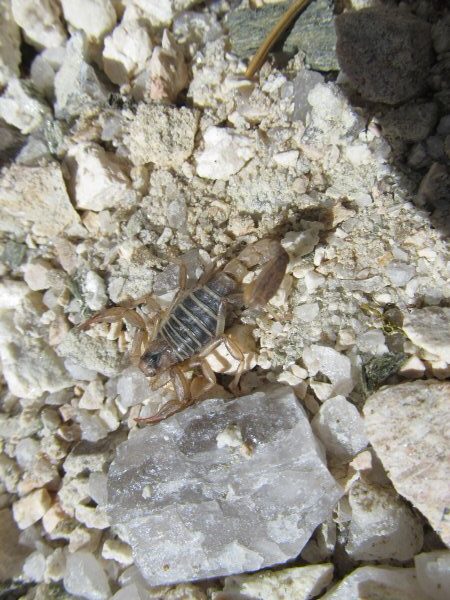 Even the tailings piles are not without their dangers, as evidenced by this little critter who came out from under a rock and lashed it's tail vigorously when threatened. Always be vigilant and stay safe!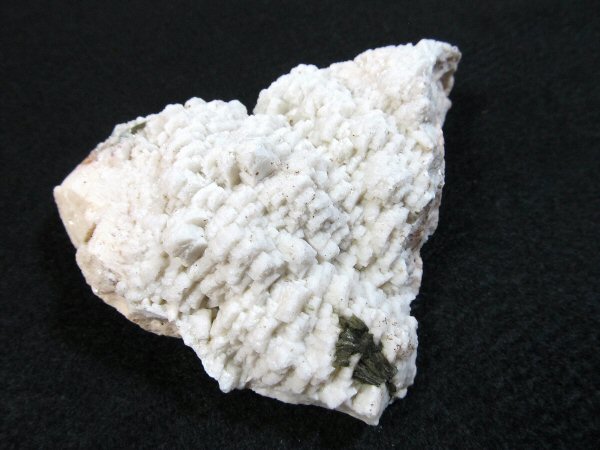 Here's a gallery of my tailings treasures! The area had quite a number of these appealing little platey feldspar pieces with olive green, fibrous, and somewhat chatoyant epidote sprays.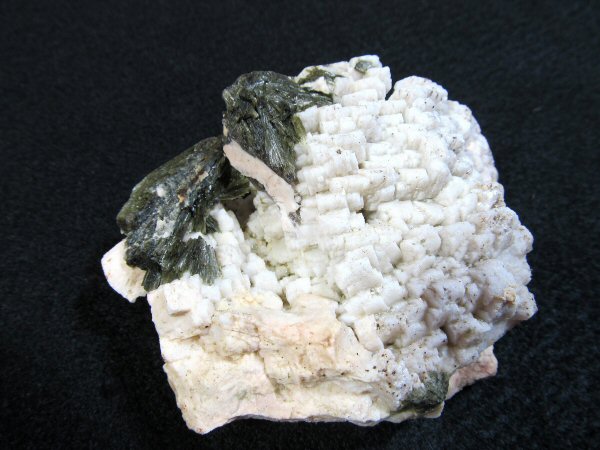 I couldn't resist collecting a number of these.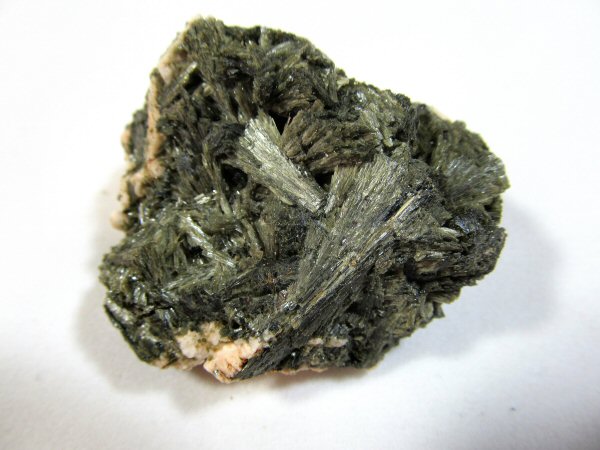 There were some quite fine little clusters of epidote sprays.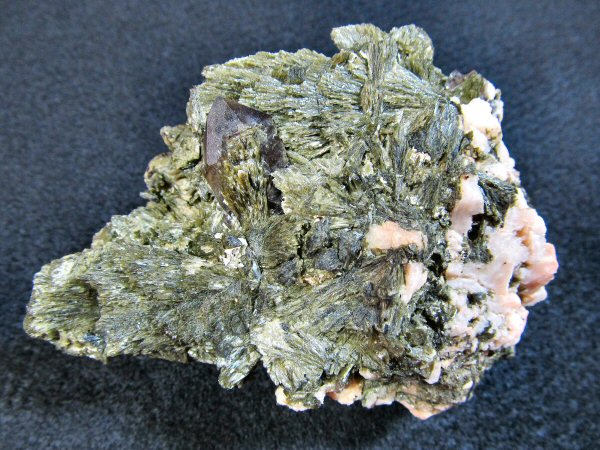 Gorgeous cluster of epidote sprays with smoky quartz point, on salmon feldspar.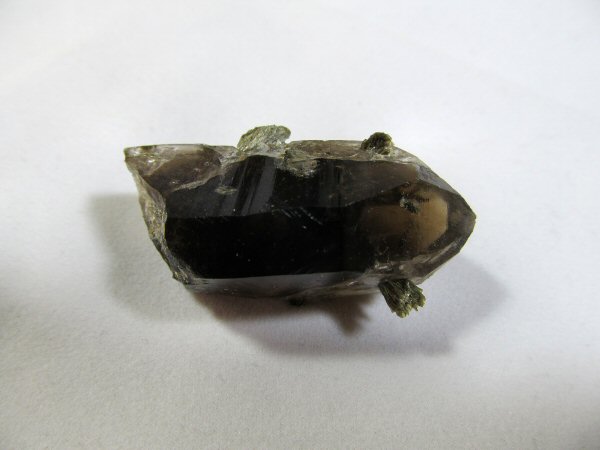 Beautiful little quartz point with tiny epidote sprays bursting forth.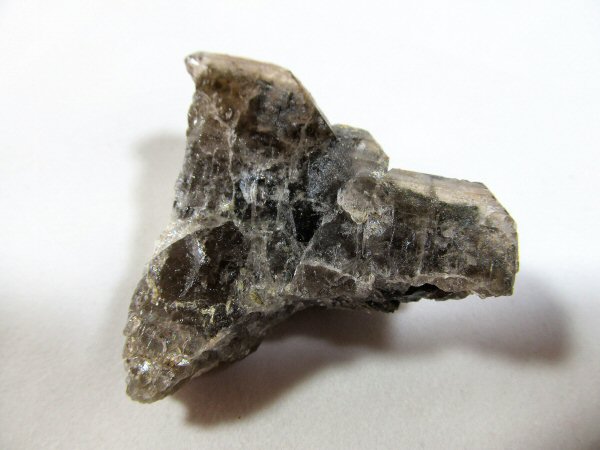 A rather odd, shardy but faced tabular smoky quartz "pinwheel" with a surprise on the back side…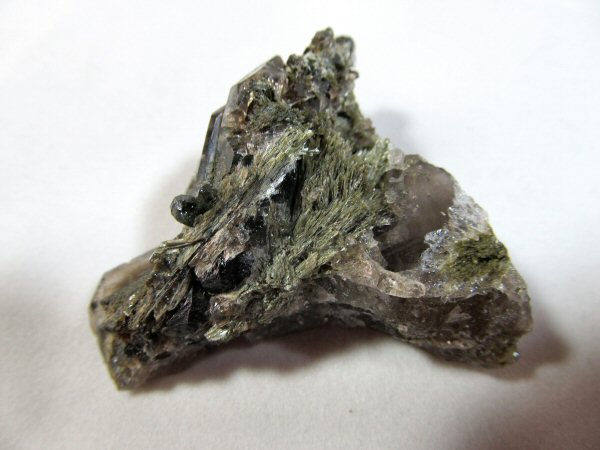 It's loaded with epidote!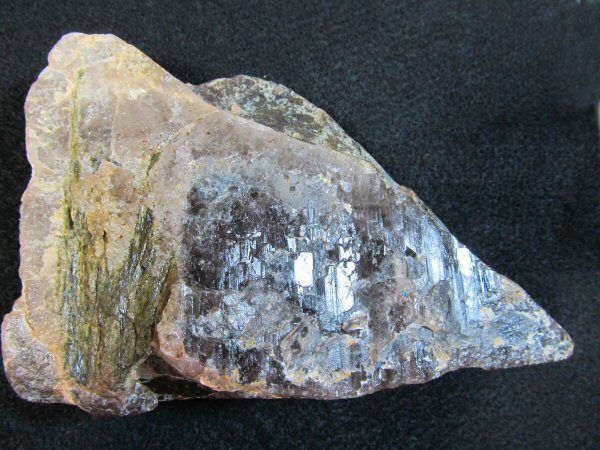 A lot of the smoky quartz appeared to be tabular and somewhat shard-like but upon closer examination was actually faced on at least one if not multiple sides. Here's a great chunk that's larger than my open hand with a three inch epidote spray embedded within.
A little bit crestfallen, Manny finally accepts that we're not going to go racing around in the woods, and instead are going to squat all day by this boring hole!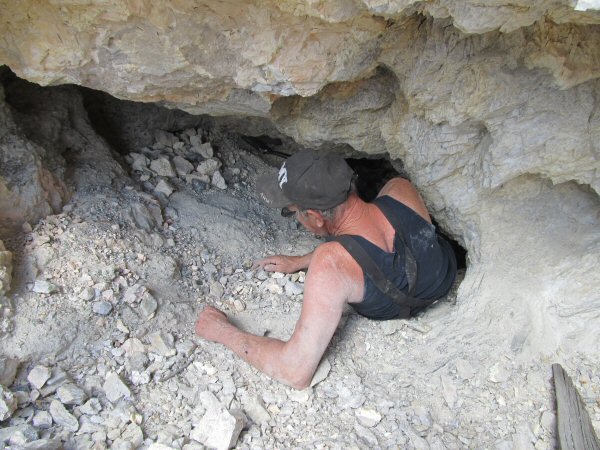 Just kidding about the boredom. About this time, Rollie hollers up that he's hit a pocket! He's working down in the inner chambers that the rock moles have burrowed out, chasing the smoky quartz vein. You can just make out his shovel in the center of the photo, right by Floyd's head. Rollie himself is out of sight within, but his arm periodically reaches up and hands Floyd up the crystals he is pulling out!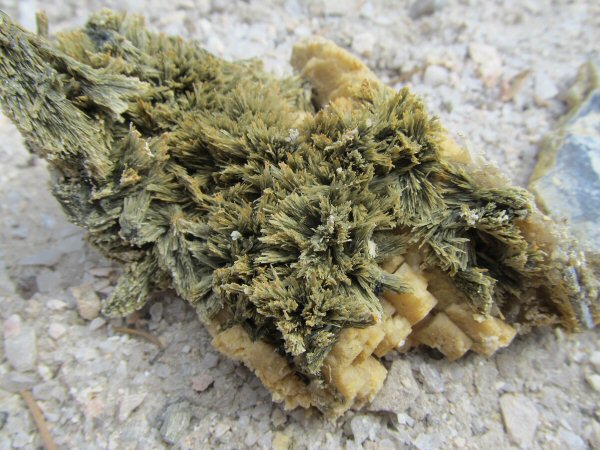 First out into daylight: An absolutely fantastic cluster of hairlike epidote sprays almost completely covering a large platey feldspar.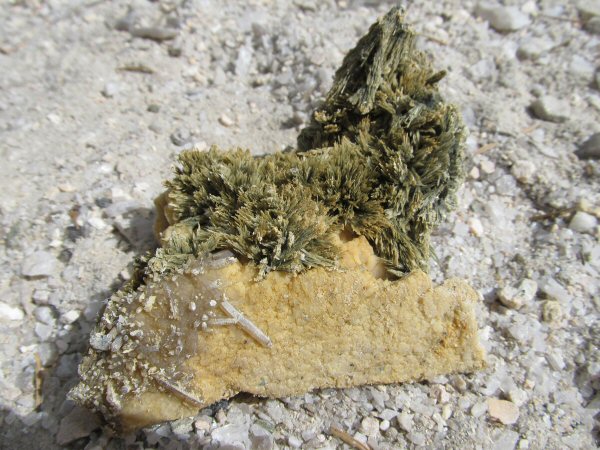 Followed by a second, equally stunning piece.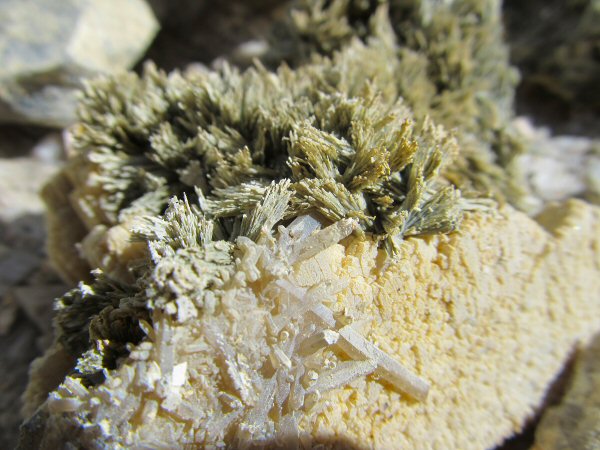 Here's a closeup of this beauty, showing a whimsical area of almost clear, interlaced quartz crystals.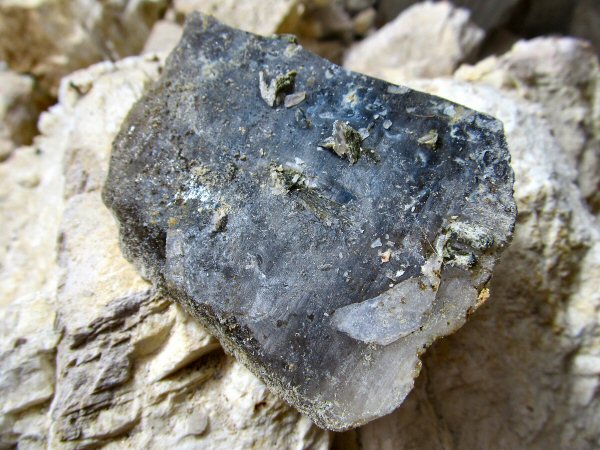 Next up: a large tabular terminated piece with embedded epidote sprays.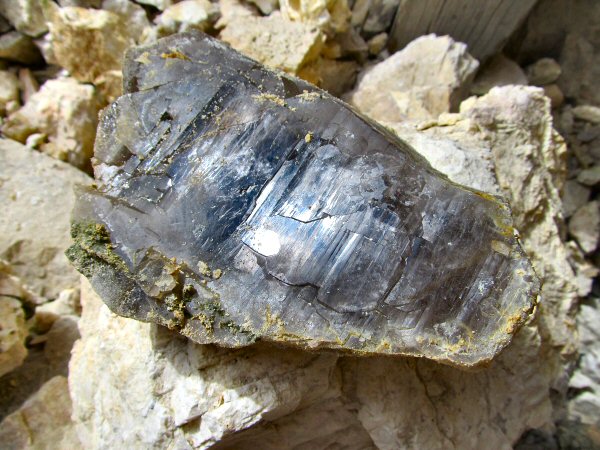 A brilliant and quite large, elestial faced tabular DT with epidot edging.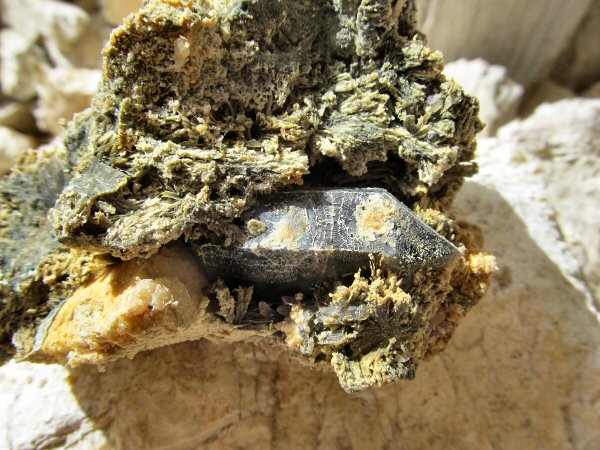 A great smoky point nests in a forest of epidote.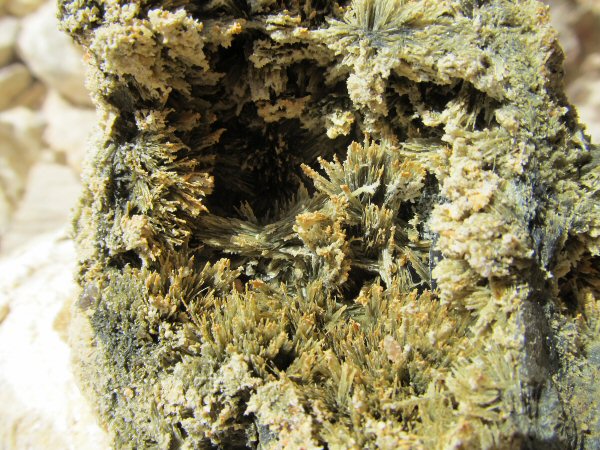 A beautiful, geode-like epidote vug.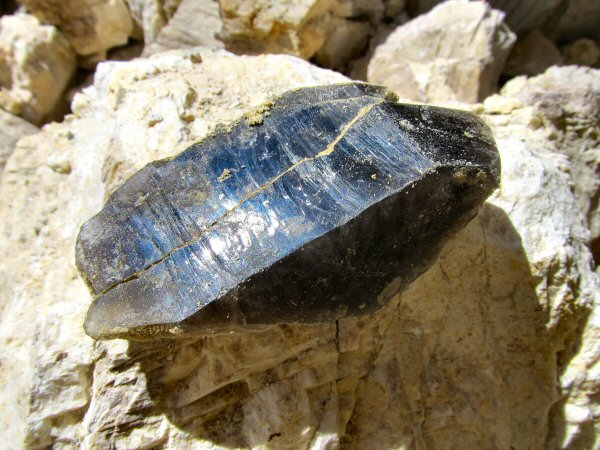 A huge tabular DT takes up the whole top of the boulder.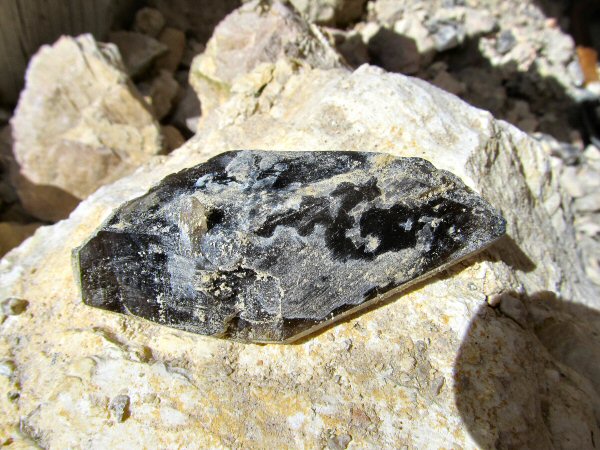 Here's a very unique and good sized doubly terminated piece with small crystal poking up. Because of it's odd, somewhat rhombohedral shape, we immediately nicknamed it "the coffin".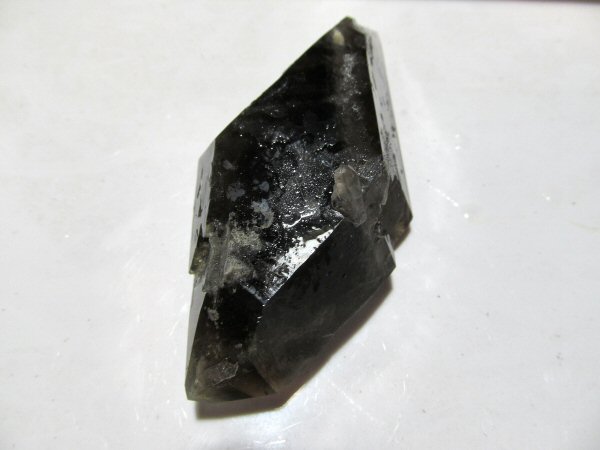 The Coffin, after getting cleaned up a bit.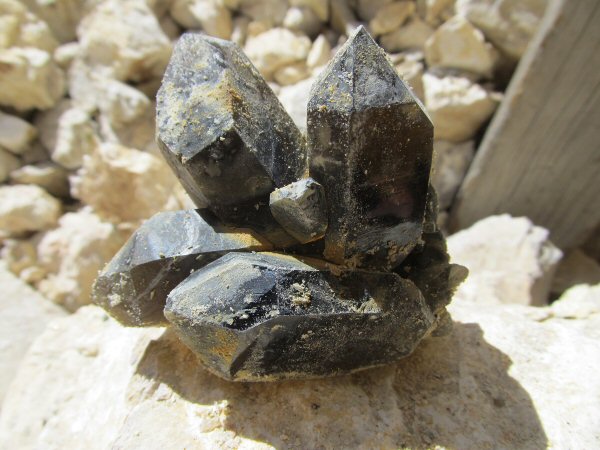 How about this striking cluster?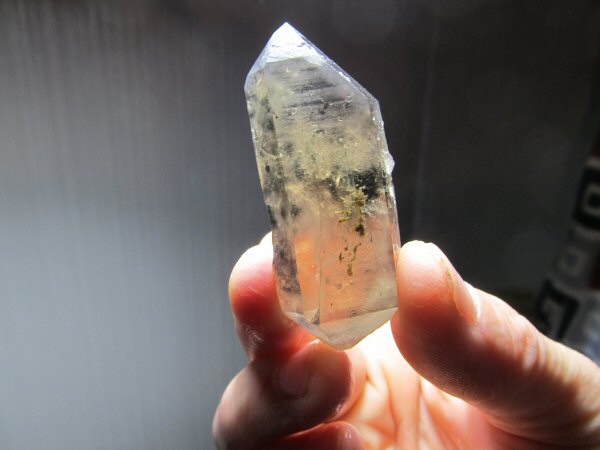 A beautiful gemmy little doubly terminated crystal with epidote inclusion.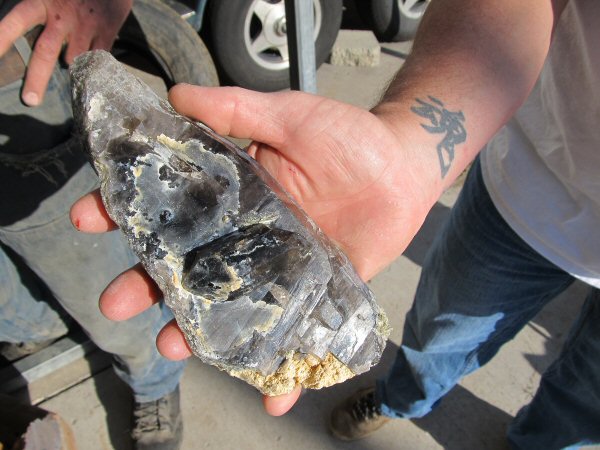 Here's a big tabby DT with smaller twin DT crystal riding along!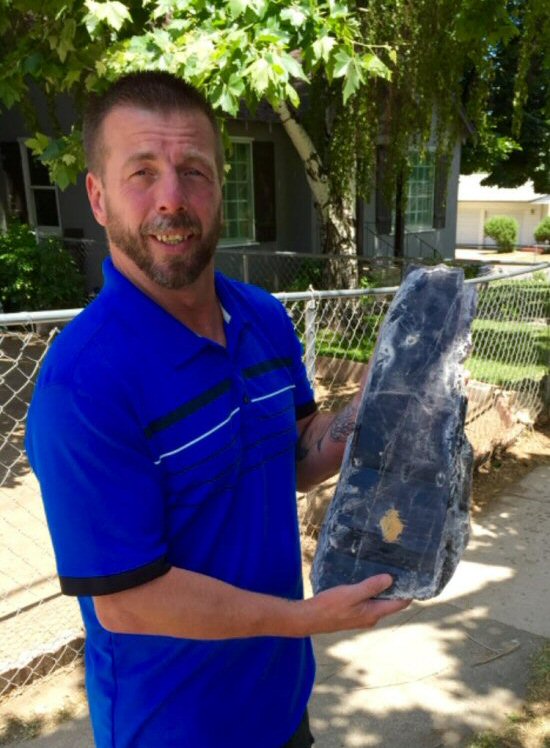 In the days to come, Rollie keeps working the pocket which enlarges to a 5 foot by 5 foot room, and the crystals just keep getting bigger! As far as I know, he's still up there pulling them out!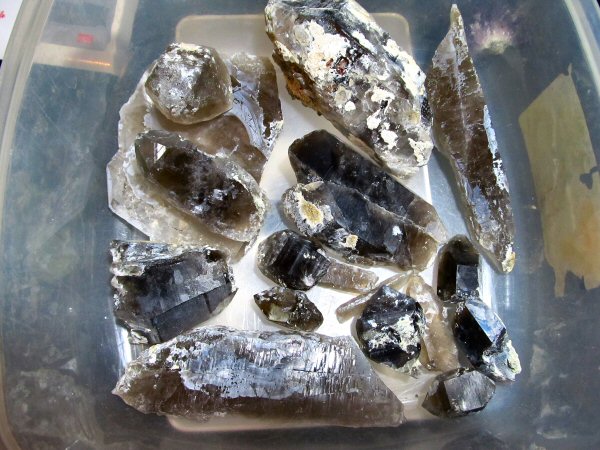 Wow! What a great first day of discovery we had! Beautiful minerals…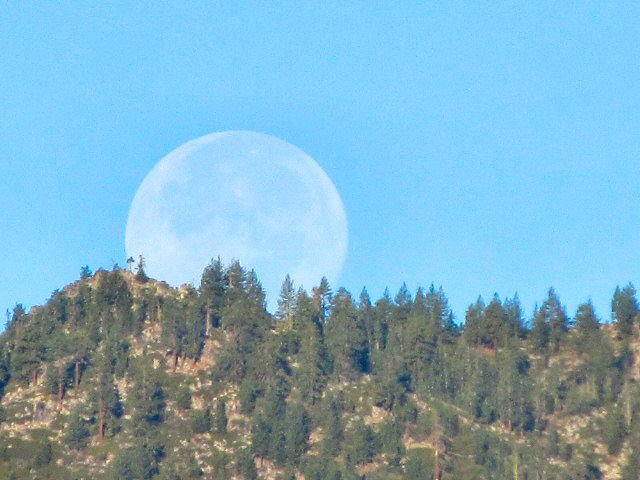 …fresh air, and gorgeous country. You really can't ask for much more.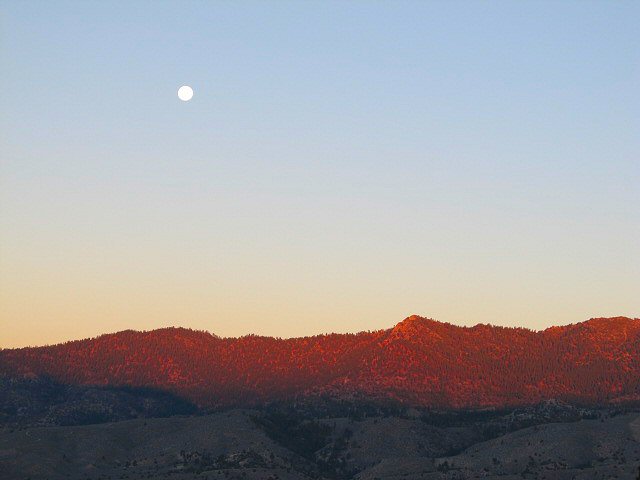 A stillness settles over the land after our day of activity. For now, my rockhounding time is up, but I'll look forward to the next time I get together with the Susanville Rockhounds!