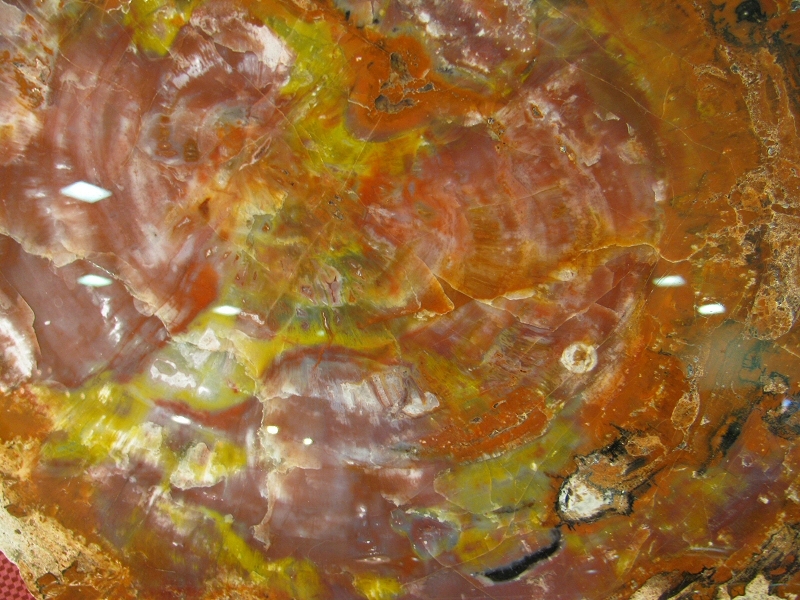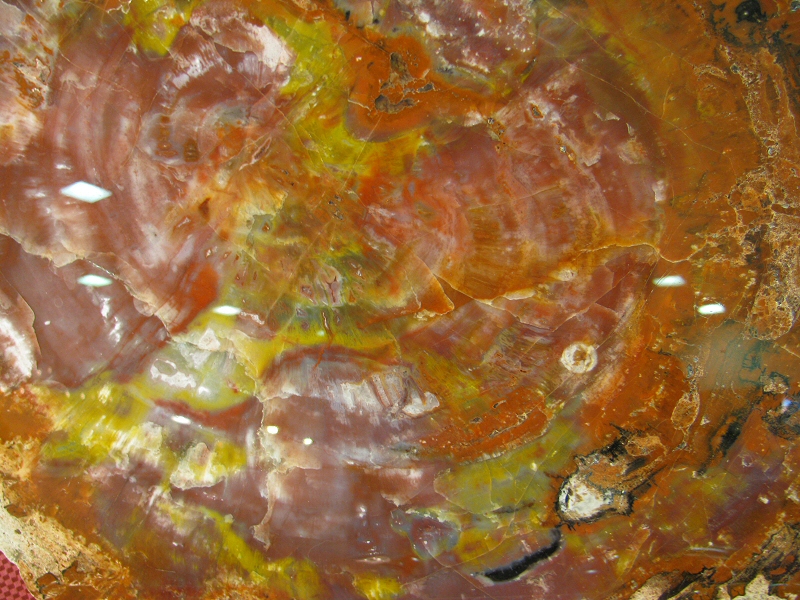 A very nice, large sized specimen of the highly sought after Arizona petrified wood, offered for sale at the Reedsport, Oregon Gem and Mineral show. What makes the Arizona wood so good? It's primarily the rainbow colors of agate that replaced the log. Most petrified wood has dull shades of brown, black, and white. But additionally, much Arizona wood displays well preserved ring structure. Petrified wood "rounds" such as this specimen, which is a complete cross sections of a log, are one of the most sought after types of wood.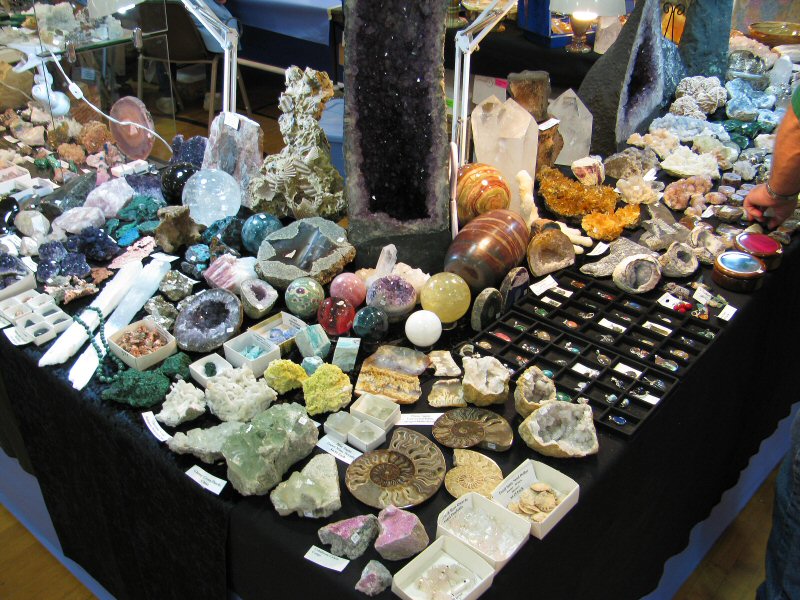 While at this great little show on the Oregon coast, I thought I would take you on a short virtual tour of my display. Here you get a look at some of the wide variety that Scott's Rock & Gem endeavors to offer. Check out the shop section of our website if you are interested in adding to your collection. We try to make the web store a mirror image of our gem show offerings.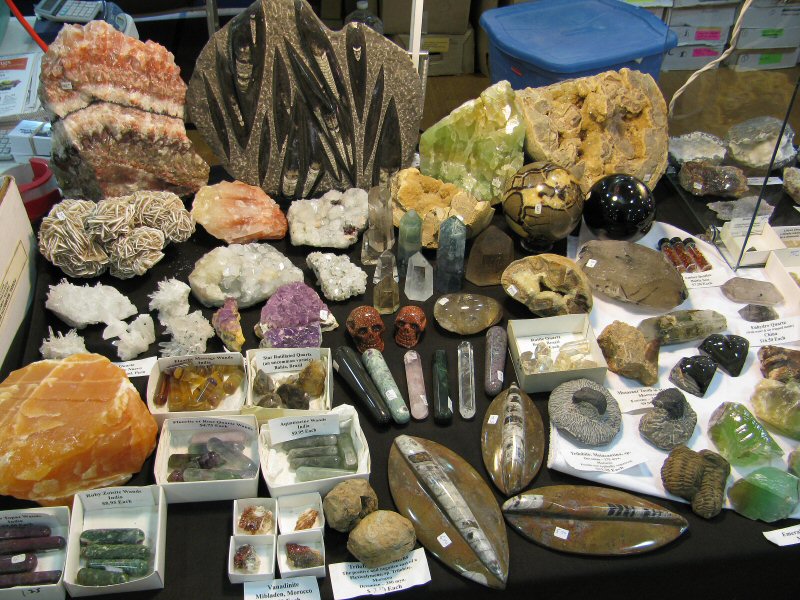 Here is a detail shot of a small section of the Scott's Rock & Gem table, at the Reedsport, Oregon Gem Show.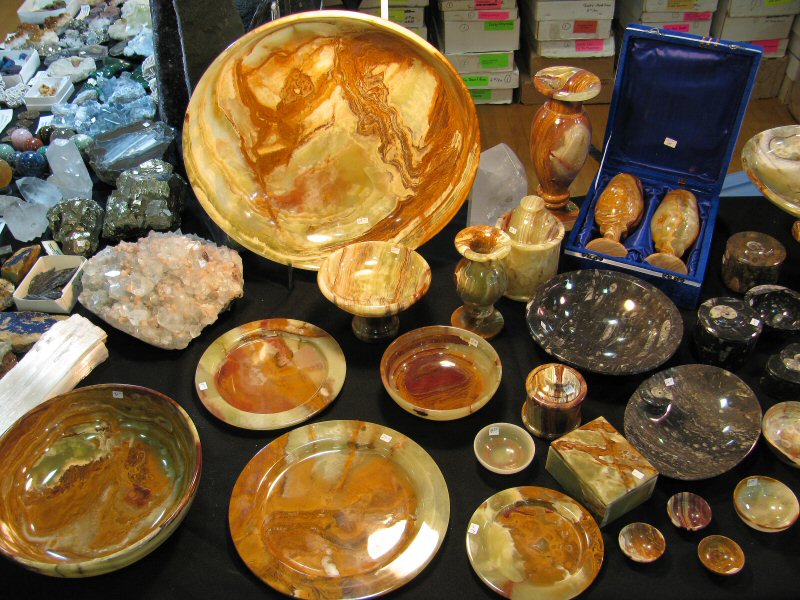 Scott's Rock & Gem shows a large selection of fine quality onyx stoneware products.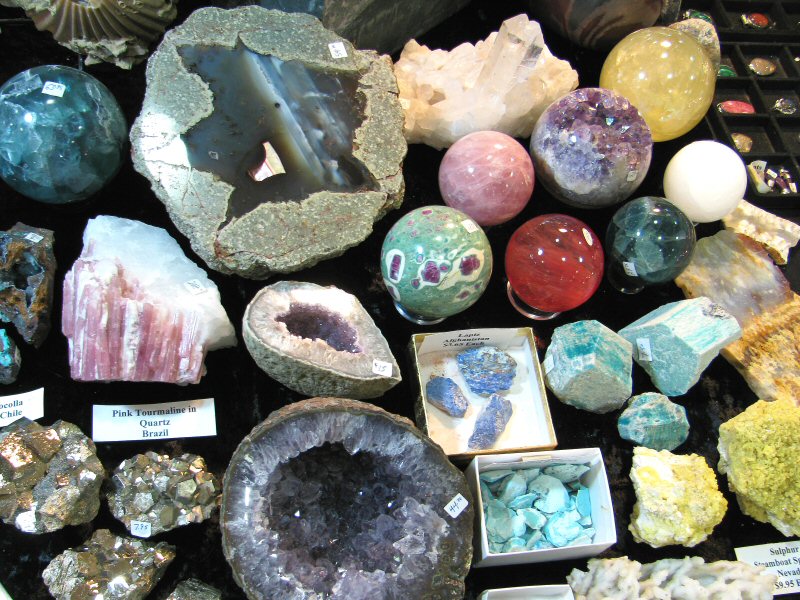 One final view of the nice variety that Scott's Rock & Gem brings to the show, including a large thunderegg cut and polished by Scott, a collection of fine quality spheres, nice amazonites from the Zapot mine in Nevada, some Kingman, Arizona turquoise, Uruguayan amethyst geodes, and a lovely rubelite tourmaline specimen in quartz, from Brazil.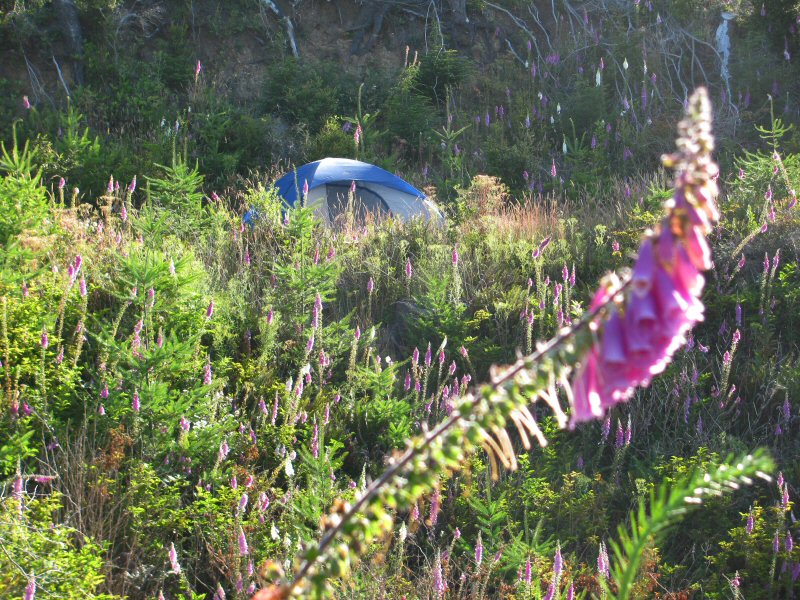 The Scott's Rock & Gem base camp, at Reedsport, Oregon. Whenever I can (weather permitting) I like to immerse myself in the natural world. When the sun is out, its far better than being indoors. Here in the hills above the ocean at Reedsport, the foxgloves are absolutely bursting with color, and everything is green, and fresh, and alive.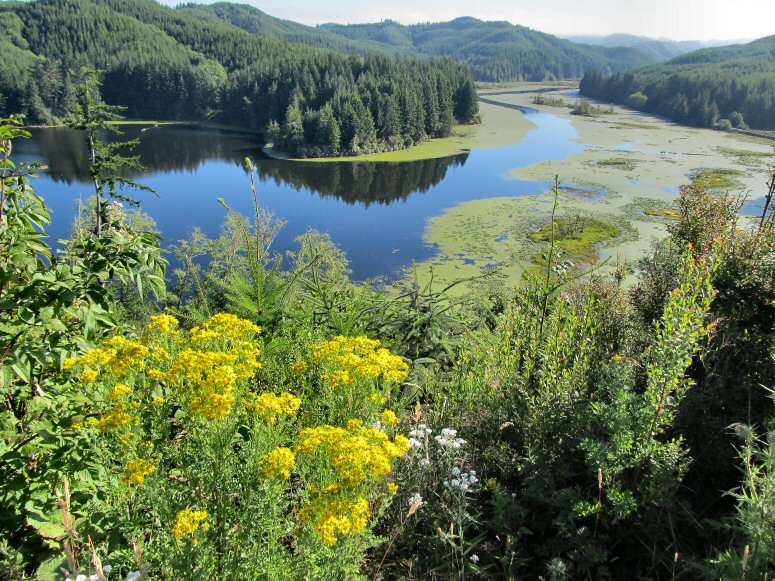 A view from basecamp: The Smith River coming down out of the Coast Range.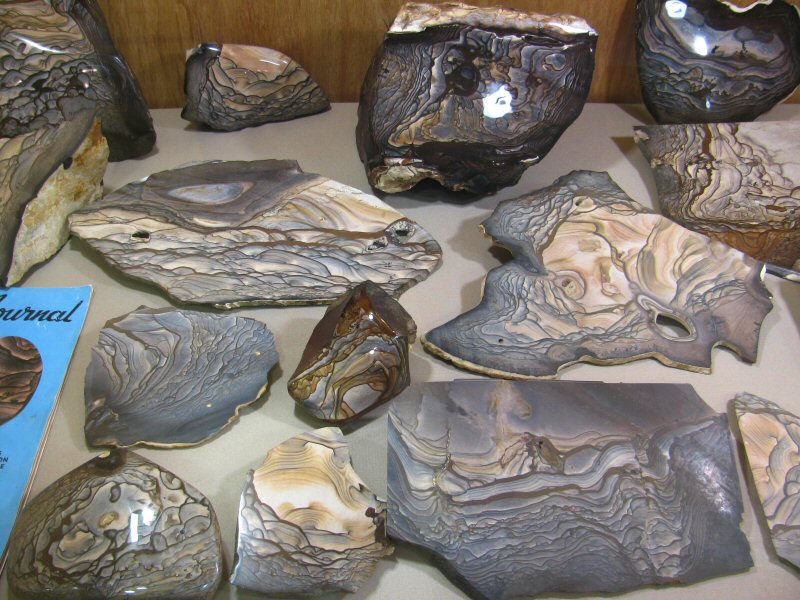 A fantastic display of the coveted Blue Biggs Picture Jasper, by Jim and Diane Coons. Without question, this is a sampling of some of the finest material that ever came out of the famous Biggs Picture Jasper dig, up on the Colombia River, in northern Oregon.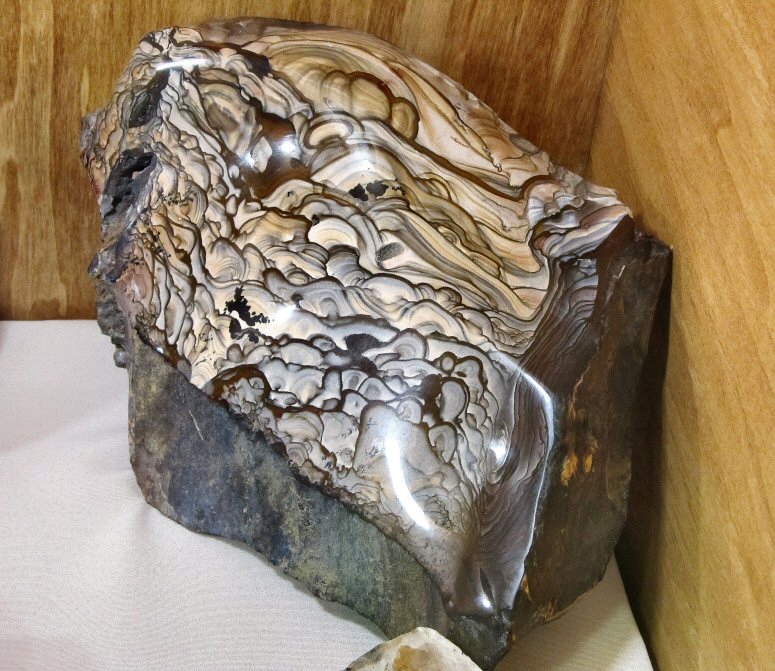 Jim was in the right place at the right time, when the road crew was cutting the highway and hit the Biggs deposit. He said it was like gold rush days for the local rockhounds, with people digging under dangerous overhangs, and disputes erupting into claim wars. To tell the story right, there weren't any legitimate claims – this was just people who thought that, because they dug a hole, no one else should have access.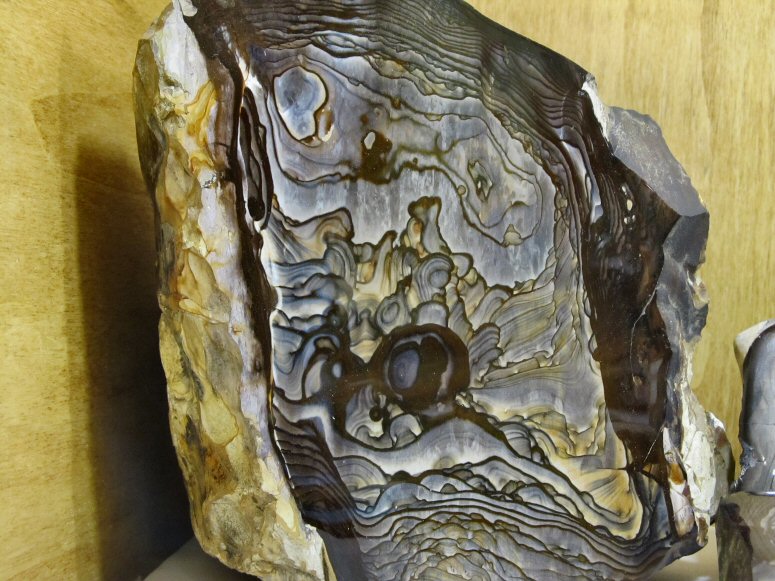 Even some members of the highway crew got in on the act, by posting an unauthorized "no trespassing" sign at a productive dig, so they could go in there and hi-grade without all the pesky rockhounds crawling all over the place. Jim says they were eventually reprimanded by the boss, and when the dust settled, all the Biggs jasper was dug out. When I asked Jim if he thought there might be other deposits of Biggs, nearby, laying undiscovered on the cliffs, he said that, without any doubt, there are – Just wait for another landslide!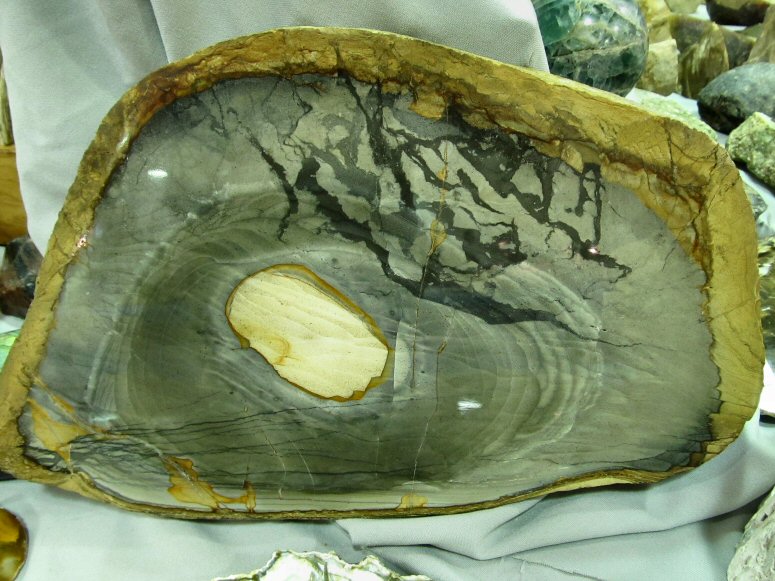 A beautiful scene with dark lightning, in this Cape Meares Wood from the Oregon Coast. Jim Coon says " I walked over this wood for 35 years! He explained that he knew it was there, but that when he chipped off a piece it was just gray. He didn't see any pattern. Then one year, a rockhound showed up at his shop, asking him to cut a piece – surprise!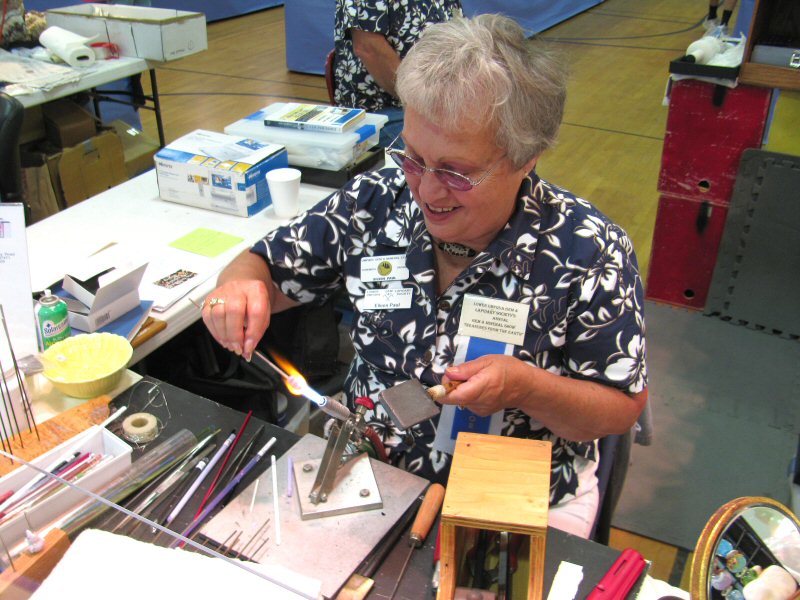 Eileen Paul demonstrates the fine art of glass bead making, at the Reedsport show. She's a master at her craft and her hands dance with the flame, even as she's talking to interested passer's by. I notice that several times, she's not really even looking at what she's doing. But the result is the same every time: a precision crafted, gorgeous glass bead, that is one of a kind.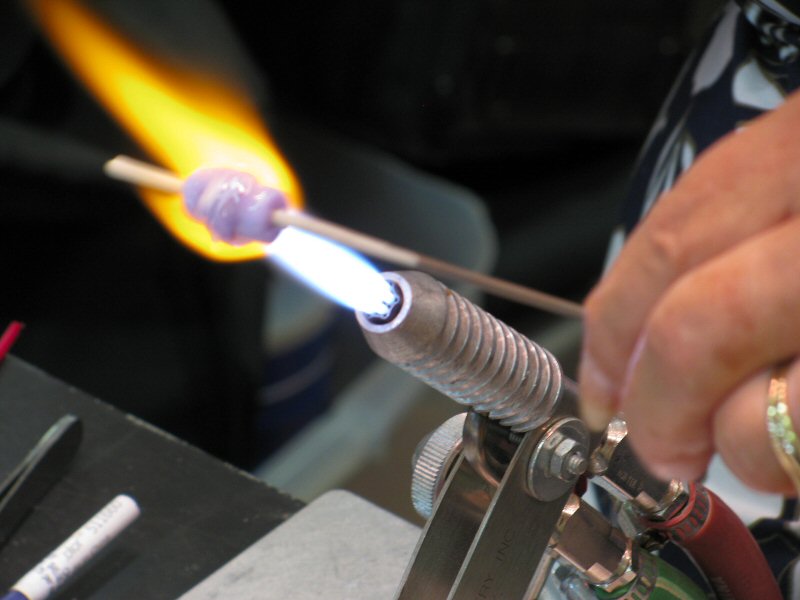 A close up of the heart of the action at Eileen Paul's booth in Reedsport. Her semi molten bead is held by a heat diffusing rod, which she spins at various speeds to get different effects in the bead. She will add little "dots" of colored glass to the main bead, by contacting it with thin rods of glass of the desired color. Various shapes emerge, depending on how she spins and twists the hot glass.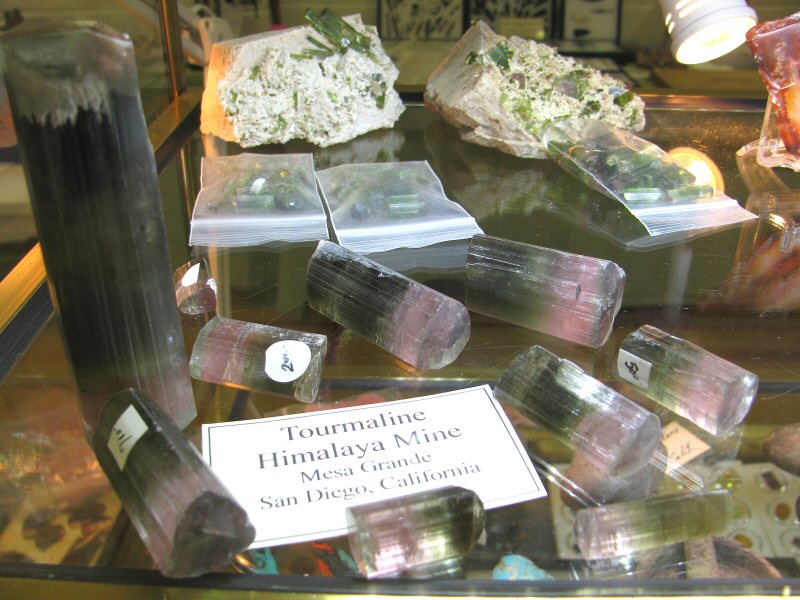 How's this for a stash of coveted watermelon tourmaline? As you can see, these rare gem crystals fetch a healthy price. These fine quality pieces were offered by Doug True, a mineral dealer from Montana.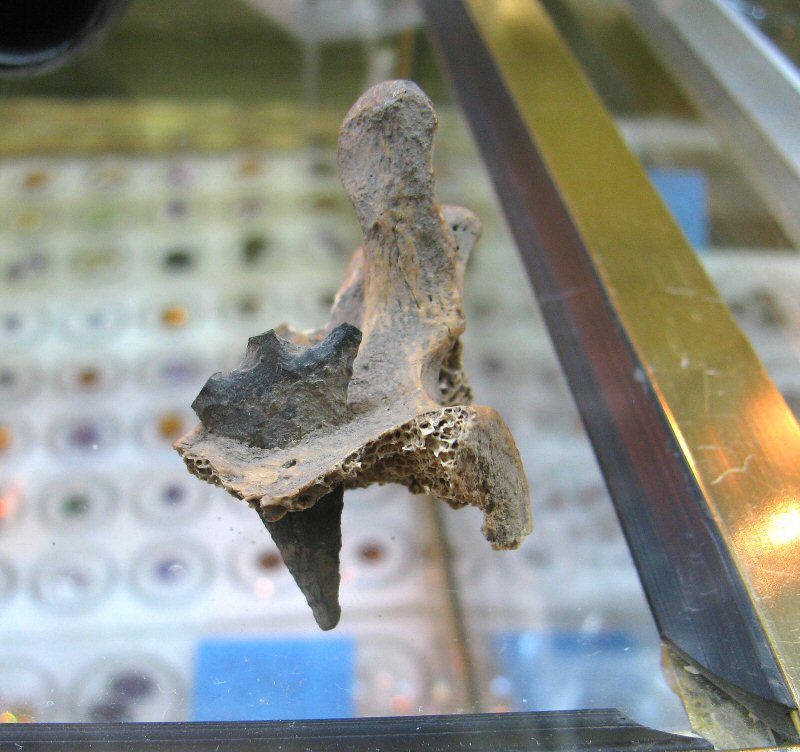 You don't see this every day! Doug's paleo artifact collection included this fantastic piece. Amost unbelievably, a neolithic stone point is still embedded in the vertebra of the unfortunate mammal that it brought down, ages before fried chicken was ever invented. Long live the hunt, and the feast!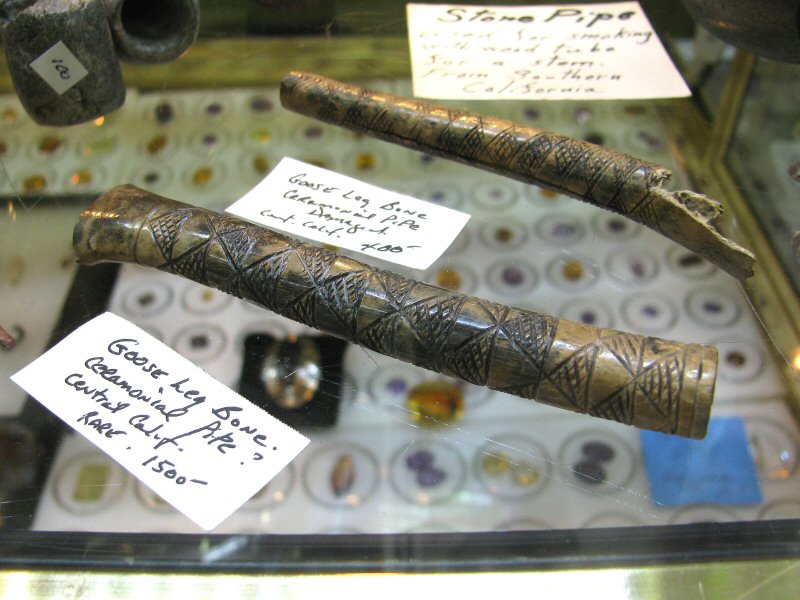 Not to linger too long on any one dealer, but Doug had so many cool items! Here a decoratively engraved goose leg bone pipe is offered for sale. Recovered in Central California, a similar pipe behind the intact one, shows some damage. The price has been reduced accordingly. The label sign above reads "Stone pipe, used for smoking with wood tube as a stem" and refers to the stone bowls only partially visible in the photo, at the upper left corner.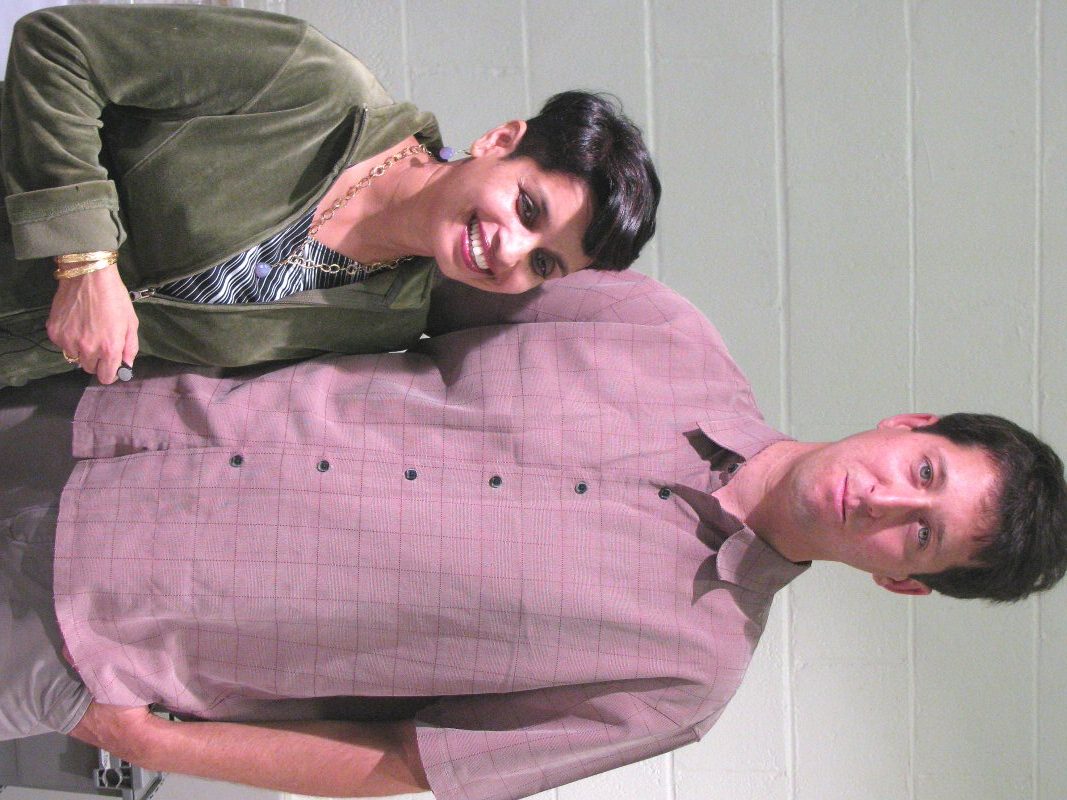 Purveyors of fine quality gemstone beads, Rain and Coruna Newhart comprise the husband and wife team of Bend Beads, out of Bend, Oregon.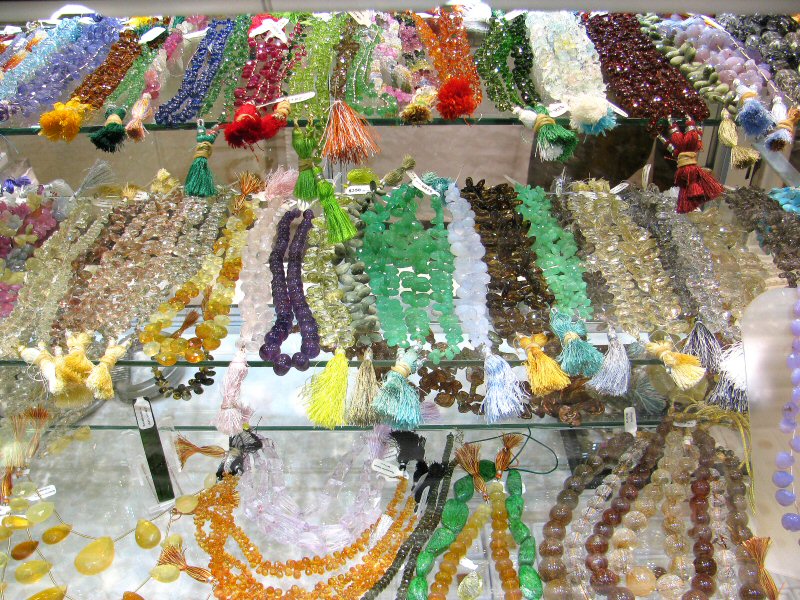 A look at the wonderful variety of top quality gemstone beads that Bend Beads brings to the show. No other bead dealer that I know of in the Pacific Northwest, works so hard at offering the very best quality stones, and constant new variety. The owners travel to Nepal each year, where they have family, and are able to get a spectacular variety, including local Oregon, and US materials that they bring to Nepal to have cut, and facetted.
Rain and Coruna have a penchant for only the juciest of the colored stones. Here's a necklace strand of rare Holly Blue Agate, an Oregon agate from a now closed dig near Sweethome, Oregon. Rain chose this Holly Blue for its fantastic color. It doesn't get a lot better than this!
It's not a medieval torture device! It's only a geode cracker! Scott Blair, of Scott's Rock & Gem, tries his hand at breaking a geode, on the heavy duty geode cracker, provided by Third Rock From the Sun. There are several styles of geode breakers out there. This one uses a wrench to slowly increase pressure on the chain that encircles the geode. The slow buildup of evenly distributed pressure has a much greater success rate than the typical rockhound using hammer and cold chisel. There is a high probability that this geode will crack into two equally beautiful halves, and not just into pieces!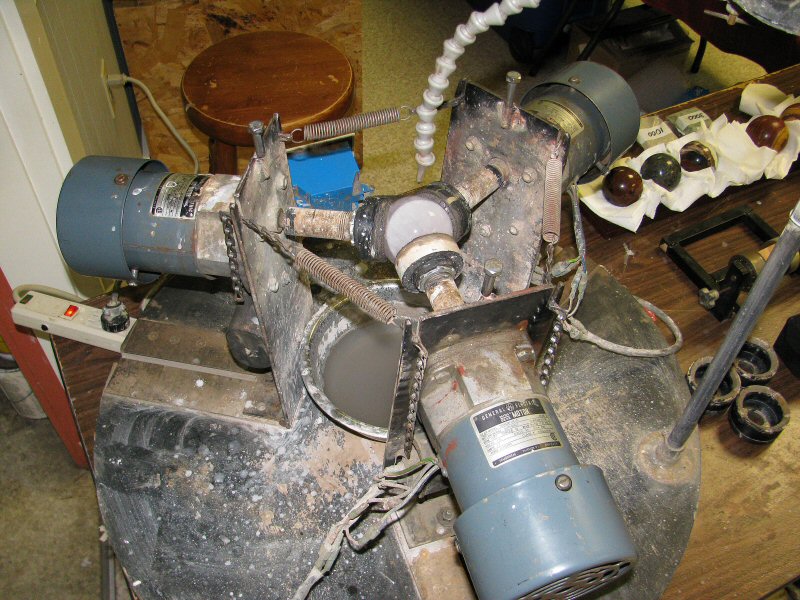 If you've ever wondered how gemstone spheres are made, this is how it's done. A machine with three opposed cups holds the stone in the center. The cups have abrasive grit on the edges, and they slowly spin against the rock, rounding it down to a certain callibration. The jointed tube coming down from above, slowly drips water, keeping the work site cool.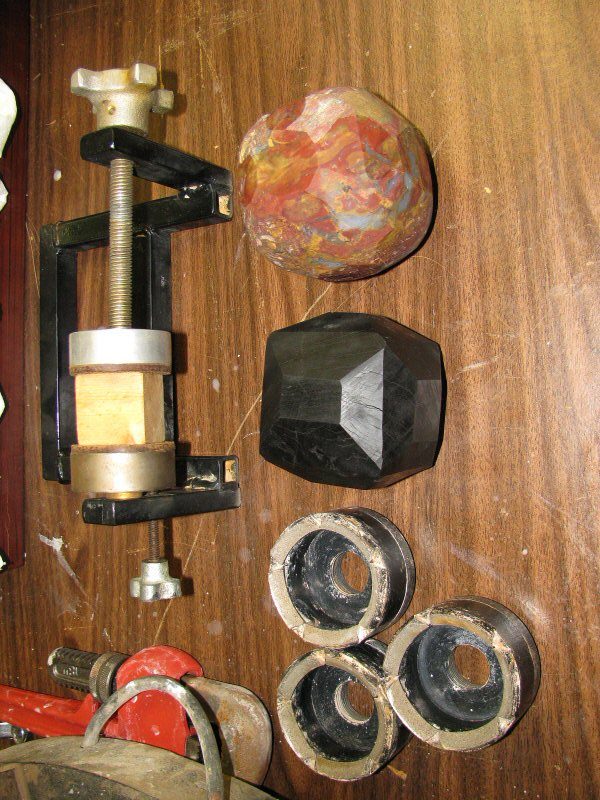 But, before you can begin to sand the rock with the sphere making machine, you first have to get your stone somewhat rounded by making a series of saw cuts. Some lapidary workers make up to 60 or 80 cuts, before they center the stone in the machine – very time consuming. Here, some stones have been partially preformed for sphere making, showing some of the typical cuts that could be made. Also, at the left, is a good view of the cups that hold the stone in the machine, showing the abrasive edges.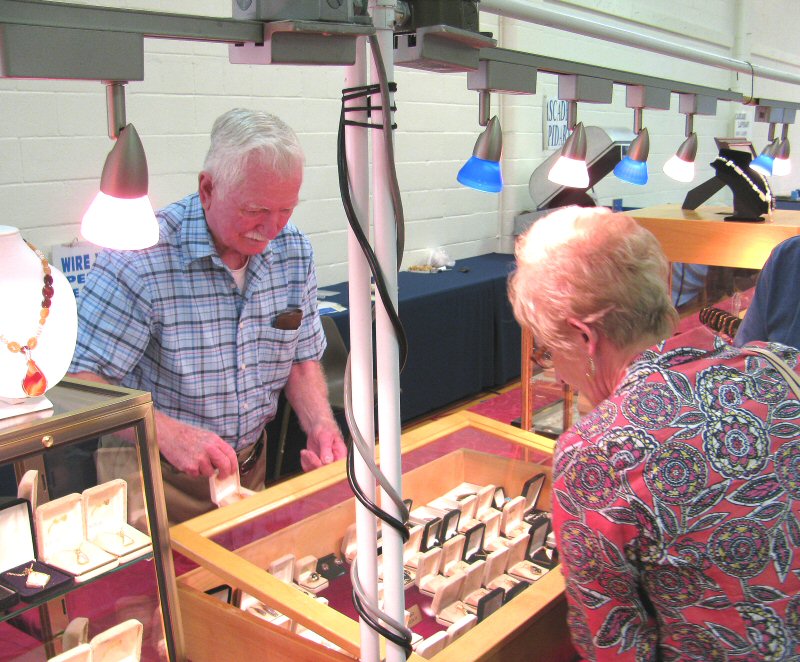 Jeweler Bill Pollard is one of the nicest gentlemen you'll ever meet at a Pacific Northwest gem show. A former airline pilot, he now hand crafts exquisite gold jewelry, using very fine quality stones. Here, he shows off his wares to a prospective buyer.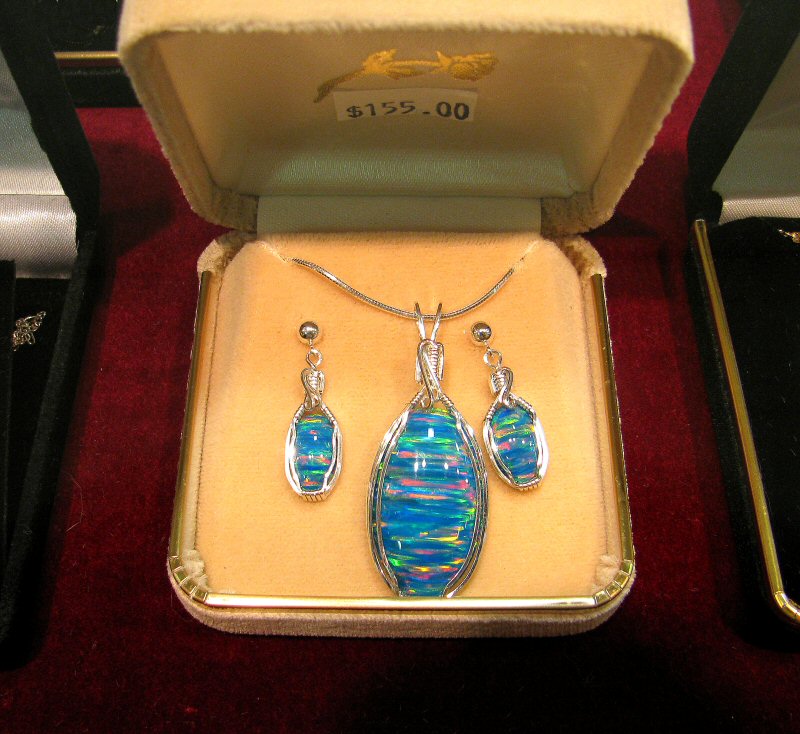 Here's an example of Bill's handiwork – a matched set of Gilson precious fire opal earrings and pendant. Gilson is a lab created fire opal with the characteristic broad bands of very bright fire. It sure is a visual delight.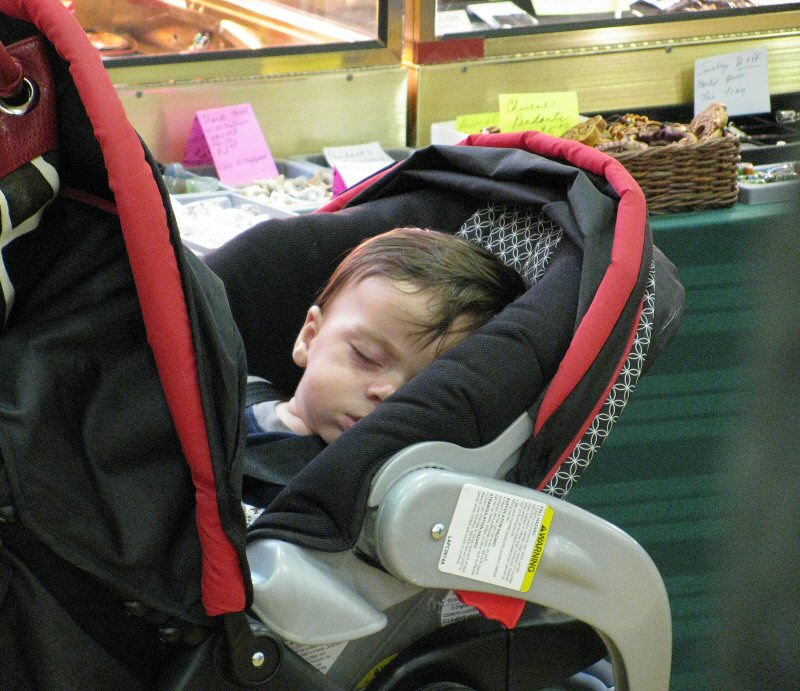 Gem Shows can be exhausting!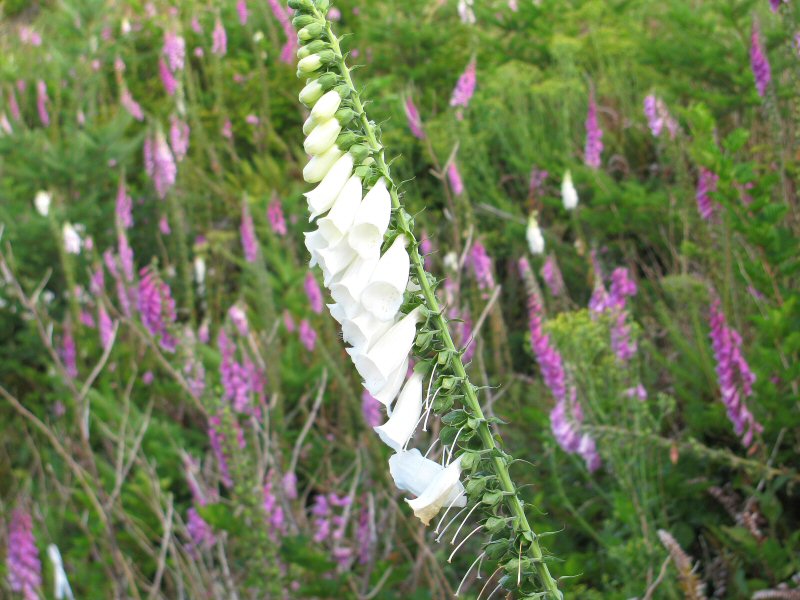 At the close of the first day, I get away from the hustle and bustle of the gem show, and settle into camp in the flowered hills. There's some great evening light, and really, everywhere I look there is beauty. I feel blessed to be able to be here.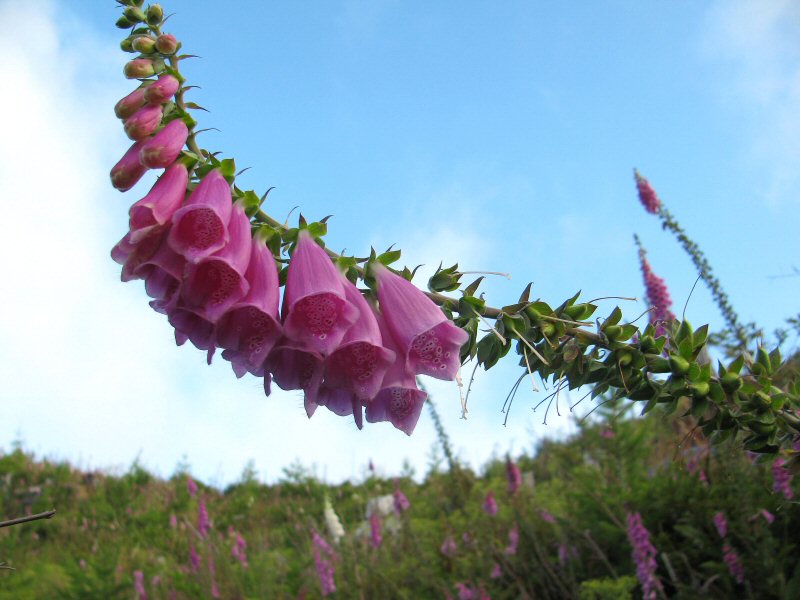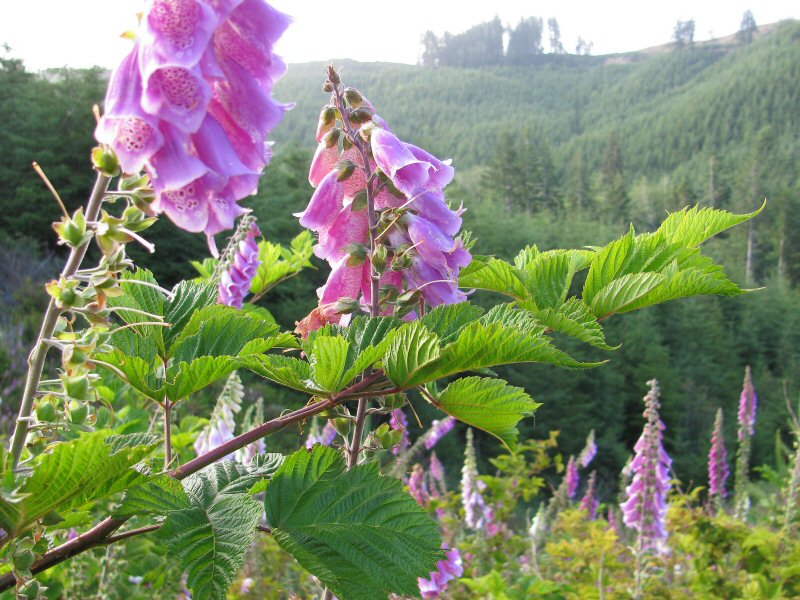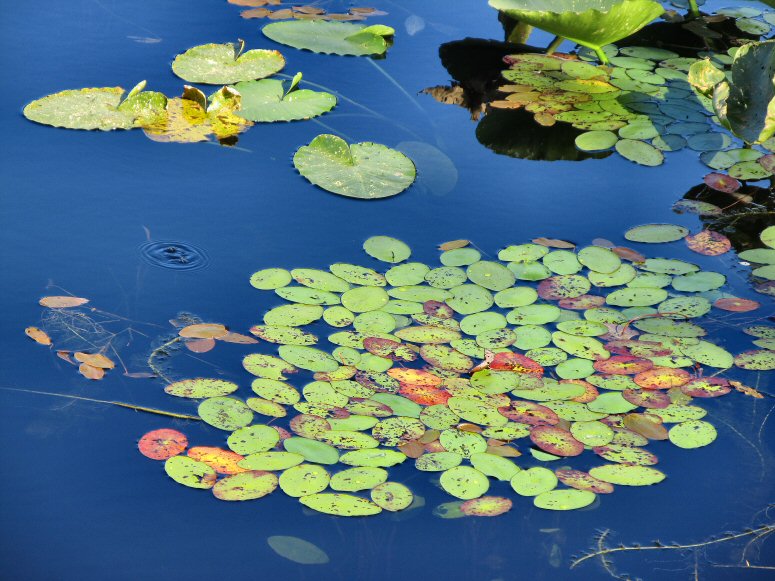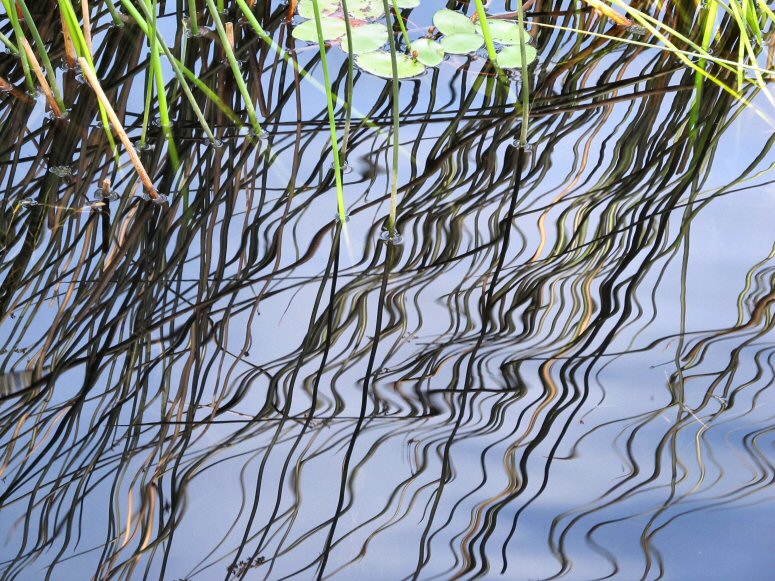 Morning wind moves the water.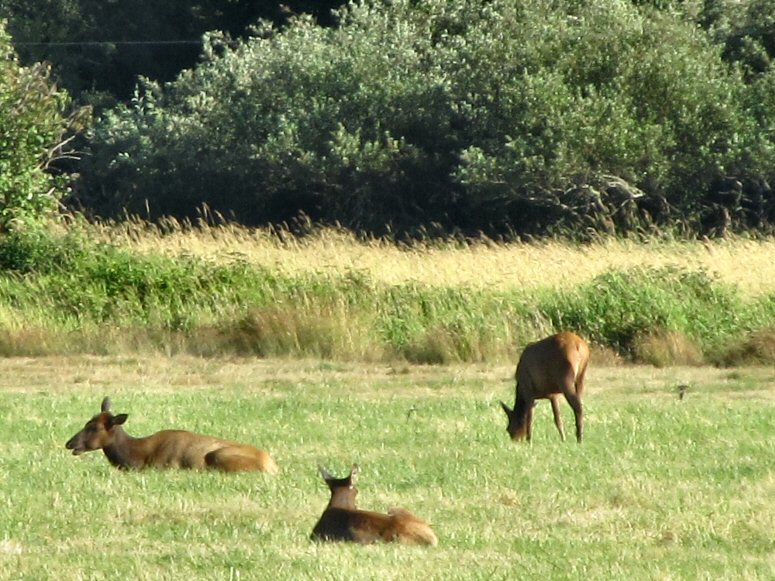 Elk at the Dean Creek Elk Viewing Area, a few miles inland from the town of Reedsport.