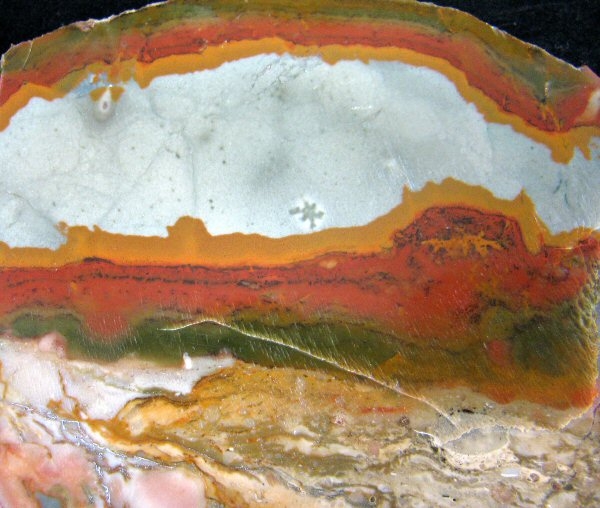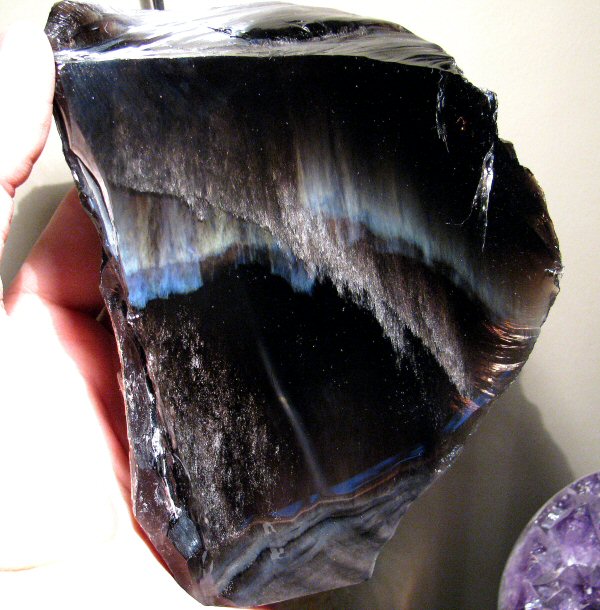 In the book, "Gem Trails of Oregon" author Garrett Romaine calls this central Oregon locality the "Aurora Borealis Pit". It's a small hole in an otherwise undug field, that yields sheen obsidian with ribbon like flow structures that look amazingly like the Northern Lights. The site is out in the central Oregon desert and sage country, about 80 miles east of Bend, on Highway 20, and has been long known to rockhounds as Glass Butte – a collection of obsidian flows that cover a large area. There are numerous pits throughout that area, and some of the more mentionable obsidian that has come from there includes rainbow, double flow, "pumpkin" ( a kind of orange brown color) and various sheens. I dug probably a couple hundred pounds of material out and only got one stone that cut like this. But I did get a reasonable percentage of obsidian that had various sheens – pink sheens, olive green sheens with silver dust, and some of the prized rainbow (see next photo)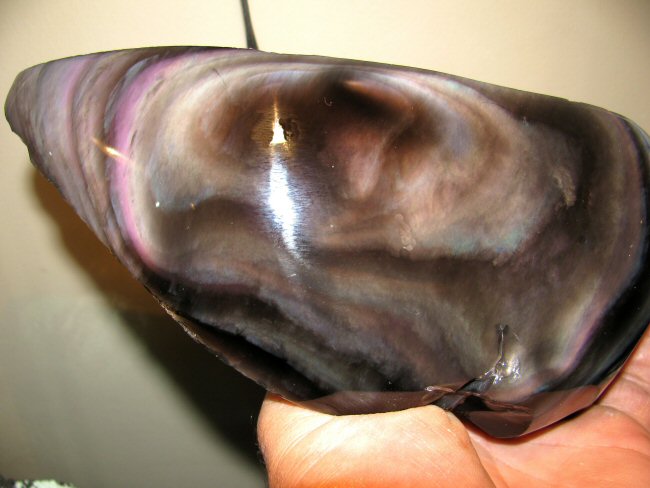 A very nice rainbow obsidian, dug by Scott's Rock & Gem from the Aurora Borealis Pit at Glass Butte. This piece displays a range of colors from pink, to green, to blue. I did have to chase a fracture that ran down into the center of the piece, and I never did get it to completely go away. That's typical of the obsidian from here. There are fractures running along, and you sometimes just have to live with them. Still, this piece is a keeper!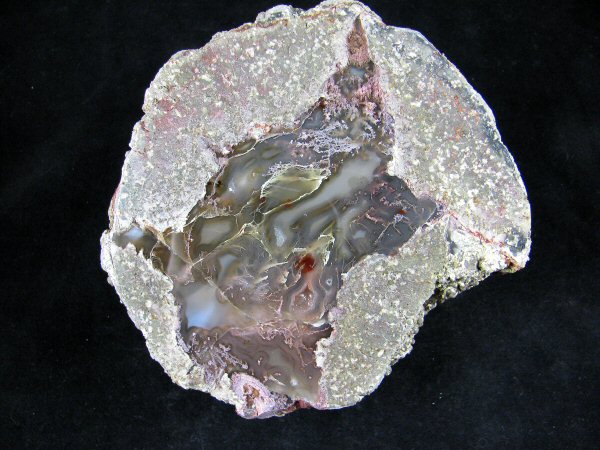 A very nice thunderegg from the famous Lucky Strike Mine, in the Ochoco Mountains of central Oregon. The mine was long owned by Leonard Kopcinski, and when I first went up there, he came down to meet me, wearing his sidearm. Despite the sound of this, he was very neighborly, and even fed me dinner. In subsequent visits, Leonard would tell me tales of his struggles to keep the mine open, under pressure from the Forest Service. But one thing that always stood out about our visits: his great love for the thundereggs, and for the mine always came shining through. He made me a believer just through his sheer enthusiasm. Sadly, Leonard passed in 2014, but what a great life he lived, up at his mine on the mountain. There aren't a lot of sole proprietor miners left these days. Leonard was the real thing!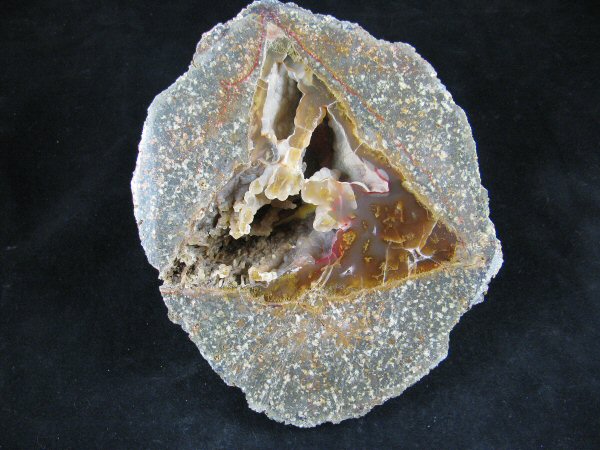 Another gorgeous, large sized Lucky Strike thunderegg. This one is almost as big as a bowling ball! I love it when the eggs have hollows within, where the agate didn't actually infill all the way, and you see the moss running this way and that, down into the egg, as just clay tubules with chalcedony lining. You have to cut a lot of eggs to get a nice one like this.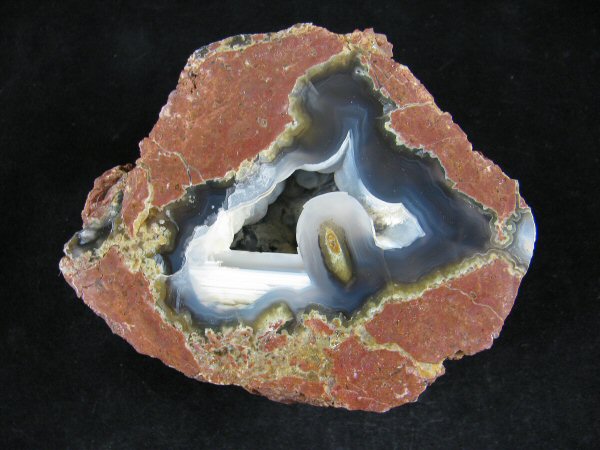 Beautiful Black Rock Desert thunderegg. Not actually an Oregon location, but to a rockhound, those boundaries are a little nebulous sometimes (wink). This one comes from a now closed pit in the Black Rock Desert of Nevada. The eggs are distinctive with blue/black agate interiors and a good percentage of them have nice hollows with chalcedony structures within.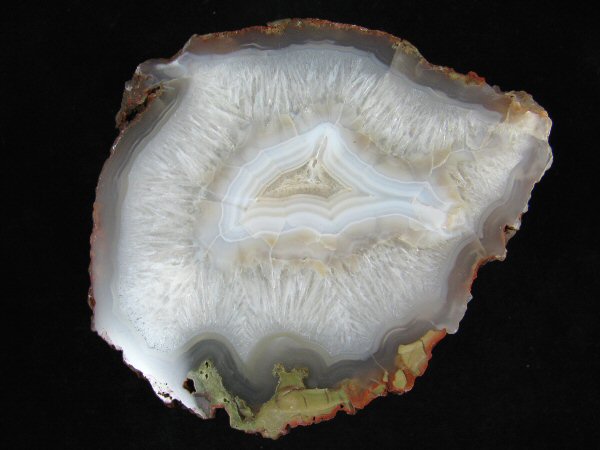 Lovely large limbcast from the Crooked River area, outside of Madras and Prineville. This was perhaps the most significant limbcast area in Oregon, and produced volumes of agatized limbs, with the limb structure still visible on the surface, but the interiors having been completely replaced by agate, and/or sugary rock crystal, as in this piece. The area is still open to diggers, but has been heavily dug. You have to have some determination and luck today to get a good limb.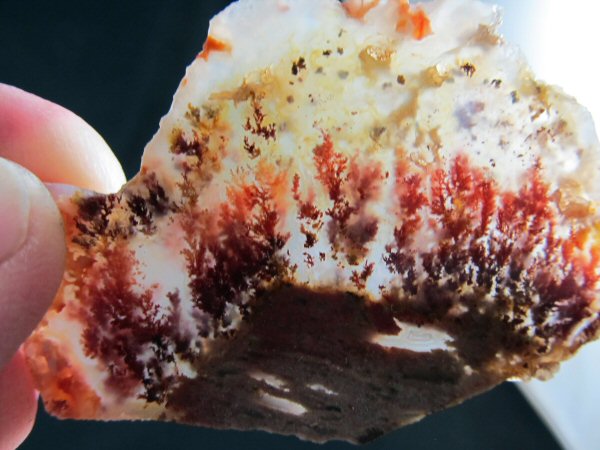 The famous Carey Ranch out in Eastern Oregon was long the go to destination for rockhounds seeking sharp, beautifully defined red plume agate.
The ranch stopped producing years ago, but that hasn't stopped the demand for this choice Oregon plume agate of yesteryear.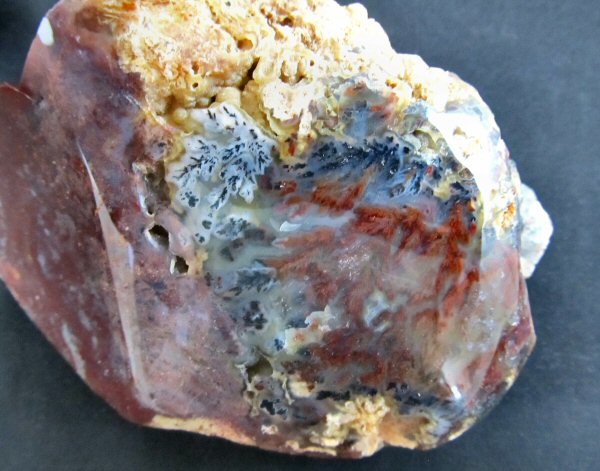 A watery, windowed piece of Carey Plume seems to look out from the rock like a live thing, and shows the striking transformation from ordinary jasp-agate into something remarkable.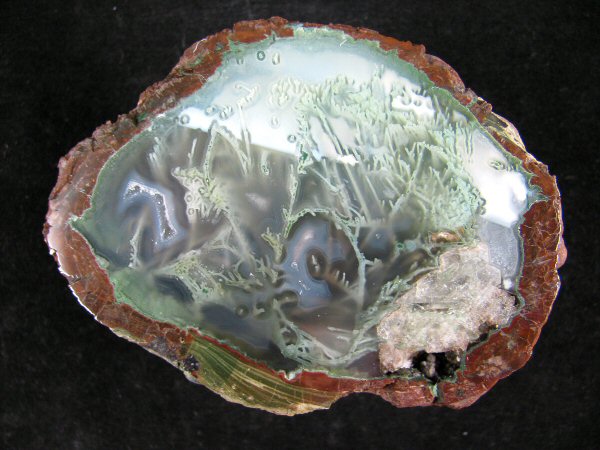 Nice Frieda Bed moss thunderegg, from the central Oregon area. Oregon has so many thunderegg beds, it's hard to keep them all straight. Some are more historical at this point, and as I understand it, the Frieda Bed is one of those which is not really being dug anymore, either for lack of access, or else the pit is worked out. In some instances it just takes a renewed interest by rockhounds to get a pit reopened. Oregon rockhounds like Terry Ensel, and Tim Fischer have pioneered new access to old digging areas in current times. Other beds await to be explored. Without a doubt there are beds that have never been dug, and who knows what wonderful treasures await in the ground?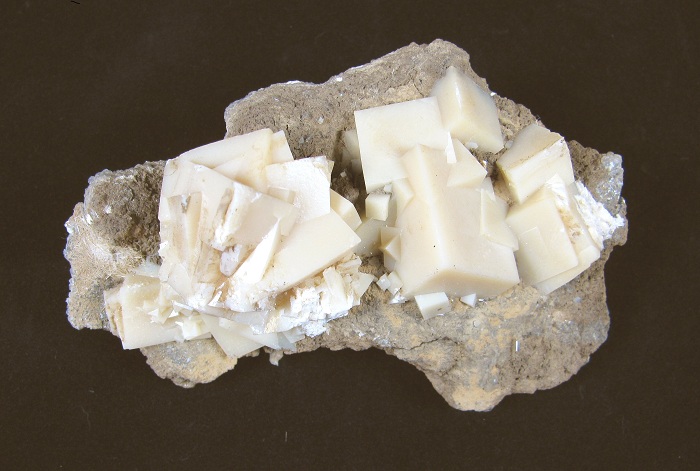 Great butterscotch calcite from the Gopher Valley Quarry, Yamhill County, Oregon. This quarry is a commercial gravel pit, but they sometimes open up pockets of gorgeous butterscotch calcite cubes, with mesolite sprays. I don't have very many pieces of this material in my collection, and the ones that I do have are peanuts compared to some of the drop dead gorgeous, large combos that I have seen come out of this quarry. Last I heard, vandalism had occurred, and the quarry was closed to rockhounds.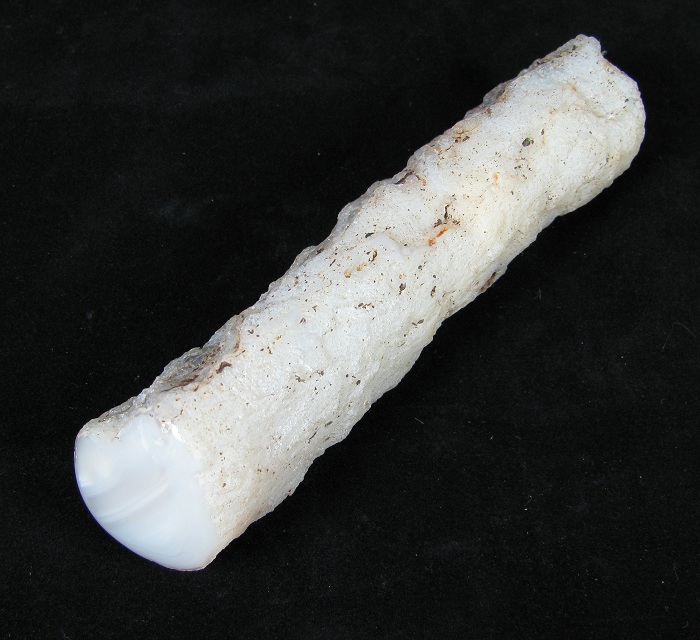 My county of Jackson, in southern Oregon, is not known for agatized limb casts. But they do occur here. Here's a very nice one that I unearthed while digging for agates in my local Lake Creek area agate beds. I windowed the end for display. The picture doesn't show it, but I hit this limb with my pick axe, and split it right in two. Wouldn't you know it? Since these are rare, I hadn't expected it to be there. So now it is a repaired limb cast, but still testifies to the unexpected treasure that awaits the avid digger.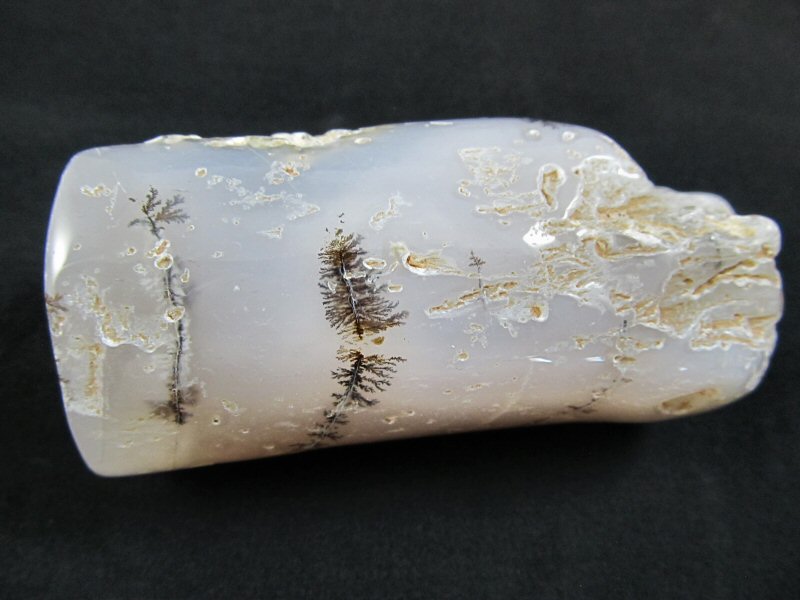 The premier limb cast collecting area in Oregon is the Crooked River site in Crook County. Here rockhounds have searched for generations for the elusive agatized limbs. The best from this site have beautiful manganese dendrites adorning the limb just under the rough exterior, and needing to be sanded and polished to achieve the full beauty.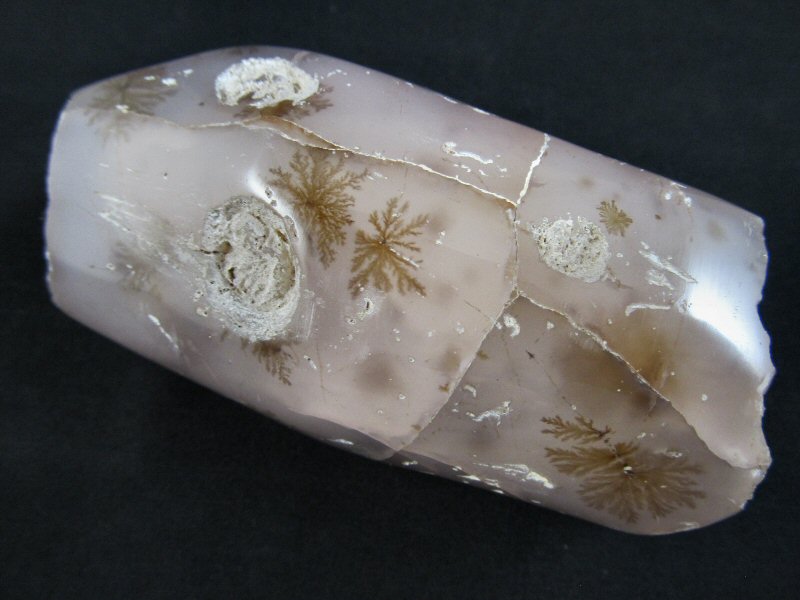 Dendritic agate limbcast from the Crooked River area.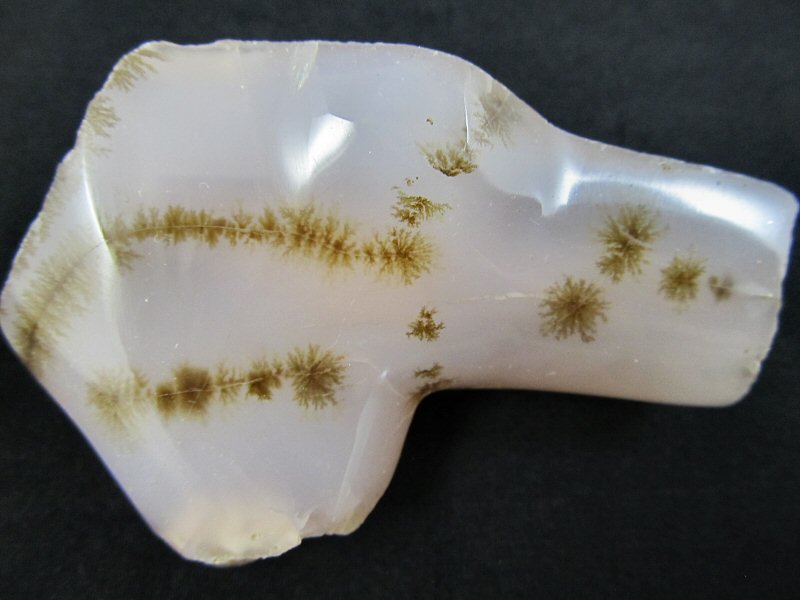 Forked limb, not all there after millions of years, but you can't blame it for missing some of its pieces!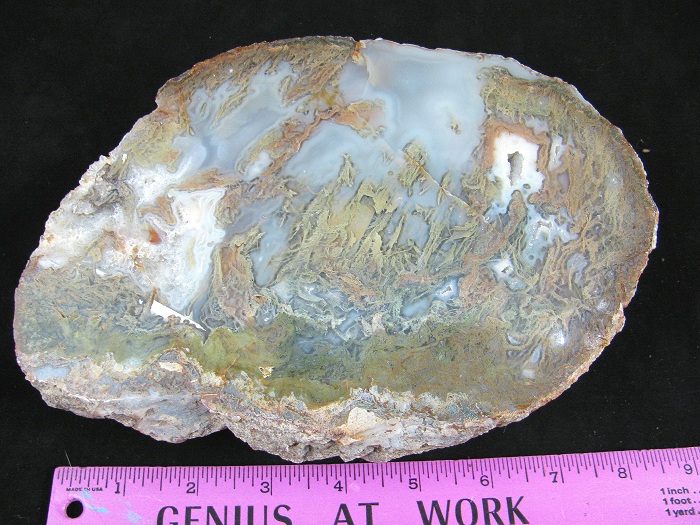 One of the largest, and best looking agate nodules that I have recovered from the Lake Creek area agate beds. The agate is actually up in the hills about five miles above the town of Lake Creek. It's random, and you just walk around in the woods to surface hunt, or else dig a little, if you think you are in an area where there may be some concentrations in the soil. But there doesn't seem to be any rhyme or reason to it. If you can't find agate, just keep looking around until you come into an area.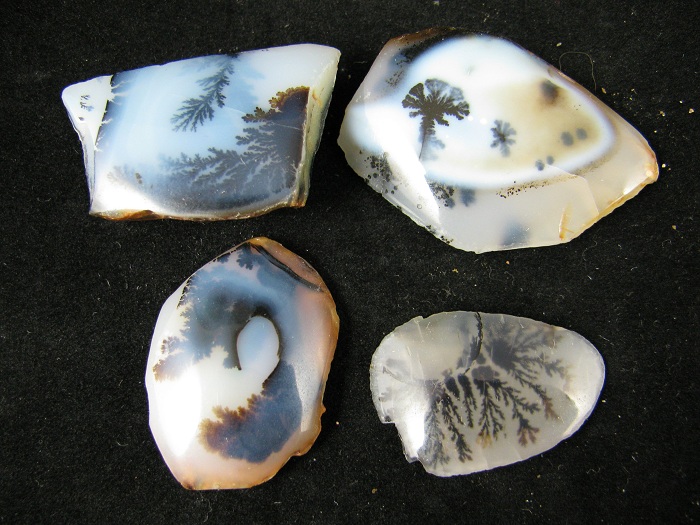 Uncommon dendritic agate from Agate Flat, on the Oregon/California border. This area is now mostly the Cascade Siskiyous National Monument, and the rest is a patchwork quilt of land ownership. I was lucky to be able to collect in pre-monument days, and found some very lovely agates with black dendrites of manganese oxide, that look like trees in mist.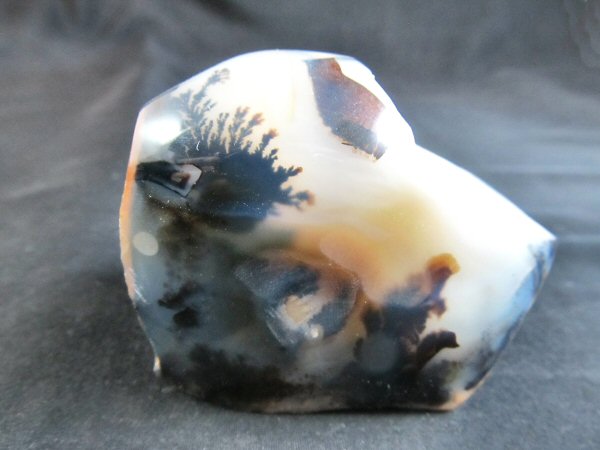 You have to cut about 20-30 stones to get a good one like this. Very similar material comes from Madagascar, Brazil, and also Montana, but I think these Oregon treasures rival the best of them. Of course I may be biased!
Here's a little known Oregon secret: Cinnabar in agate from the Quartz Mountain area of Lake County, Oregon. The largest mine has a couple of claims at the top of a mountain of tailings, so collecting is restricted there, but there is at least one nearby area that is unclaimed and will yield a beauty or two.
A fantastic old Bruneau Jasper classic from the remote, now defunct locality just over the eastern boundary of Oregon and into Idaho.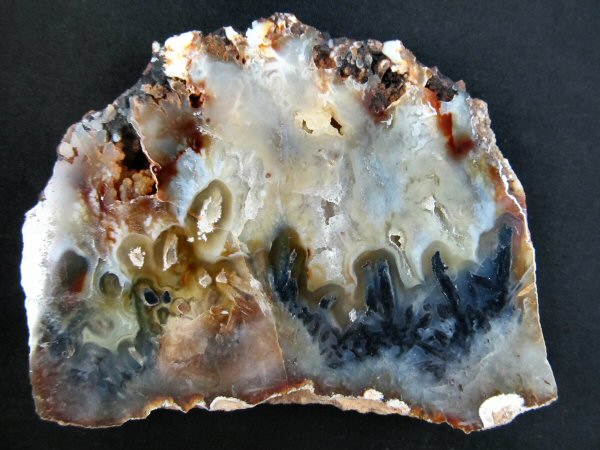 East of Eugene, Oregon, out towards the Cascade Mountains, a very rare sagenite agate was found and was named Trent Agate, after the nearby town.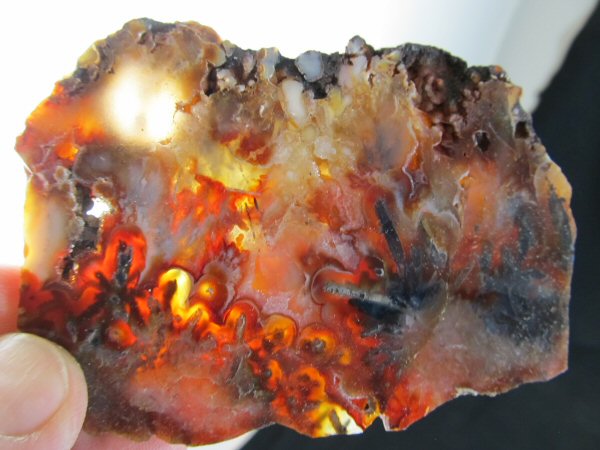 When slabbed and backlit, this agate is fiery! The color and presentation is said to come in part through inclusions of realgar, and stibnite sprays.
As a rare and unique sagenite, Trent agate is outstanding!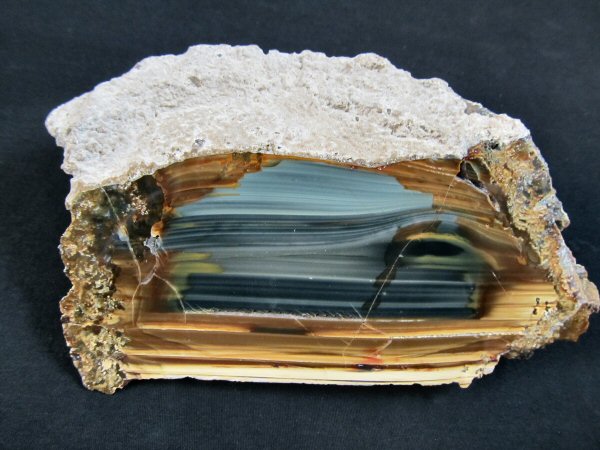 High up on the sheared face of the scarp fault that is Hart Mountain, a very rare and picturesque jasper can be searched for. It's weathering out of a certain horizon about 2/3 of the way up. Rockhounds traipse the several canyons that cut the steep face of the scarp, or else scale the face itself in an all out power drive to obtain even one piece of this treasure.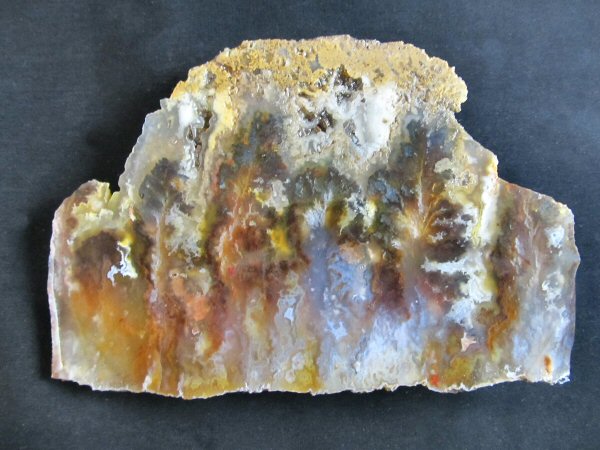 On Eastern Oregon's border with Idaho is the well loved Graveyard Point plume agate area. The best of what this site produces are large chunks with long, streaming, feathery plumes, and a riot of colors.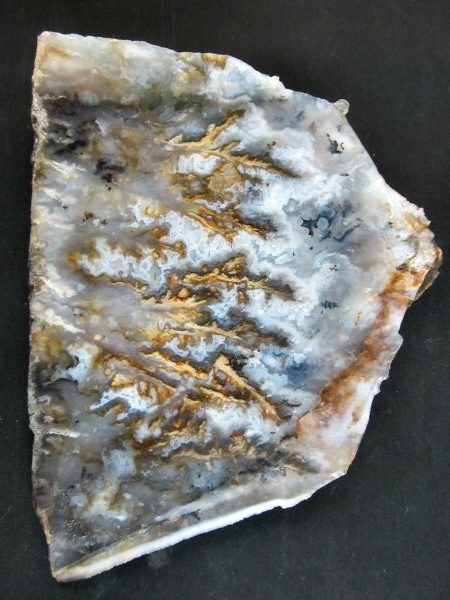 Another great presentation from Graveyard Point is the material that shows sharp straw golden plumes, accented by whites and blacks.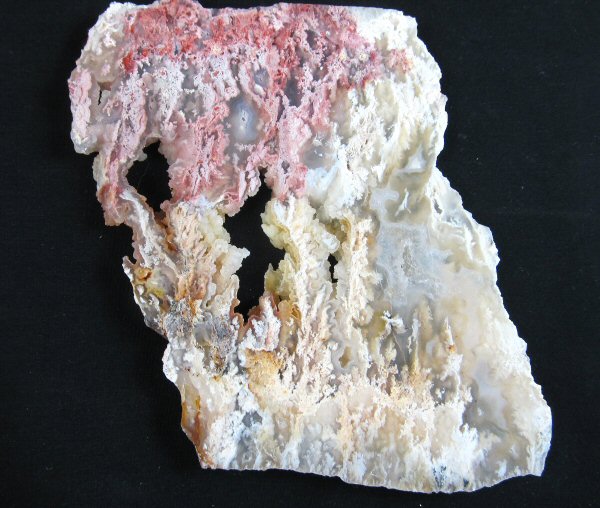 Graveyard Point plume from the famous Regency Rose Claim has lovely rose colored accents.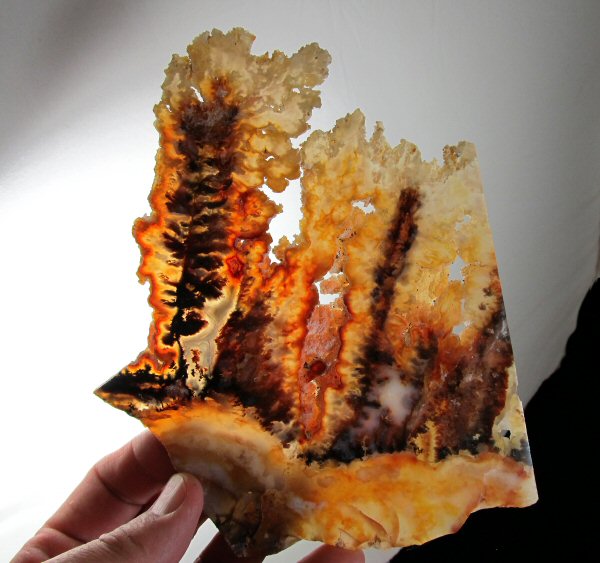 Because Graveyard Point produces seam agate almost exclusively, and the seams are often large and long, it's possible to cut long slabs of scenic material that mix wonderful burnished antique carnelian colors with lofty cloudlike plumes, for a fantastical look.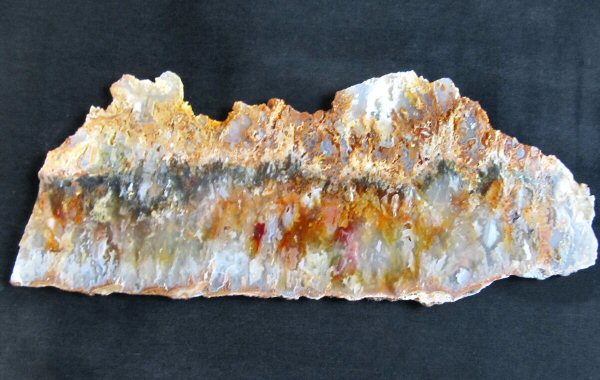 The sheer variety and great mix of colors from this area is almost mind boggling.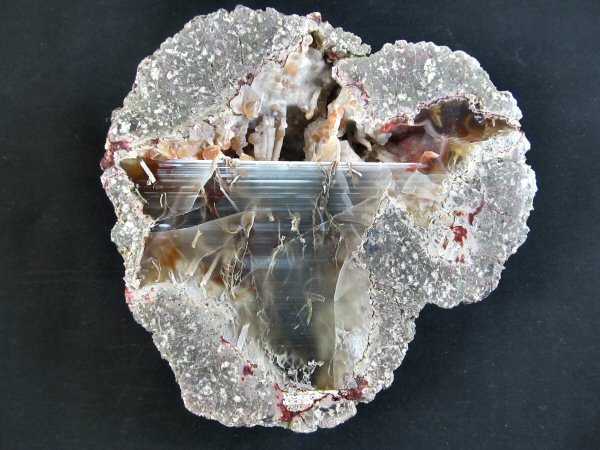 I had to pull this thunderegg out and photograph it for my blog when I was going through my collection the other day. It's loaded with great features that I've come to love in the Lucky Strike Mine eggs. The separation of agate infilling, and hollow chamber adorned with pink chalcedony "worms" is one of my favorites.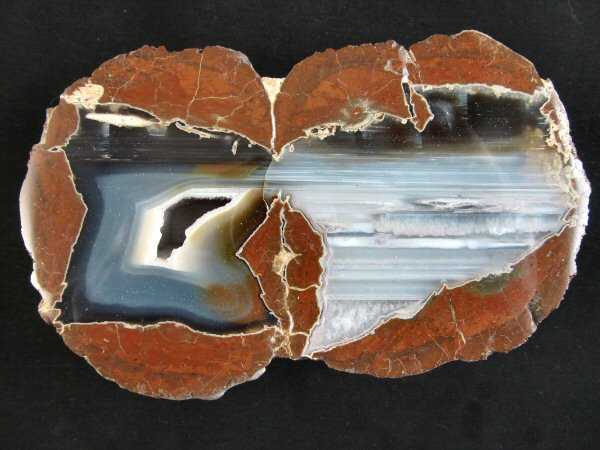 Here's a handsome big double thunderegg from Richardson's Ranch near Madras Oregon. It's a great combo with its hollow geode cavity, some carnelian tints, and that nebulous, celestial ocean scene which never fails to transport me to some coastal realm.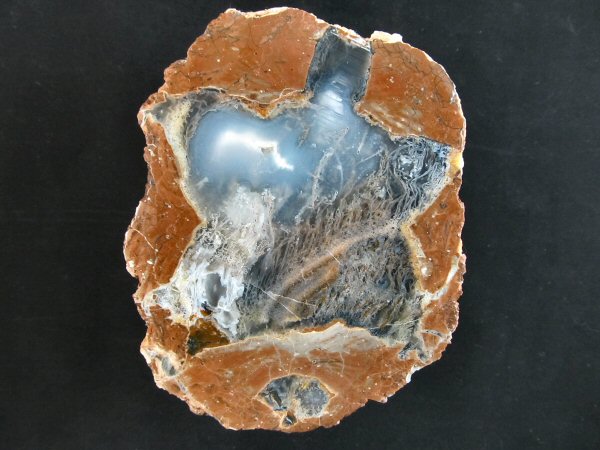 This egg is a "slam dunk" from the old Ron Ochs Moss Bed, near Ashwood, Oregon, and collected during the heyday of field trips there that took place in the nineties, before Ron passed, and the ranch was sold, without a further collecting option. I've never quite seen a pattern like this: it kind of looks like twin waterspouts of moss whirling though a moss forest below some sort of riveting full moon sky. Gorgeous Oregon for sure!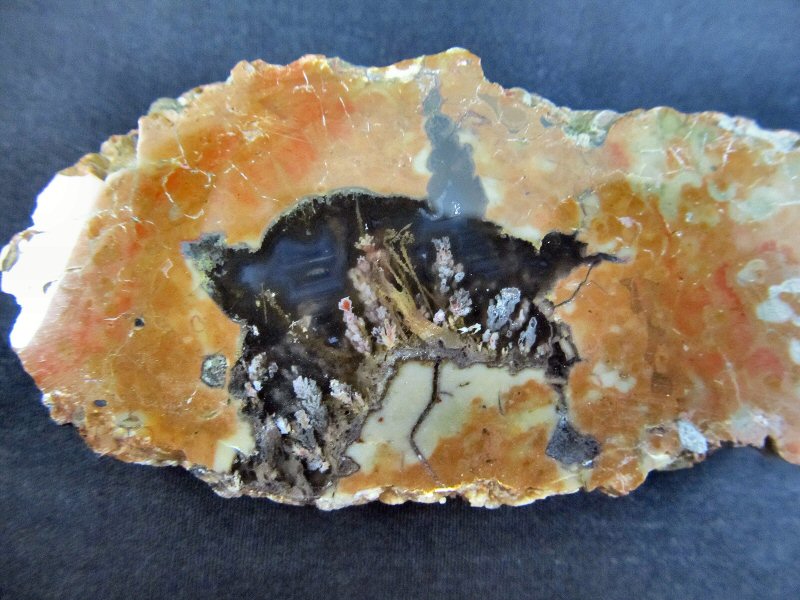 Priday Plume slab, from Richardson's Ranch, 17 miles north of Madras, Oregon. This ranch, also known as the Priday Ranch in earlier times, is probably the best known and most visited rockhounding locality in all of Oregon.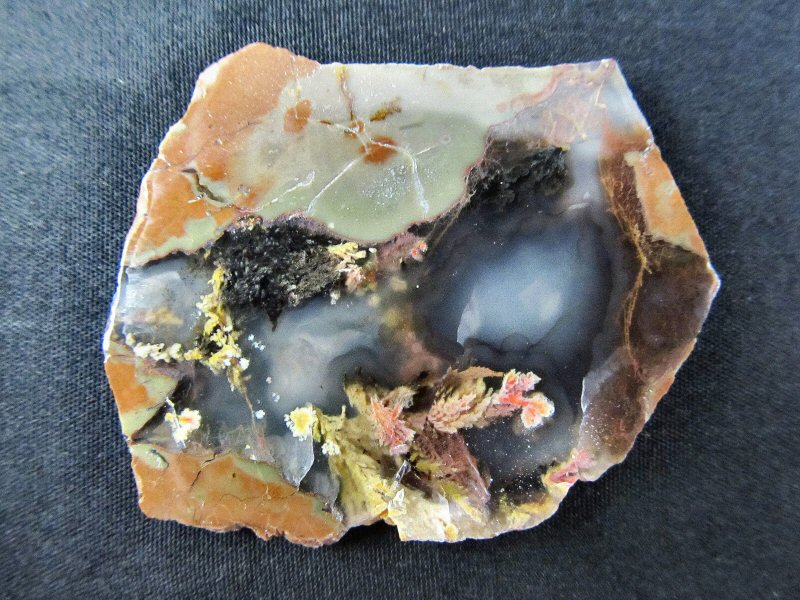 Among the many thunderegg beds on the ranch property, Old Plume Bed has become legendary among rockhounds, but it had been closed for many years. This egg displays multiple colors of feathery plume.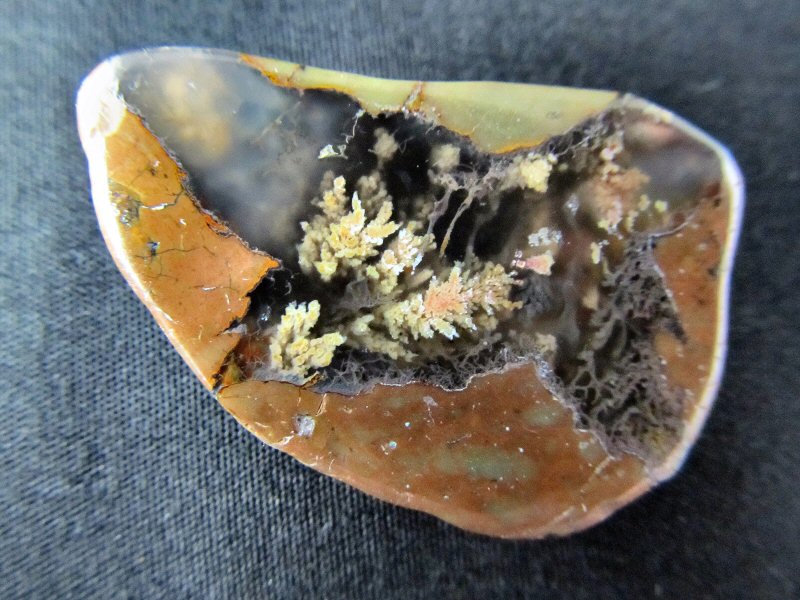 The ranch is starting to open the bed again, by popular demand, on Memorial Day, but getting good plume out is tricky. Old timers used to say that only 5% of the eggs ever cut plume in the first place, and it's arguably true that the best plume was dug long ago. Here, an old time plume piece seems to suggest that it was just yesterday when great plume was being found. But it was more like 50 or 60 years ago.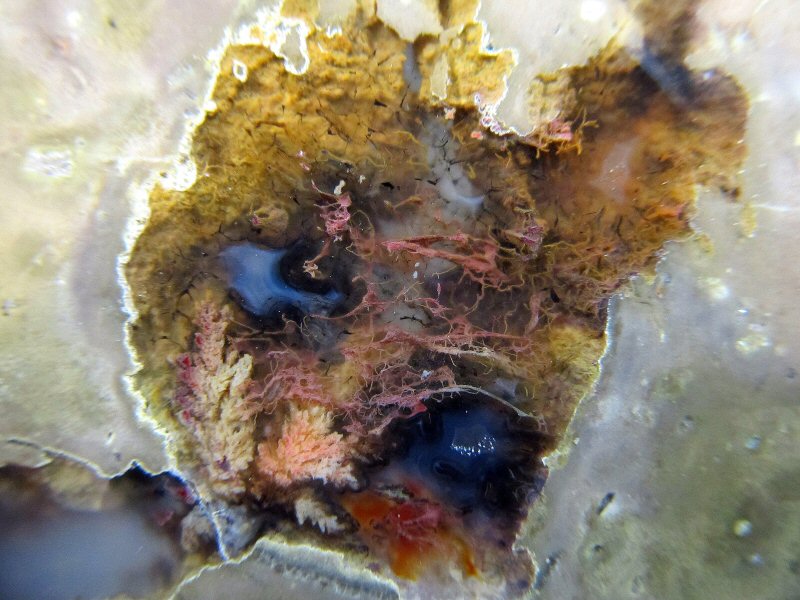 Here's a nice slab that has a bit of the treasured peach and butterscotch plume, hanging out amid multicolored threads of super thin moss. A nice combo from a mostly historical digging locality.
The current pronouncement from the ranch owners is that only 1 in 1000 eggs cut plume, so that's much more rare than 5%, and a snapshot of the rarity of an egg that actually shows plume.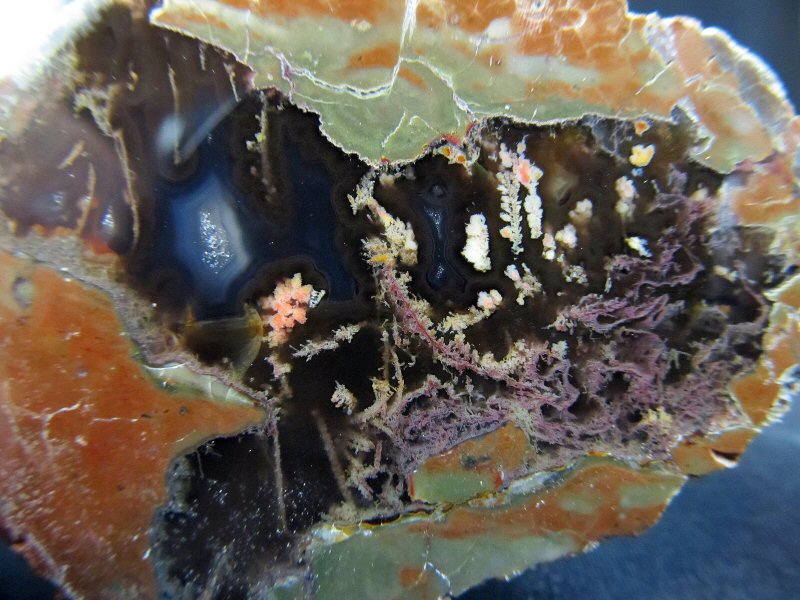 Budding long strands wave in a dark agate sea.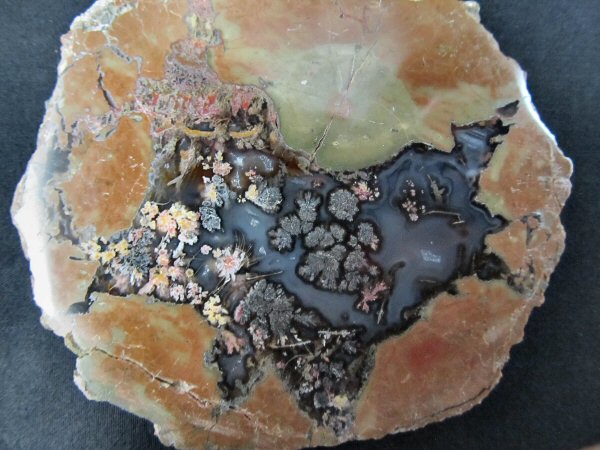 Remarkable and rare! A veritable fireworks display of Priday Plume.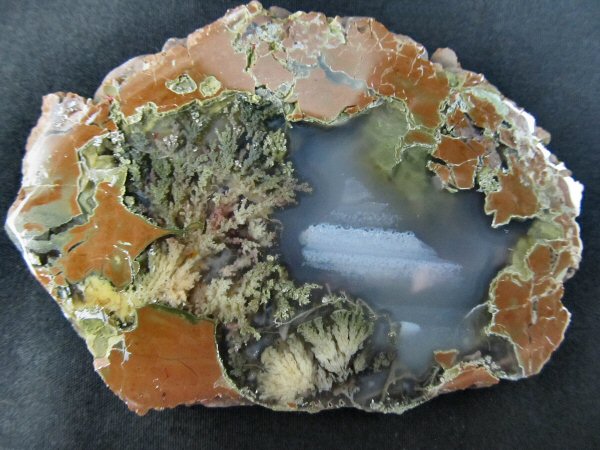 Like a vision of deep beneath the Sargasso Sea! Seaweed colored plumes do everything but wave in the tide in this striking egg.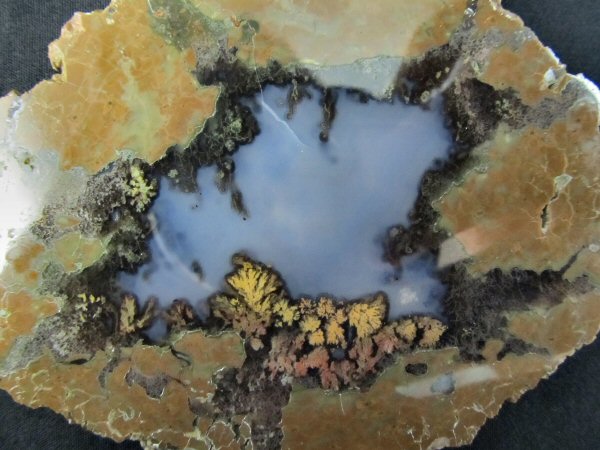 A garden of yellow and coral colored plume blossoms beneath a moss festooned archway.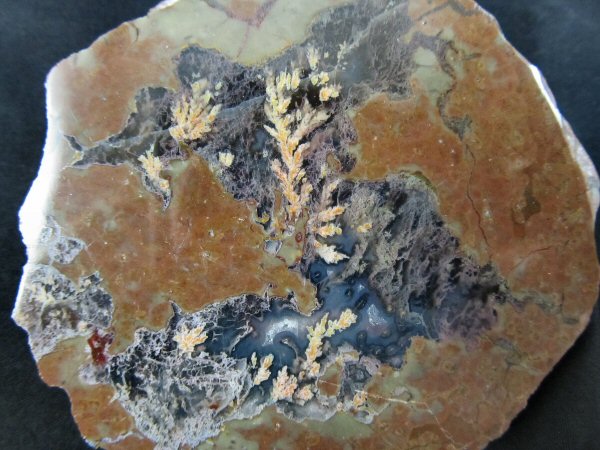 Major Priday Plume twines its way up through delicate tendrils of moss. In a nutshell, (or a rhyolite shell in this case) gorgeous old Oregon!